Description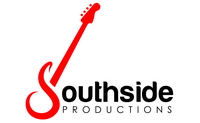 Proudly Presents...
The Paul DesLauriers Band
This is a show not to miss! If you have never heard of, or seen this band live you are in for a treat! You will hear hints of Led Zeppelin, The Who, etc. Be sure to to watch the video linked below. Only 85 Seats available for this show so purchase your tickets in advance to avoid dissappointment! Most of our shows SELL OUT!
Watch the videos below to see how awesome The Paul DesLauriers Band is!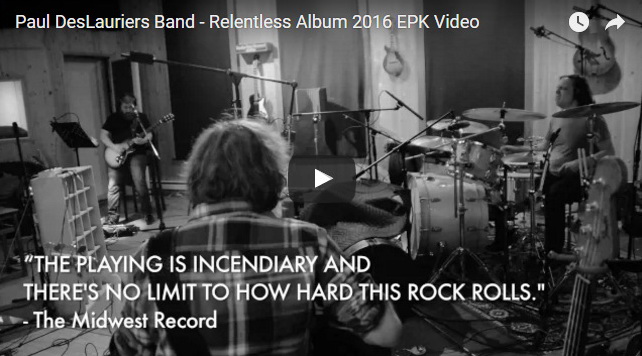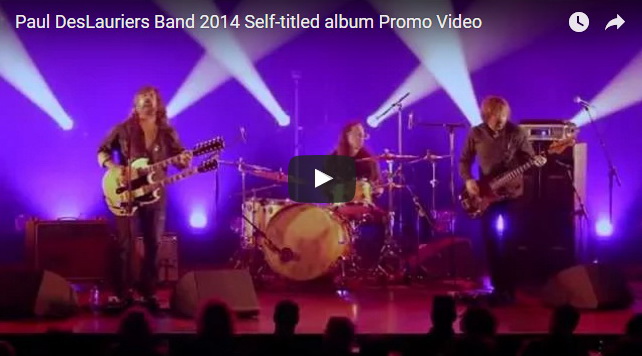 Band BIO
Sometimes you just have to do what you love, and The Paul DesLauriers Band has been very busy doing just that. The is trio made up of virtuoso guitarist and singer Paul DesLauriers and masterful rhythm section Greg Morency on bass and Sam Harrisson on drums. The current self-titled electric album from these three pillars of the Quebec Blues scene has captured the subtlety and intensity, the unique interplay and excitement they are so well known for. Released to unanimously excellent reviews in March 2014, the album reached the #1 spot on the iTunes Canada Blues Chart within a month! They are currently touring Canada and the USA in support of the album with notable performances that include The Montreal International Jazz Festival, the Tremblant International Jazz Festival, the Thunder Bay Blues Festival and the Playing With Fire Festival in Omaha, Nebraska,among many others.

Undeniably part of Canada's musical elite, all three members are regular nominees and winners at the Maple Blues Awards and Quebec Lys Blues Awards. Paul DesLauriers was the Winner of 2 Maple Blues Awards in 2014, including Guitarist of the Year and winner of 5 Lys Blues Awards in Quebec. Greg Morency won the Maple Blues Award for Bassist of the Year in January 2015. Sam Harrisson is a three-time Maple Blues Award Drummer of the Year nominee and winner of record-holding 9 Lys Blues Awards in Quebec for Musical Performance.

In June 2013 they released "Enter The Gate" with sitar maestro Anwar Khurshid, a unique acoustic meeting between the Blues and Indian Classical music. The group won the "Best In Festival" award after their performance at the Tremblant International Blues Festival in July 2013. They are currently busy touring Canada/USA after having just releaset their latest Album Relentless.
"Extraordinarily inventive guitar playing, powerful vocals and a fantastic rhythm section, how can you go wrong"
-John Valenteyn-Maple Blues Magazine May 2014

"Simply put "PDB" is an absolute winner, showcasing the cream of the crop of Canadian Blues/Blues Rock talent. It is an album that just Kicks Butt and will certainly be considered by many, including myself as one of the best of 2014. 5***** for "PDB"…Just Plain Awesome…"
-John Vermilyea-Blues Underground Network May 2014

"Like a good novel that you can't put down, reading page after page, this CD has song appeal from start to finish. This disk is exciting, it's gripping, it's…it's simply good music. I'm all in, now how about you?
-Sean Willoughby-Montreal Blues Society-March 20th 2014

« Every track on this album takes us on a complete musical journey into the blues, dotted with touches of genuine rock & roll. The trio set out to make an album with a raw and natural feel. They certainly succeeded! » (translation)
Christelle Lison, Québec Spot - March 2014

« You want guitar?!! …The ultimate power trio! A band joined at the hip! (translation)
Sylvain Ménard, Puisqu'il faut se lever Morning Show, on 98,5FM – March 2014

« Recorded live in the studio without artifice, it's a heavier, more muscular and dirtier blues album. The real deal! … It's a beautiful collaboration that you can feel from the very first song. » (translation)
Thérèse Parisien, Montréal maintenant Show on, 98,5FM – March 2014

« It's authentic, well done, and a joy to listen to! » (translation)
Gilles Payer, Catherine et Laurent Show, CIBL 101,5FM – March 2014

« This album sets Paul DesLauriers on a par with the great bluesmen of the world! »
(translation)
Benoit Bilodeau, L'Éveil et La Concorde – March 2014

« Album of the week » on La liste plus ultra hebdomadaire (Weekly Ultra-Plus List)
Daniel Lemay- music critic for Journal La Presse Montréal -March 15th 2014 edition

«Brilliant! ... Just like the album, the show is top quality and full of energy! … The musicians are all Canadian blues greats! … An excellent production that is a joy to discover after every consecutive listen…really makes you look forward to seeing them live!» (translation)
TatieBlues' Blog-May 2014