Municipal Progress in Watershed Management-North Saskatchewan River
Description
SAVE THE DATE
The North Saskatchewan Watershed Alliance partners with many municipalities and other organizations to plan and implement projects for watershed management.
Join municipal, provincial and federal government, industry, agriculture and community leaders and others for a workshop highlighting the accomplishments of municipalities in watershed management for the North Saskatchewan River watershed.
The draft agenda follows: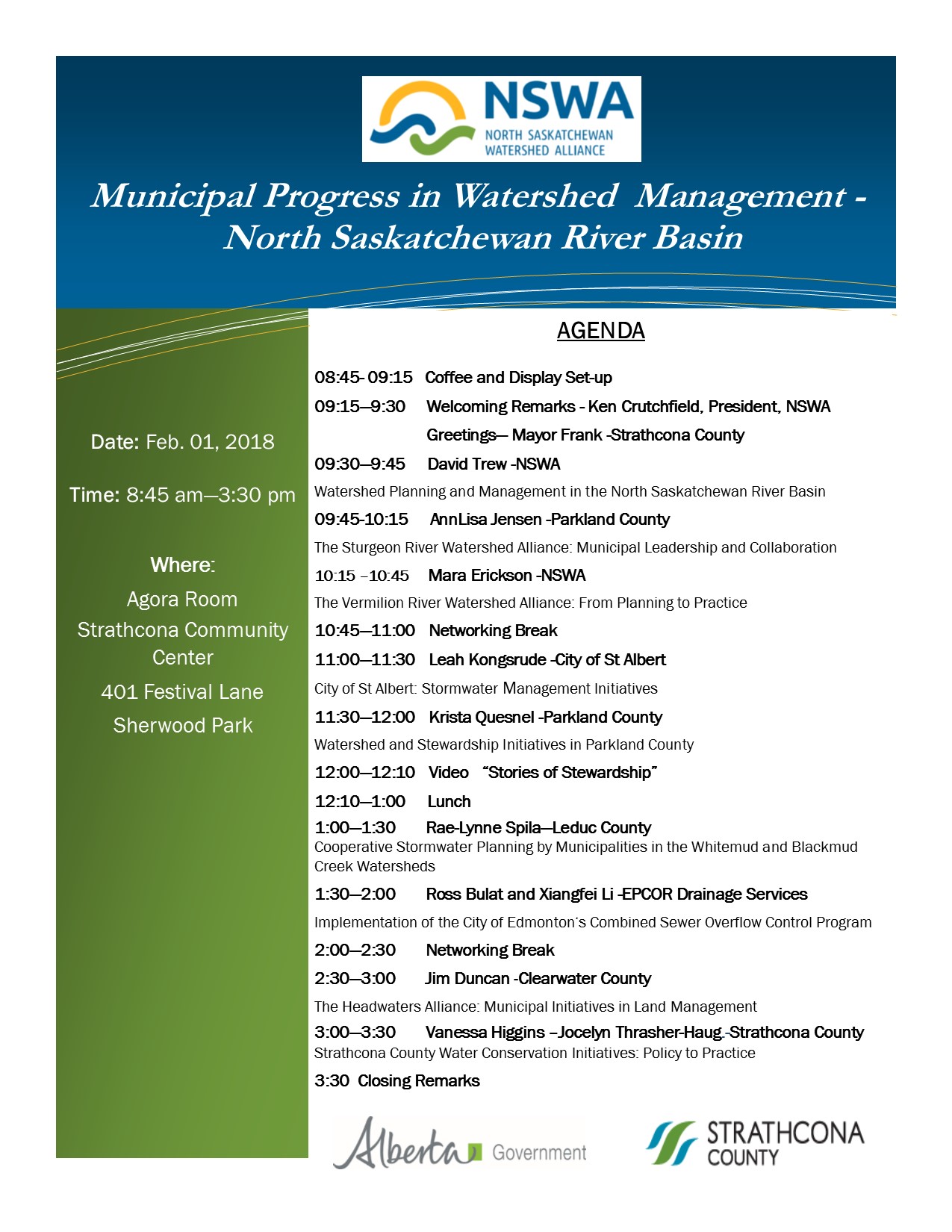 Organizer of Municipal Progress in Watershed Management-North Saskatchewan River
NSWA's Vision 
"People working together for a healthy and functioning North Saskatchewan River watershed - today and tomorrow."

NSWA's Mission 
"To protect and improve water quality, water quantity and the health of our watershed by: seeking, developing and sharing knowledge; facilitating partnerships and collaborative planning; and working in an adaptive management process."
The North Saskatchewan Watershed Alliance (NSWA) is a multi-stakeholder watershed protection and improvement partnership formed in 1997 and incorporated as a non-profit society in 2000. The NSWA was granted charitable status in March 2016.

The NSWA provides a forum to recognize and address issues affecting the North Saskatchewan River (NSR) watershed in Alberta. It also initiates and supports activities that will positively impact the watershed.

The NSWA is comprised of both individual citizen members and organizational members including: federal, provincial, and municipal governments; First Nations; industries; utilities; agricultural groups; environmental and conservation groups; recreational, cultural and tourism groups; and educational and research institutions.
In 2005 the Government of Alberta appointed the NSWA as the Watershed Planning and Advisory Council (WPAC) for this river basin.  As a partner in Water for Life: Alberta's Strategy for Sustainability (2003) the NSWA has a mandate to report on the State of the Watershed and to prepare Integrated Watershed Management Plans (IWMP). An IWMP provides watershed management advice to address issues raised by stakeholders and to achieve the three goals of Water for Life: safe, secure drinking water; healthy aquatic ecosystems; and reliable, quality water supplies for a sustainable economy. 
For more information please see our website www.nswa.ab.ca