The Power of Music: Innovations in Care
About this Event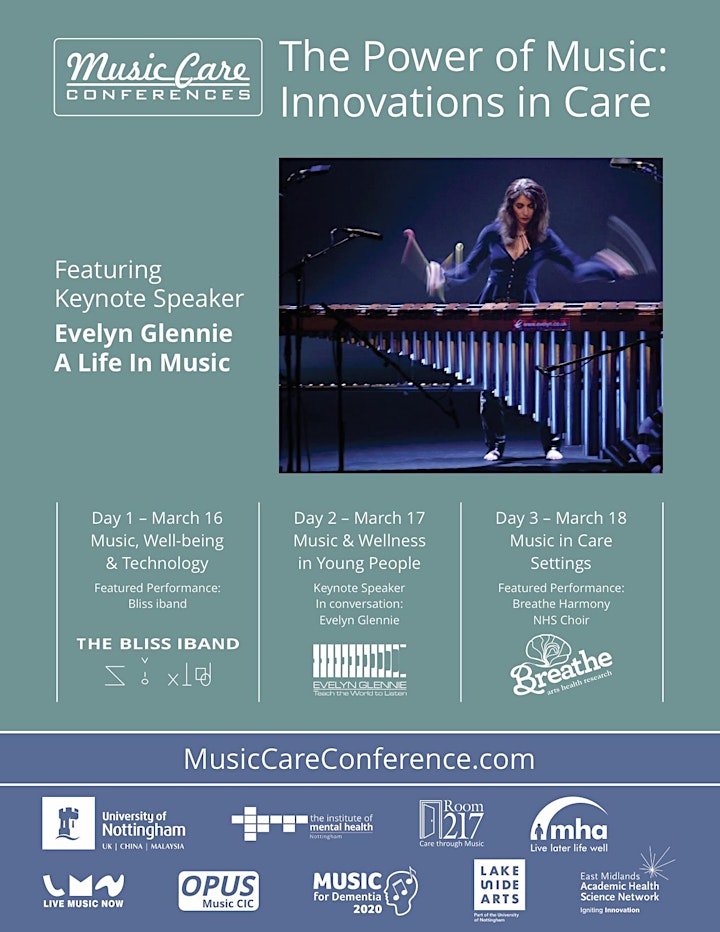 In 2021 we are looking at how innovations in care are helping to change our approach and increase success in delivering music care within our various healthcare environments.
We come together with a common goal to enhance quality of life and improve the care experience through music!
How Our Virtual Music Care Conference Works
This is a compressed, three day conference. Each day there will be three components for you to experience.
Performance - a live, recorded one-hour performance with Q & A interactions from the artist
Presentations - view, on your own time, 6 - 7 live, recorded presentations by our speakers from around the world
LIVE Panel Discussion - presentation speakers engage in conversation where you will be able to ask questions via the chat room
Once you have registered you will receive an email notification from "Eventbrite". Instructions will be sent prior to the start of the conference with links on how to watch and participated each day.
Recommendations for Participation
The conference will run for three consecutive hours each day depending on your time zone.
We recommend attending at these times to engage best with other conference participants during the event.
You will also be able to watch the presentations (only) a few days in advance; when available these links will be sent to you via Eventbrite.
On each conference day, links for that day's keynote video and live panel session will be sent at midnight GMT via Eventbrite.
Recordings of each conference session will be available to registered attenders on our website until the end of March, 2021. www.musiccareconference.com
Detailed TimeLine Overview LINK
Our History
The Music Care Conferences started in Canada in 2010.
In 2018 we united with our friends and colleagues in the UK to bring together a larger collaboration of knowledge and expertise on a global scale.
Music Care Conference 2021, opens the door to sharing & assisting each other world-wide.
We look forward to you joining us!
A video (below) from Music Care Conference 2018.