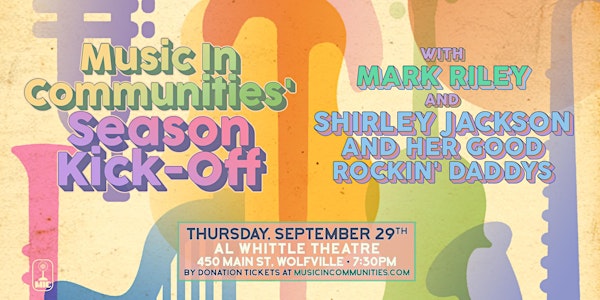 Music In Communities' Season Kick-Off with Mark Riley and Shirley Jackson!
Music In Communities celebrating our work at the Al Whittle Theatre, featuring Mark Riley and Shirley Jackson and her Good Rockin' Daddys!
When and where
Location
Al Whittle Theatre 450 Main Street Wolfville, NS B4P 1E2 Canada
About this event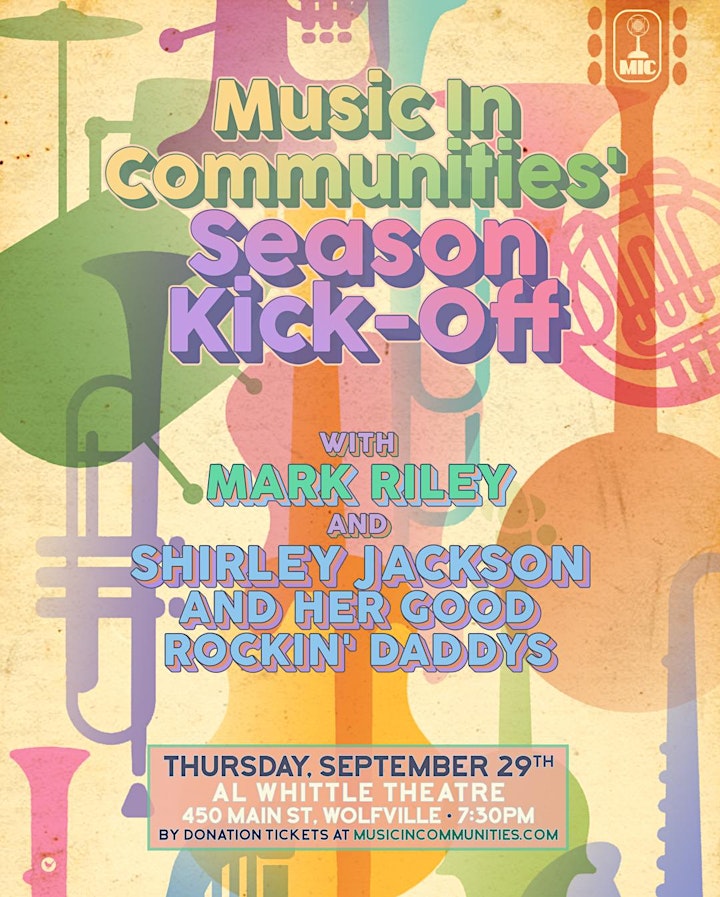 Music In Communities is hosting a by-donation night of great music, just to celebrate with our community! Share some great tunes with us at the Al Whittle Theatre, featuring the Mark Riley Trio playing a stripped-down trio set of soul and gospel tunes, and blues veteran Shirley Jackson and her Good Rockin' Daddys. We'll also share a wonderful, short slide show of some of our achievements this year- and what's coming up this season- with all the information available on all our programs in the lobby.
The 2021 ANSMA award winner and 2022 ECMA and ANSMA multi-nominated
Mark Riley has been a professional musician for several years and is also a multi-
instrumentalist and vocalist. He is a former Tenor and Soloist of the Nova Scotia
Mass Choir, Cherrybrook Mass Choir and the Nova Gospel Ensemble. Mark is
originally from Lake Loon Nova Scotia, a small community located just outside of
Dartmouth. Mark started singing gospel music at an early age with the Baptist
Church Choir. Mark is a mainstay in our community and one of the busiest musicians around. We are looking forward to hearing him play an intimate trio set in the Whittle.
Shirley Jackson has been a mainstay in the Nova Scotia music scene for the past 30 years as a singer, songwriter, saxophone player, guitarist, percussionist, music educator and band leader.
With the work of the band Shirley Jackson & her Good Rockin' Daddys, she's the recipient of two Maple Blues Awards for Horn Player; (2018, 2001) and she has produced four albums that were each nominated for Blues Recording of the Year by the East Coast Music Association, and the Nova Scotia Music Awards (hosted by Music Nova Scotia). The Good Rockin' Daddys hail a sound inspired by the early years of Rock & Roll when horn sections were an integral part of the sound of a swingin' and rockin' good time.
Jackson has been recognized in the top ten finalists in the World Songwriting Awards for River of Dust, Over a Lifetime and Stir it Up and Things Keep Lookin' Up.
We want this show to be accessible and affordable to all, which is why tickets will be available by a sliding scale suggested donation between $5-$30. You can reserve your ticket in advance by confirming your attendance in the Eventbrite ticket link, and sending your donation via e-transfer to info@musicincommunities.com or donating at the door.
Limited tickets are available, with accessible seating available upon request. If you have any questions, please feel free to contact us at info@musicincommunities.com.
We hope to see you there to celebrate great music in our community!
This event is made possible with support from Arts Nova Scotia.