Multiple Dates
music@allsaints - Moore & McGregor | The Ragged Flowers | Bill and Sue
Description
Live music in May in the Lower Chapel.
Doors Open 7:30 PM | Shows 8 - 10 PM
Cash Bar
Tickets at the Door $20. | Advance Tickets $15. at The Guild Room or on Eventbrite.
---
Wed., May 10: chriscross with Christine Graves and Chris MacLean
chriscross is the duo of songwriters Chris MacLean and Christine Graves. Both artists have blended Canadiana and world folk traditions in their work as solo artists and with the respective ensembles Galitcha, Frida's Brow and Malaika for over 20 years.
Now they bring together their talents in a concert at allsaints Event Space!
---
Wed., May 17: Moore and McGregor with Wendy Moore and Arthur McGregor
Wendy Moore is classically trained and played oboe and English horn with the Kingston Symphony for many years. Also experienced in folk music, she created and has managed and led the Celtic Rathskallions for over 15 years. Wendy sings, step-dances, plays harp, whistle, oboe, and English horn. She has published two storybooks for children set to music.
Arthur McGregor has played and organized folk music for most of his life and is well known as the founder of the Ottawa Folklore Centre. Arthur sings, plays guitar, autoharp, Appalachian dulcimer, bodhran, clawhammer-style banjo, djembe and mandolin. He has been awarded 'The Unsung Hero' Award from the Canadian Folk Music Awards, The Estelle Klein Award (Folkmusic Ontario) and the Helen Verger Award (Ottawa Folk Festival) for his work in the world of folk music.
Arthur and Wendy tour full time and have been actively sharing their musical talents with audiences on both sides "of the pond" touring nationally and internationally, travelling to Ireland, Europe and throughout the USA. They tour to schools and libraries as The Celtic Rathskallions and Wendy also tours her solo show, The Maddie Show.
---
Wed., May 24: The Ragged Flowers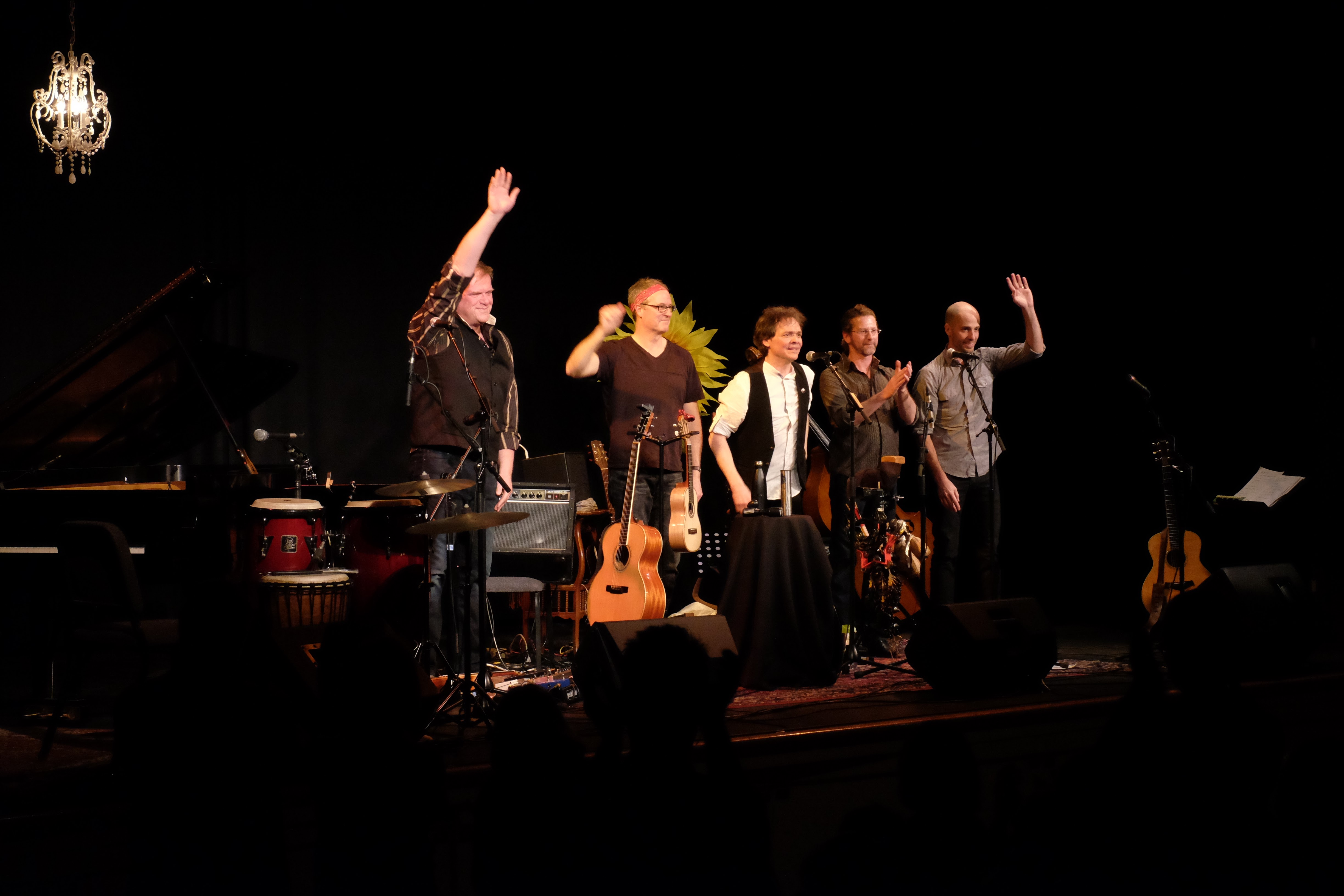 PICTURE THIS...
A bunch of baby boom teenagers from Montreal, Ottawa, and Toronto playing in everything from punk bands to blues, country and rock outfits to African drum circles, classical and choral groups. Then comes a kaleidoscope of educational pursuits and careers. Marriages, mortgages, moves and 15 children follow over the next couple of decades.
Cut to a 21st century Saturday night. Under a full festival moon five sweating, exhilarated musicians take a bow to a dance-stoked crowd chanting five words: "Band take your pants off! BAND TAKE YOUR PANTS OFF!!!"
You've just entered the unpredictable, folklectic world of the five guys who call themselves The Ragged Flowers.
From their creative lair in Eastern Ontario -- a historic and artistic riverside jewel of a village called Almonte – the band still marvels at a formation-by-chance in their community's café scene in 1997. After discovering each other, roving jam sessions for handfuls of people quickly grew into a string of monthly music-food fusion events, pairing Santana, Joni Mitchell, Beatles, Van Morrison, Paul Simon and Bruce Cockburn cover tunes with spicy global cuisine and liberally poured libations. The result was that contemplative sit-down concerts more often than not exploded into sweat-soaked dance parties -- a phenomenon that exists to this day.
As their reputation and gigs increased over the late 90s, The Ragged Flowers tried out a few originals tunes – largely from previous musical involvements. They also began building their folklectic sound featuring dense harmonies, multi-layered percussion, double bass and lots of guitar -- including far-out electric and synth effects inspired by their 70s upbringing when folk, rock and world music were blurred for the first time in the name of anything-goes experimentation.
The highly percussive African, Latin, Celtic and Caribbean threads running through the band's music, combined with an energetic stage show and irreverent rapport with their audiences (one band member graciously removed a shoe when asked with his colleagues to remove their pants, thoughtfully citing workplace safety reasons versus simple-minded prudishness), has earned The Ragged Flowers a loyal fan base.
The Ragged Flowers 2004 CD, Story be Told, was co-produced and recorded with Ken Friesen in Almonte. Ken's credits include recordings with MonkeyJunk, Hawksley Workman, Sarah Slean, and Blackie and the Rodeo Kings. Under Friesen's guidance, Story be Told leans into a more electric, driving, neo-psychedelic sound, with a stick-drum kit pushing the further down the frequency range. Throughout the recording the band retained passionate lyrics, six-stringed virtuosity, world-spiced hand-drums and shakers, sliding acoustic bass, and bright harmonies – everything from brooding folk to hip-shaking grooves and festival-making excitement.
In December of 2014, The Ragged Flowers released a CD of past live festival and stage recordings and performed at Almonte's Old Town Hall Stage with Terry Tufts on lead guitar. A sell-out, and it was a groovy night of musical love on both sides of the stage.
Band Line-up
From diverse musical paths, The Ragged Flowers have a line-up as unique as their music! All told, five distinct voices, poetic words, fiery rhythms, stirring melodies, tight arrangements, and adventurous song-writing — a brilliant, folklectic garden of music.
* George Birchall is the newest member of The Ragged Flowers. A singer-songwriter and multi-instrumentalist, George adds vocals, guitar, violin and melodeon to the band.
* Rhythm-master Ian Douglas contributes an African/Latin groove with his tribal array of hand-drums, and his low, mysterious voice. He also contributes keyboard virtuosity.
* Steve Reside brings radiance to his high-energy vocals and striking harmonies, set against the warmth of his acoustic rhythm guitar plus assorted shakers and percussion.
* Acoustic and electric bass man Rob Riendeau provides a sliding carpet of low-end grooves to root the Flower sound firmly in the earth.
* Nathan Sloniowski's acoustic and electric guitars and uke add to the fretted depth along as well as his evocative, powerful vocals.
---
Wed., May 31: Bill and Sue with Bill Garret and Sue Lothrop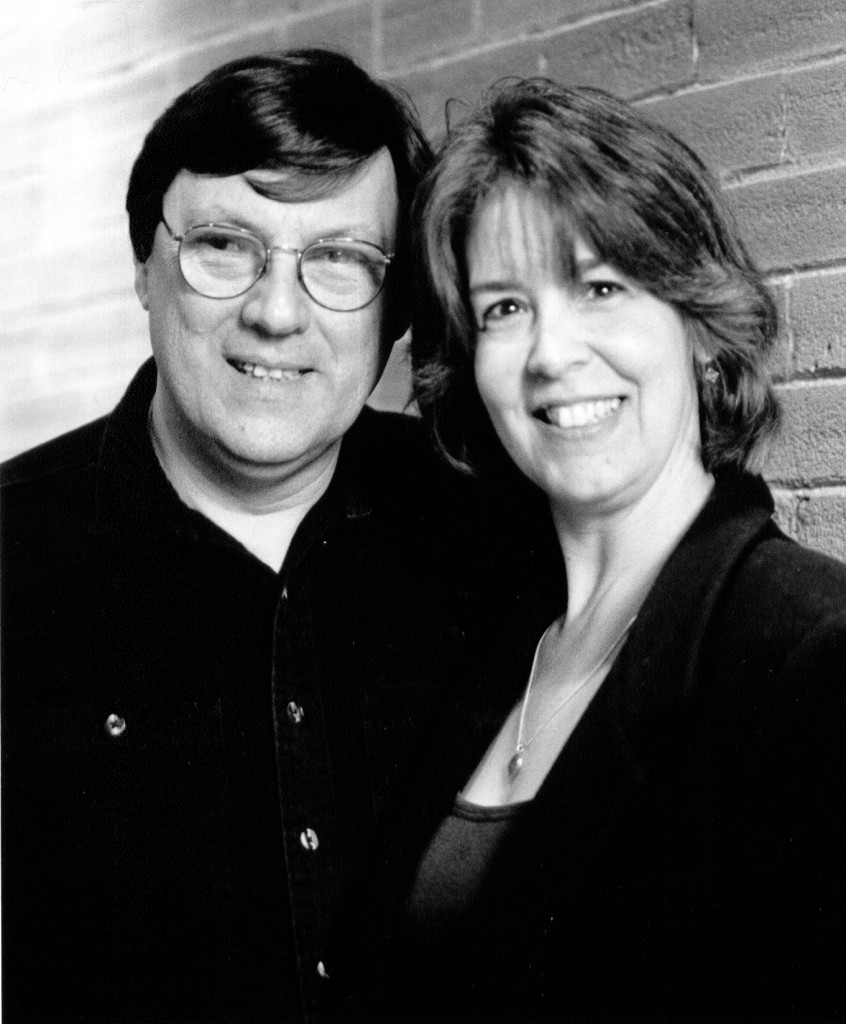 Since starting to perform together Bill and Sue have played clubs, concerts and festivals in Canada and the U.S. Their debut album as a duo "Red Shoes" has received wide acclaim and they are working on a followup recording.