Get ready for Echoes Volume 2 featuring Amber Long, André et Michèle, Allan André and more!!
About this event
SPECIAL ANNOUNCEMENT BELOW:
_________________________________________
Hello Music.Art.Ppl Family. We will sadly be unable to hold our Echoes Volume 2 event this coming May 9th due to the city-wide shut down of facilities and venues. We are happy to let you know that we have been working with SAW Gallery to secure a fall date for the show. We very much hope that by September, we will be able to gather again in a responsible and safe way. Please stay tuned for an announcement of the new date.
Notice to ticket holders: Your ticket will still be honored in the fall. We hope that you will hold on to it and support the community. If, however, you would prefer a refund, we will process one for you. Please email us at music.art.ppl@gmail.com or on the Eventbrite app to receive your refund.
Thanks so much to everyone for all your support during these trying times. Our hearts go out to all the front line workers, working every day to keep us safe, and to each member of our wonderful community. Until we can reconnect in person, please keep an eye out for lots of digital content on our social media channels to keep the MAP vibes going!
****Please Note: The new event date will be before December 31st of this year. We have put this date on the Eventbrite event as place holder. We hope to see you all soon!!
Ech·oes
a sound or series of sounds caused by the reflection of sound waves from a surface back to the listener
a close parallel or repetition of an idea, feeling, style, or event.
Music.Art.Ppl invites you to Echoes Volume 2. Join us as we welcome a diversity of talented artists to the stage at the SAW Gallery on Saturday, May 9th for Echoes Volume 2. The Lionyls kicked us off for the first installment last fall with support from Niko Schwind and a special appearance by Djuma Soundsystem. We have just as special a line up for you for Echoes Volume 2.
This time around we have the multi-talented Toronto DJ, producer and vocalist Amber Long joining us to share her incredible productions and live vocals. Along with Amber we have local duo André et Michèle dropping in for one of their unique live sets that is sure to set Club SAW ablaze. Joining them we will be the MAP resident DJs Pithra, JFUN and Nikoli to warm things up.
Visually we are excited to welcome the renowned Ottawa artist Allan André who will be creating a live masterpiece. Our team from Le Cite College RSPONSV and Neon Jello Pack will also be on hand creating stunning visual landscapes along with interactive projections. Finally, Echoes would not be complete without immersive décor and for that we have local artist Kim Valentine providing something very special.
Grab your tickets now for Echoes Volume 2 as they will move fast. Be sure to join us on Saturday, May 9th for the continuation of this special series spotlighting Canadian artists and changemakers. Read more about each artist below.
_______________________
Amber Long (Amber Long Music, Toronto)
Performing live for decades, Toronto based DJ Producer, Amber Long, has trademarked a sound that is svelte and uniquely her own. Sought after globally and supported by big name artists like; Armin Van Buuren, Above & Beyond, Aly & Fila, John Digweed, Hernan Cattaneo and Nick Warren, her lyrics, voice and productions are well known amongst the Underground Music Community. Passionate and animated, Amber is the living demonstration of an artist who loves her work passionately and intensely and continually tears up dance floors across the world.
Aside from DJing globally, Amber Long runs Toronto-based independent labels; Modern Agenda, Modern Architect and Honey Drops – all brands that focus on giving back to their large roster of artists. Catch Amber as the host of FriskyRadio's Rogue Radio Show, airing the second Monday of each month at 5pm, EST.
https://soundcloud.com/amberlong
https://www.facebook.com/AmberLongMusic
https://www.friskyradio.com/show/rogue
André et Michèle (Low Noise Productions)
André et Michèle is an unlikely collaboration between musicians from drastically different backgrounds. Michael "Michèle" Glenwright has a history playing guitar and vocals in punk bands and performing as an experimental/art-rock, solo singer/songwriter; while Andrew "André"O'Malley has been immersed in audio tape manipulations, drum machines, and DJ'ing.
Since forming in late 2012, the pair have released numerous albums and EPS, both independently and on labels such as Ottawa's Low Noise Productions and San Francisco's Zettabyte Records; while continuously refining their live show comprising improvised performances with an array of instruments including Theremin, synthesizers, guitar, drum machines, and effects.Their finely honed and open-ended live performances create a distinctly unique and exciting musical experience: blending the spontaneity of a DJ set with the signature sound of a live act.
https://www.mixcloud.com/Andre_et_Michele
https://soundcloud.com/andre_et_michele
http://andremichele.bandcamp.com
https://www.facebook.com/andre.et.michele
Allan André
Allan André is a Canadian multi-disciplinary artist of West Indian descent based in Ottawa Canada. André's work has been featured in exhibits in New York, Orlando, Ottawa, Toronto and Montreal. André is a three time winner of the Ottawa regional championship for Art Battle, Canada's nationwide speed painting competition. In July 2016 and 2019, André won the Art Battle National championship earning him the title of Canada's best speed painter. Allan's installation work has also been featured twice at Ottawa's "Nuit Blanche" city-wide dusk till dawn exhibition.
http://www.allanandre.com/
Musical Support from: Pithra, JFUN & Nikoli
Visuals by RSPONSV & Neon Jello Pack
Decor by Kim Valentine
We pride ourselves on creating inclusive spaces wherever is free to express themselves in whatever form they choose. If for any reason you are disturbing out guest you will be asked to leave the venue without refund.
https://musicartppl.com/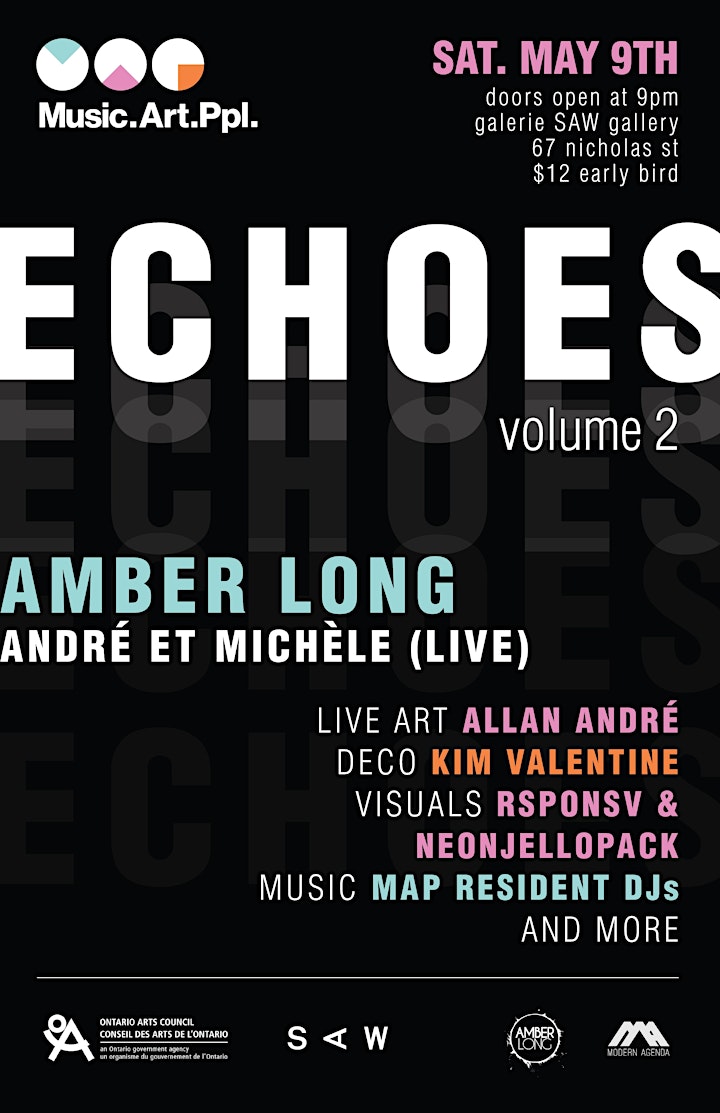 Organizer of Music.Art.Ppl Presents Echoes Volume 2
Music.Art.Ppl is about encourging artist's to share and collaborate with each other. Providing a space where artist's from different backgrounds can come together and create a special experience in a safe environment. Music.Art.Ppl's efforts are equally focused on curating a unique musical and visual experience. Programming each event with a diverse musical selection with elements of live art in it's many forms. MAP collective are open to collaborating and encourage people to reach out online or in person at a MAP event. 
Much Love!