Tune Up Toronto: Composing for Film & TV, Pitching for Sync & Licensing, & the Artist-Publisher Relationship
About this event
MusicOntario, HoneyJam, & the Guild of Music Supervisors Canada PresentTune Up Toronto: Composing for Film & TV, Pitching for Sync & Licensing, & the Artist-Publisher RelationshipTuesday, August 31, 2021, 3-7pm followed by networkingThe Dive Shop (1036 Gerrard St. E., Toronto, ON)
MusicOntario, HoneyJam, and the Guild of Music Supervisors Canada are hosting an event – in person, while we still can! Join us to cover a variety of important topics that intersect at some point in every artist and songwriter's careers: publishing, licensing, sync placements, and composing for other projects and products.These topics also happen to be where artists can make a living and earn renewable income, so it's important to know your way around best practices in order to protect and monetize your copyright and maximize how your music works for you in the background.
3:00pm: Doors
3:30pm: Meet the Guild of Music Supervisors Canada: The basics of sync, licensing, and pitching
4:30pm: Fireside Chat: The Artist-Publisher Relationship with Kim Temple (High Priestess), Witch Prophet, and Sun Sun
5:30pm: Keynote: TiKA Simone (Artist, Composter, Founder of StereoVisual) explores the world of composing for film, TV, and media through the intersectional lenses of artists who are Black, Indigenous, and People of Colour and/or identify as female
6:30: Performances by Witch Prophet, Nefe, & Yasmine!
$10 or FREE for MusicOntario members and HoneyJam alumnae
Refreshments Provided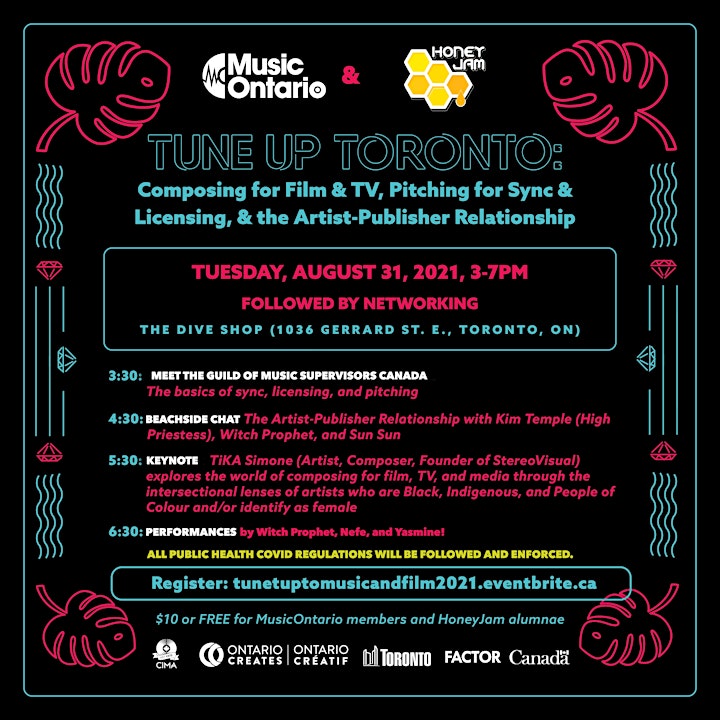 Organizer of MusicOntario & HoneyJam present Tune Up Toronto: Composition for Film & TV
MusicOntario champions and celebrates independent artists and music industry professionals across Ontario.
We are a membership-based, not-for-profit trade association dedicated to the development of the indie music community in Ontario. Our focus is on creating access points, promoting exposure, delivering education, providing advocacy, and facilitating business opportunities on provincial, national and international levels.
We help.