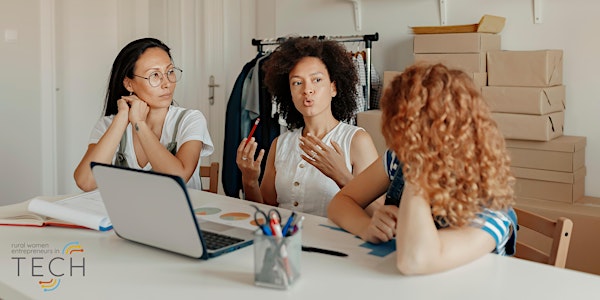 MVP Series: 99 Problems But Value Prop Ain't One
This workshop will explore what makes your business idea unique and how to market the value of your product or service to your customer.
About this event
Have you ever had a great idea that seemed to go nowhere, but your family and friends all seemed to love it? Then, when you started to move your project along, the interest of others seemed to fade? Or maybe you started a business, and things were going great until you needed to grow. Perhaps you have the next best tech idea but no idea how to commercialize this fantastic innovation!
In this Minimum Validation series, we will look to develop and test the elements of a new idea that genuinely help get the idea to commercialization-ready innovation.
In this session, we will work to understand your product/service's value to your customers. These tests aid in testing your product/service's value proposition, which helps test problem-solution fit. In the third session, we will be designing tests for market fit. And finally, we design tests to help establish scalability opportunities.
Register for one, two or all workshops! Each week will build on the last.
WORKSHOPS:
99 Problems But Value Prop Ain't One (Thursday, November 24)
Customers have jobs to do and are looking to us for support.
They want us to help them reduce their pain with our product or service, and customers want to feel the gains our product/service delivers. We will dig into their pains to understand what motivates customers to purchase.
We are going to identify the value proposition you provide to your customers. At the end of this workshop you will know what it is that your customers value in your product/service.
Testing, Testing (Thursday, December 1)
Have you ever wondered if there was a more straightforward, less costly way to develop your idea with validation?
This workshop will cover some of the most common testing methods and where you might use them. No lab coats are needed; these tests will be simple, like observing someone's behaviour and taking notes. In the end, you will better understand how you might test some of your ideas.
Show & Tell (Thursday, December 8)
We will review the results from the tests we have designed or run.
Our goal will be to check the current test design to assist in running your next set of tests. We will also review the results of your most recently run test to begin to break down the data and how we might apply it to what is next. Testing is something you are likely doing every day in your business, and this workshop will help you to tweak tests and apply results.
Workshop Dates:
Thursday, November 24, 2022 (6:00 PM - 8:00 PM)
Thursday, December 1, 2022 (6:00 PM - 8:00 PM)
Thursday, December 8, 2022 (6:00 PM - 8:00 PM)
Meet Your Presenter: Wendy Muise
Wendy Muise has always been an entrepreneur and loves the ability to spend time helping others with their businesses. With a background in tech and innovation start-ups, Wendy has been a part of a team that took a product from an idea to IPO and a $121 million market valuation.
Spending the last ten years focusing on strategic practices in entrepreneurship, Wendy has worked in communities during disaster recovery supporting existing and new entrepreneurs to grow their businesses.
IMPORTANT: Please note these are live events that will be delivered during the dates and times indicated.
RWEIT programming is mandated to support self-identified women and non-binary entrepreneurs in tech across rural Alberta through Economic Development Lethbridge's WESTEM (Women Entrepreneurs-in-STEM) program powered by Alberta Innovates.