Description
DESCRIPTION
The design industry is the place to be for a wide breadth of experience and opportunity – hear from someone who has launched their new career direction with Bitmaker's immersive UX & Product Design course.
Mohammad Owainati will share his new experiences of working the field as a UX Designer at Canada Post. He'll talk about how his professional career evolved in marketing, his decision to jump into a bootcamp, and some best practices on how to get started as a UX designer from his perspective as a bootcamp alumni.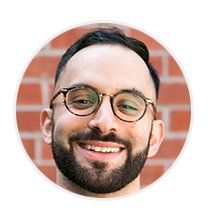 ABOUT MOHAMMAD:

After seven years in marketing at Telus, Mohammad realized that there was something missing for him in this career path. After some reflection and research, he concluded that he didn't want to simply advise on a project's direction, he wanted to create them himself. Finding UX provided the language and tools to effectively communicate and carry out his creative concepts. Mohammad now works at Canada Post as a UX designer.
SCHEDULE:
6:30PM - 6:45PM: Sign-in & Networking
6:45PM - 7:30PM: Keynote Speaker Mohammad Owainati
7:30PM: Q&A
Spots are limited.
By registering for this event you agree to join to the Bitmaker community e-mail list.
We respect your inbox and you have full control over your subscription settings.
---
Accessibility Info:
Entrance is off King Street West, and has a short flight of stairs with railings on each side. Doors are not motorized/automatic.
The building has an elevator with a 34-inch wide doorway. The doorways to each floor are 35 inches wide.
Washrooms are available on each floor and are gendered. There are two narrow stalls in the women's washroom, and one stall and urinal in the each of the men's.
Our classroom tables on the third floor are readily moveable, whereas the table arrangement on the second floor is more fixed.
Please let us know how we can accommodate you within the confines of our space.