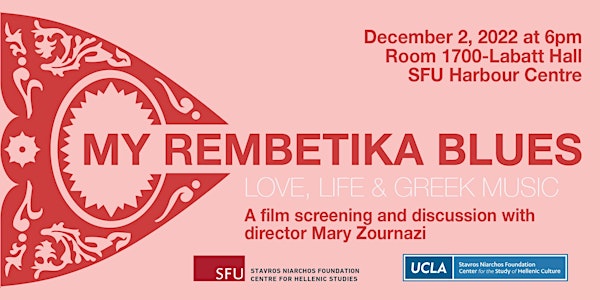 My Rembetika Blues: A Film Screening and Discussion with Mary Zournazi
A Film Screening and Discussion with Director Mary Zournazi
When and where
Location
Simon Fraser University - Vancouver Campus 515 West Hastings Street Room 1700 - Labatt Hall Vancouver, BC V6B 5K3 Canada
About this event
Doors 5:30 PM. Screening at 6:00 PM.
Room 1700 - Labatt Hall, SFU Harbour Centre
Rembetika music or the Greek blues is a music born of exile and the streets. Developing its roots from the mass migration of people in the early twentieth century, filmmaker Mary Zournazi traces the journey of her forebears from Smyrna in Turkey to Sydney Australia but discovers more than family history, she finds out how music connects people during times of struggle and crises. By weaving together different stories of music and migration, she documents experiences that are often left out of the chronicles of history.
This event is the first in a series of events held in collaboration with UCLA's SNF Center for the Study of Hellenic Culture in Los Angeles, California. We gratefully acknowledge the support of the Stavros Niarchos Foundation for this pilot program, which seeks to create networks across the West Coast of North America and between the West Coast and Greece.
Language: English and Greek.
This event is free and open to the public.
Simon Fraser University respectfully acknowledges the unceded traditional territories including, the Sḵwx̱wú7mesh Úxwumixw (Squamish), səl̓ilw̓ətaʔɬ (Tsleil-Waututh) and xʷməθkʷəy̓əm (Musqueam) Nations, on which SFU Vancouver is located.
Tickets
Tickets are required to attend this event and must be presented upon arrival.
Send an email to hscomm@sfu.ca if you have any questions regarding registration.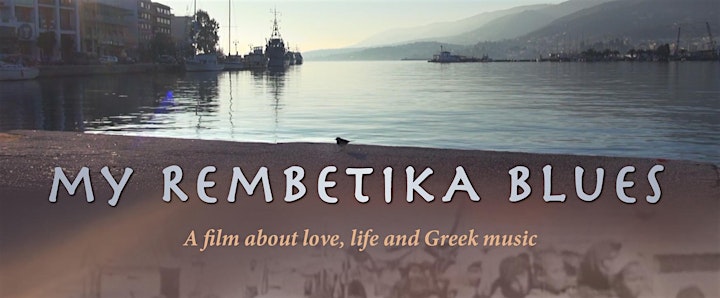 Synopsis
My Rembetika Blues is a film about the power of music and what makes us human. Rembetika music or the Greek blues is a music of the streets and a music of refugees. The film explores the heart and soul of Rembetika music through peoples' stories of love, loss and belonging.
Rembetika developed its roots from migrant experience. Zournazi's grandmother was one of the 1.2 million refugees who fled the Smyrna disaster in Turkey in 1922 and arrived at the Port of Piraeus in Greece. She, like many, became part of a movement of people, and of tradition, which saw the birth Rembetika. Through its rawness and unique style, Rembetika provides one of the world's foremost musical accounts of migrant experience.
Through her grandmother's story, Zournazi narrates a personal account of the depth of longing and belonging that is part of the migrant life. By weaving together different stories and interviews, the film looks at the legacies of history and migration, and how music can connect people in times of struggle and in times of need.
Drawing on the parallels of the migrant and economic crisis in Greece, the film explores the revival of Rembetika today, and how it continues to convey everyday life and struggle through the fusion of street music, hip-hop, and other influences such as Byzantine music and the Blues.
The film documents peoples' memory and experiences that are often left out of the chronicles of history. It is a universal story about love, life and music.
Film trailer for My Rembetika Blues.
Mary Zournazi, Director
Mary Zournazi is an Australian film maker, author and cultural philosopher. Her multi-awarding winning documentary Dogs of Democracy (2017) was screened worldwide. Her most recent documentary film, My Rembetika Blues is a film about life, love and Greek music. She is the author of several books including Hope - New Philosophies for Change, Inventing Peace with the German filmmaker Wim Wenders and most recently Justice and Love: A Philosophical Dialogue with Rowan Williams.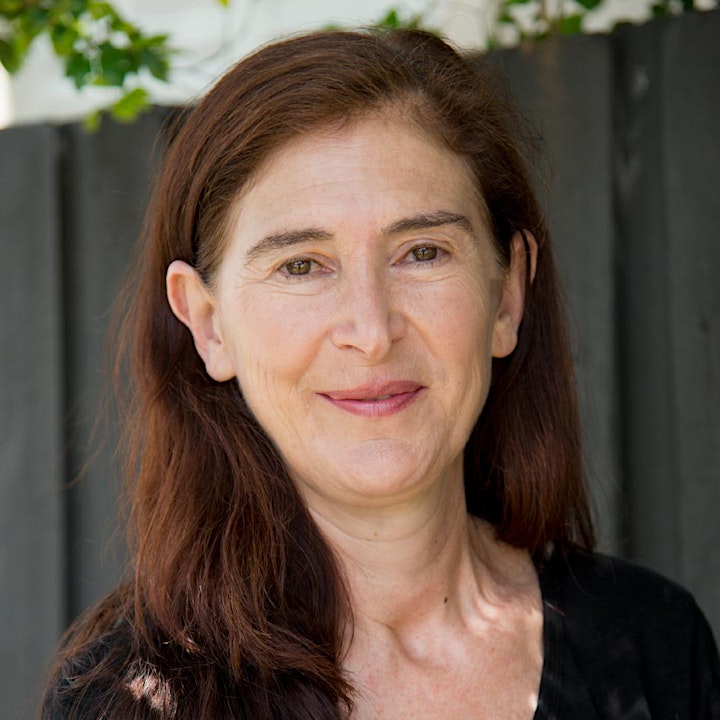 Harry Killas, Moderator
Harry Killas is a Canadian director, writer and producer whose films have screened at major international festivals including Bilbao, Clermont-Ferrand, Oberhausen, Palm Springs, Torino, Toronto and Vancouver. His documentaries have screened at festivals and museums across Canada and internationally, and have been broadcast by BBC, BBC Worldwide, Bravo!, CBC, CTV affiliates, Knowledge, NHK, TVO and various European broadcasters. Recent credits include three feature-length documentaries: Is There A Picture on the first generation of the Vancouver School of photo-conceptual artists; Greek to Me, an autobiographical look at family, filmmaking and Greek ethnicity; and Superkids 2, a profile of highly gifted learners, filmed over a time span of 15 years. Harry is a graduate of Stanford University (A.M., A.B.) and New York University's Tisch School of the Arts, Graduate School of Film and Television (M.F.A.) He resides in Vancouver where he is Associate Professor, Film + Screen Arts, at Emily Carr University of Art + Design.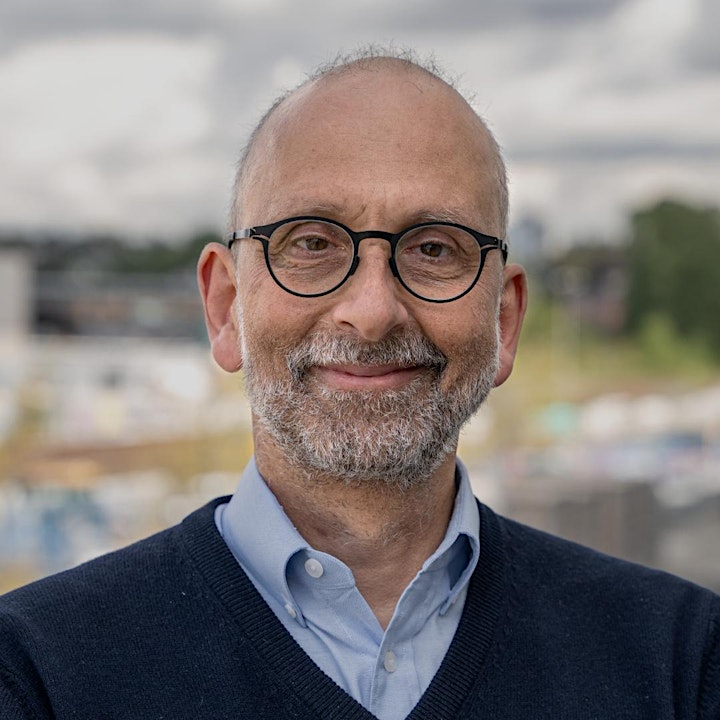 Canadian director, writer and producer Harry Killas. Image provided by Harry Killas.
Accolades for My Rembetika Blues
Awards
Winner: Best in Show – Docs without Borders Festival
Winner: Gold Remi Documentary Award from World Fest Houston international Film Festival
Excellence in Film Making Spotlight Film Awards
Platinum Award Women's International Film Awards
Best Documentary - Feature Film Competition – World of Film International Film Festival Glasgow
Runner-up: Best Documentary Film Williamsburg Film and Music Festival
Nominations
Best Director, World Music and Independent Film Festival 2021
Best Documentary, Los Angeles Greek Film Festival 2021
Best Documentary, San Francisco Greek Film Festival 2021
Best Documentary, Nevada Women's Film Festival 2021
Best Documentary, Melbourne Documentary Film Festival 2021
Reviews
"And indeed, REMBETIKA is that rare documentary that covers its subject--REMBETIKA music--so thoroughly documenting its "sound", history, locations, and evolution interviewing performers, scholars and more, but Mary totally engages us by making this her personal journey to discover more of her mother's heritage which co-exists with Rembetika history from Turkey to Greece to Egypt and Lebanon and on to Australia. "Music has no borders," this touching film illustrates as folk from throughout the Balkans and Middle East claim this music and even the theme song of PULP FICTION turns out to have come out of this rich "Rembetika" heritage!" — Professor Andrew Horton, University of Oklahoma
"A film that reveals the core of Rembetika that only a Greek from Australia could see. A strong and beautiful film" — Renos Haralambidis, Greek Director
Credits
Written, Directed & Filmed by Mary Zournazi
Produced by Tom Zubrycki
Co-produced by the Greek Film Archive & Mary Zournazi
Edited by Peter Crombie (ASE) & Sam Zubrycki
Original Musical Score by K. BHTA
Sound Mixing by David McCarthy & Zig Zag Post
Film Screenings to Date
Los Angeles Greek Film Festival
San Francisco Greek Film Festival
Nevada Women's Film Festival
World Fest Houston international Film Festival
Melbourne Documentary Film Festival
Toronto Greek Film Festival
Parma International Music Film Festival, Italy
International Film and Television Festival SIMFEST, Romania
EATSA Art & Tourism Film Festival, Portugal
World of Film International Film Festival Glasgow
Houston Greek Film Festival
London Greek Film Festival
German International Ethnographic Film Festival
Malta Film Festival
Williamsburg Film and Music Festival
Docs Without Borders Film Festival
Nova Film and Music Film Festival, North Virginia
Universe Multicultural Film Festival, US
Greek Premiere -Greek National Archive, Athens
Docs without Borders Film Festival
Accessibility
If you have any questions related to accessibility, please contact Lauren Gilbert at hscomm@sfu.ca.
Audio and Video Recording
This event will be photographed and videotaped. Any photographs and video recordings related to the event may be published by the SNF Centre for Hellenic Studies at Simon Fraser University, or by any one of the event sponsors and organizers for illustration, promotion, art, exhibition, editorial, advertising, broadcast, trade, educational and other purposes related to publicizing SFU's activities, programs, presentations, ceremonies, performances, sports meets and similar events.