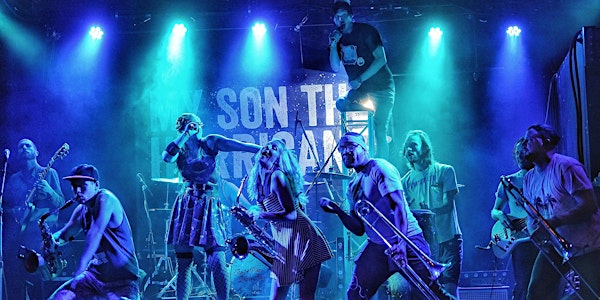 Performers
My Son The Hurricane
Blind Mule
Location
Bridgeworks
200 Caroline St. N. (off Barton St. W.)
Hamilton, ON L8R 0A6
Canada
My Son the Hurricane – Live at Bridgeworks!
About this event
My Son the Hurricane — the Golden Horseshoe's multi horn, multi drummer, multi singer brass funk beast — is back! The perennial festival closers and dance floor inciters mix New Orleans style grooves with funk, jazz and hip hop. The giant band's 2019 full-length album Ride the Bullet (Vegas Funeral Records) led into a seven-month Canada/USA/European tour that saw over 50 sold-out shows. Hurricane features a large horn section, full-throttle rhythm section and two super-energetic front people and has been called a "brass beast thrift shop circus". They work hard to be "the most energetic act in North America" and with 100 plus dates a year and headlining spots all over North America this 10-12 piece act has been catching the attention of the global buyers as well as fans.
Instagram | Facebook | Twitter | Spotify | Apple Music
•
Blind Mule has progressed from many musical directions since their inception in 2007, and their music has evolved from a folk roots duo, to a diverse sounding quintet, revolving around alt-country boogie, which dives into progressive pop, throws in a dash of reggae/ska, and live, rounds it out with many jams and an energetic stage performance, creating a recipe that keeps the dance floor alive and the music fresh.
Instagram | Facebook | Spotify | Apple Music
••
General Admission standing 19+ event. Mobility accommodations available upon request. Valid government issued photo ID is required in order to enter. Door time, set times, and event schedule subject to change. Event subject to change in support of evolving public health protocols.