About this Event
ChinaTOwn: Future Heritage(s) of Toronto's Chinatowns
Who holds the right to decide what gets remembered? Conversely, the right to forget? ChinaTOwn tells the forgotten stories, willful omissions, and accumulation of silences that exist beyond Toronto's official heritage definition of its Chinatown neighbourhoods.
The project aims to put personal stories and individual memory in conversation with state-sanctioned narratives. Each of the projects featured in ChinaTOwn explores the idea that all that is written is not necessarily all that is, and what is remembered extends far beyond what is recorded. Through a conceptual exhibition, participatory workshops, a symposium and roundtable discussion, we seek to uncover untold stories and build a collective, intersectional vision for the future heritage(s) of Toronto's Chinatowns.
Join us as we begin that exploration at the opening of ChinaTOwn: Future Heritage(s) of Toronto's Chinatowns.
Presented by Linda Zhang, Assistant Professor at Ryerson's School of Interior Design (RSID) at FCAD, along with a class of fourth-year RSID students, this immersive and interactive project seeks to identify Chinatown's future heritage(s) through the affects produced by interior architecture, lived experience, collective storytelling, atmosphere, and memory.
Each of the projects featured in ChinaTOwn explores what marginalized communities have known for some time—namely, that all that is written is not necessarily all that is, and what is remembered extends far beyond what is recorded.
Visitors to this exhibit will also have the chance to take part in a Build Your Own Chinatown board game which aims to explore important architectural heritage elements of Chinatown as identified by different community groups, as well as the untold stories about Chinatown.
About Myseum Intersections
This project is presented by Myseum Intersections; a city-wide festival of exhibits, events, and interactive community experiences covering a range of historic and contemporary issues. The festival aims to present a wide array of programming that create dialogue on civic issues and inspire a deeper appreciation for the richness of our city.
Click here to find out more about about this year's Myseum Intersections festival .
About Myseum of Toronto
Myseum is your Toronto museum. Our engaging programs and experiences showcase the history, spaces, culture(s), architecture, and the people, that represent Toronto's unique place in the world.
Please Note
Registration accessibility: Should you have any trouble registering/accessing this form please contact us at info@myseumoftoronto.com or 416.583.2030 for assistance.
Venue Accessibility: Barrier free venue, Guide Dog Allowed.
For accommodations such as ASL interpretation, please contact Festival & Programming Coordinator, Sarah Tumaliuan by email saraht@myseumoftoronto.com or by phone 416-583-2030 two weeks prior to this event and we will do our best to meet all requests.
Entry is on a first come first served basis.
As people are sensitive to scents, we try to provide a scent-free environment. We kindly ask that you please abstain from wearing any fragrances.
There will be photography taken during the event.
In case of any cancellation or changes, we will do our best to notify you i in advance via email.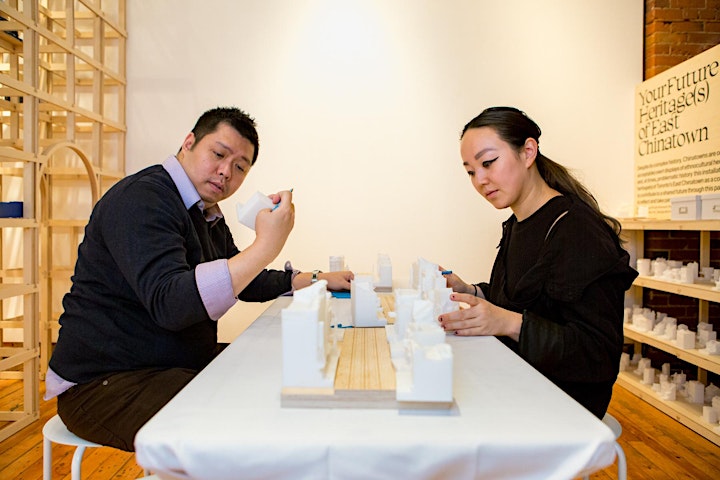 The Build Your Own ChinaTOwn board game at Design TO's 'Come Up to My Room' at the Gladstone Hotel. January 2020.
Photographer: Jocelyn Reynolds