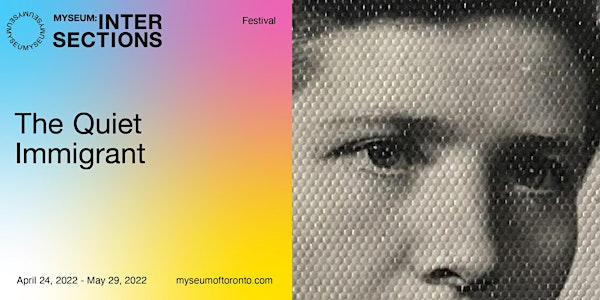 Myseum Intersections 2022: The Quiet Immigrant - Opening & Exhibit Launch
The opening of The Quiet Immigrant Project exhibition, including participatory activities, live music and a theatre performance.
When and where
Location
Joseph D. Carrier Art Gallery, The Columbus Centre 901 Lawrence Avenue West North York, ON M6A 1C3 Canada
About this event
Join us for the opening of The Quiet Immigrant Project! Our Opening Day includes the full launch of our multimedia legacy exhibit and the InHERitance Art Exhibit, where attendees will have the opportunity to walk through and participate in both the exhibit and gallery. Filled with interactive and hands-on stations, you will find opportunity for personal artistic expression through participation. At the exhibit launch, you will find yourself immersed in culture and reminiscent of experience by way of symbolic and touching music, presented in both English and Italian. Finally, a beautiful performance – a commissioned theatre piece – that explores and represents the stories of The Quiet Immigrant. A celebratory afternoon with food and drink, and a room filled with love, laughter, and stories to share. We recommend bringing a set of headphones that pair with your phone.
ABOUT THE PROJECT
An homage to the brave Italian women who immigrated to Canada after WW2 and through sheer strength of character wove their way into the fabric of society. Their stories of strength, courage, determination, and sacrifice are sure to move, amuse, and captivate. The Quiet Immigrant Project is a multifaceted, multimedia, and multilayered legacy exhibit. #femmineforti Learn more.
LOCATION
This event will be held at the Joseph D. Carrier Art Gallery in The Columbus Centre.
Face masks are required inside the Columbus Centre.
Exhibit content available in writing and in audio format (available via QR code)
Service animals allowed
Accessible to mobility devices
Elevator access
ABOUT MYSEUM INTERSECTIONS
Myseum Intersections is an annual city-wide festival that explores arts, culture, and community in Toronto. Throughout the month of April, join us for our first in-person Intersections festival in over two years and rediscover the city through the lens of 5 collaborative projects, with 30+ artists and 10+ community collectives involved. From Parkdale to North York, and Black Creek to Etobicoke, experience free events, exhibits, and workshops that explore contemporary conversations about our city. Learn more.
NOTE
By registering for this event, attendees acknowledge that Myseum of Toronto has permission to share email lists with our project partners, in this case the project leads of The Quiet Immigrant.
____________________
ACKNOWLEDGEMENTS
The Quiet Immigrant is presented in partnership with Myseum of Toronto as part of Myseum Intersections 2022. This project is led by Laura Libralato, Lorena McNamara, and The Quiet Immigrant Project Team, with contributions from Aurora Pagano, Benedetta Stellino, Ester Paris Mauro, Eleanor Buono, Patrizia Libralato, and Jen Bhatthal, and with the support of Villa Charities and the JD Carrier Art Gallery in the Columbus Centre.
Myseum Intersections 2022 is funded by the Government of Canada.
Myseum of Toronto is made possible with the generous support of Diane Blake and Stephen Smith.