Mysterious Barricades Concert - Calgary, Alberta

Sunday, September 10, 2017 from 8:00 PM to 9:00 PM (MDT)
Event Details
Mysterious Barricades is a nation-wide concert project that aims to raise the level of discussion and awareness surrounding the 'mysterious barricades' between mental illness and health, between the darkness of depression and the light of hope, between life and death.
For the first time, Calgary is one of the 15 host cities for a Mysterious Barricades concert. The free concert is at one of the premiere music recital facilities in Western Canada: the Rozsa Centre in the Eckhardt-Gramatté Hall at at the University of Calgary. We acknowledge that the Calgary concert will take place on the traditional territories of the Blackfoot and the people of the Treaty 7 region in Southern Alberta, which includes the Siksika, the Piikuni, the Kainai, the Tsuut'ina, and the Stoney Nakoda First Nations, including Chiniki, Bearpaw, and Wesley First Nations. In addition, the University of Calgary is situated on land adjacent to where the Bow River meets the Elbow River, and that the traditional Blackfoot name of this place is "Mohkinstsis", which we now call the City of Calgary. The City of Calgary is also home to Métis Nation of Alberta, Region III.
Concert Lead:  Laura Hynes
A Fulbright scholar in Paris, coloratura soprano Laura Hynes spent six years abroad in France and Germany, performing repertoire ranging from baroque opera with Les Arts Florissants to "classical cabaret" on French television and radio. Laura Hynes has performed opera roles, solo recitals, and concerts throughout Europe and the U.S. She was the Carolyn Bailey & Dominick Argento Fellow at the University of Minnesota, where she completed a Doctor of Musical Arts degree in 2013. She has also been awarded degrees from the Paris Conservatory (Cycle de Perfectionnement), Cincinnati College-Conservatory of Music (M.M.), and Miami University (B.M.).
Dr. Hynes is currently an Assistant Professor of Voice and Opera at the University of Calgary in Alberta, Canada.
Speaker: Mara Grunau, B.Ed. MPA
Executive Director of the Centre for Suicide Prevention

The Centre for Suicide Prevention (CSP) is a branch of the Canadian Mental Health Association in Alberta. Established in 1981, CSP equips Canadians to respond to people at risk of suicide.
Upwards of 4000 Canadians die by suicide annually. Each year around the world, more people die by suicide than by homicide and war combined.
People are complex, therefore suicide is complex. No two people's journeys to suicide crisis are the same; each person needs to be considered as the individual s/he is. Because of this complexity, there are few best practices that can be grouped in to four broad categories:
Easy, open access to mental health care

Responsible media reporting

Restriction of lethal means, and

Education, including surveillance and further research.
CSP provides the education through secondary research. By collecting all available literature on suicide prevention, CSP boasts the largest English-language library on suicide in the world. We work to continually translate this research into a variety of usable, readily accessible media including webinars, workshops, articles, toolkits and Twitter.
Suicide prevention is everyone's responsibility and once we are equipped with knowledge and skills, we are better prepared to support someone in crisis.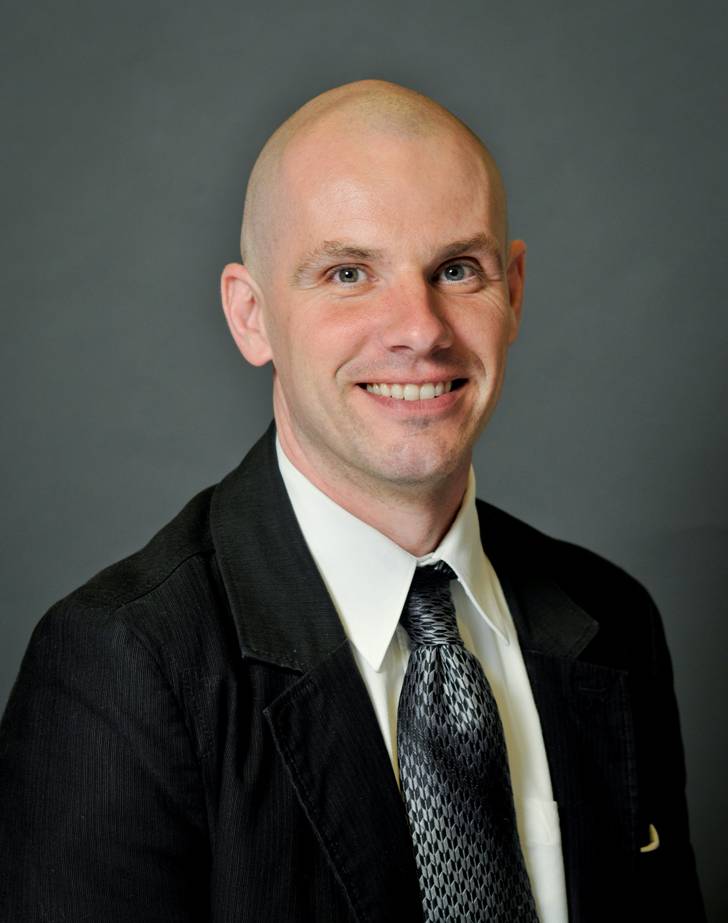 Jean-Louis Bleau, conductor
Jean-Louis Bleau has been very involved in the Calgary and area arts scene for a number of years, organizing numerous concerts and music festivals while maintaining a successful career as a choral conductor. He is the artistic director of Choral Programs at Mount Royal University, where he also directs Mount Royal Artio. In addition to his work at Mount Royal University, Bleau is the artistic director of Cum Vino Cantus and the University of Calgary Chamber Choir, both of which will be performing for this concert.
Bleau's passion for music, especially choral music, is evident through his unique and expressive conducting style, and his enthusiastic approach to rehearsals. He is known for asking his choirs to engage difficult music, always seeking to push the members past their perceived limitations in order to produce music which — while challenging — is ultimately very rewarding.
Bleau has always sought to push the boundaries of choral music and the concert experience through unique collaborations and concert events. This has resulted in performances around a lake in the heart of Kananaskis and concert events in a planetarium, parking garages, an industrial shop and even a swimming pool. He has worked to collaborate not only with other choirs but also a variety of musicians, choreographers, dancers, synchronized swimmers and aerial gymnasts.
When not engrossed in music, Bleau can be found with his partner on their farm northwest of Calgary enjoying the mountain views and the quiet peace of the country.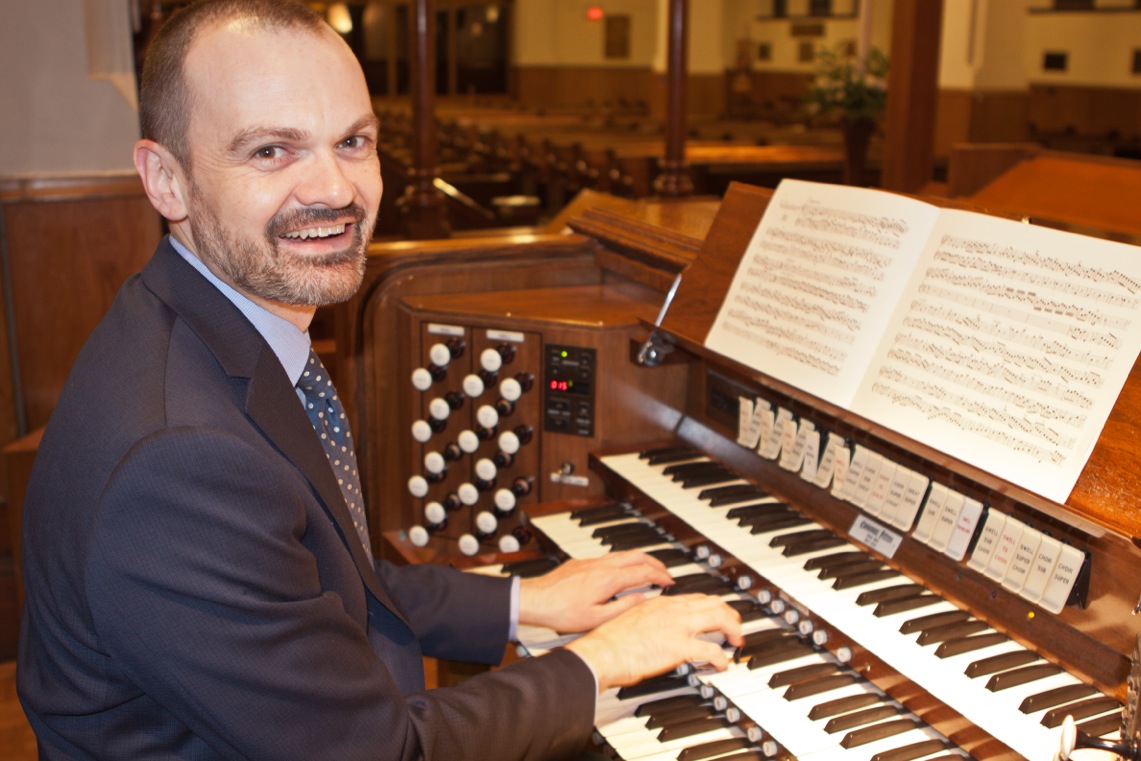 Neil Cockburn, organ
International prize-winning organist Neil Cockburn is Director of Music at the Cathedral Church of the Redeemer (Anglican) in Calgary, Alberta, Canada. Celebrated for his diverse repertoire interests and expertise, he performs an all-encompassing spectrum of solo organ recitals on a wide range of instrument types, from all-Bach recitals on historically inspired organs, to symphonic programmes on romantic instruments, and concerts of entirely new works. His most recent solo recording is of the Mass on the Sixth Tone with three Magnificat Suites by the seventeenth-century French composer, André Raison.
Born in Scotland, Neil Cockburn's musical education was at Oxford University (BA Hons, Music), the Royal Northern College of Music in Manchester, UK (MusM, Organ Performance, and the Professional Performance Diploma, PPRNCM), the Conservatoire National de Région Rueil-Malmaison, France (Premier prix de perfectionnement), and the University of Calgary (PhD, Musicology). His formative teachers and mentors include David Sanger, Margaret Phillips, and Dame Gillian Weir. He won First Prize at the 1996 Dublin International Organ Competition, and has received numerous other prestigious awards, including the W. T. Best Memorial Organ Scholarship (UK), a scholarship from the Countess of Munster Musical Trust (UK), and the Lili Boulanger Memorial Fund Prize — awarded by an international panel of judges.
From 2000-2015 he was Head of Organ Studies at Mount Royal Conservatory, where he worked alongside Simon Preston on the International Summer School (2000-2009), and was Artistic Director of the Calgary Organ Festival (2010-2015). He was awarded the Distinguished Teaching Award (Credit Free) by Mount Royal University in June 2014.
As a harpsichord and continuo player he performs regularly with the Calgary Philharmonic Orchestra. With theorbists Victor Coelho and David Dolata and the group "Il Furioso," he performed harpsichord continuo on two recordings of early seventeenth-century Italian repertoire for the Toccata Classics label: recordings of the music of G.G. Kapsberger and B. Castaldi.
Cheryl Emery-Karapita, piano
Canadian pianist Cheryl Emery-Karapita is based in Lethbridge and specializes in the field of song in recital with Canada's emerging vocal talent. After completing an M.Mus in Vocal Operatic Coaching at McGill with Michael McMahon, Cheryl moved to Europe to pursue a Post-Graduate degree in Concert Accompanying with Julius Drake at the Kunst Universität in Graz, Austria. In addition to studies in Graz, Cheryl spent two summers in Baden bei Wien working with Helmut Deutsch, Roger Vignoles, Rudolph Jansen and Wolfram Rieger at the Franz Schubert-Institut.

Cheryl's B.Mus in solo performance was completed at the University of Calgary with Marilyn Engle. In addition to current recital and recording projects, Cheryl is busy with Spiritus Chamber Choir and Luminous Voices based in Calgary. She also is looking forward to beginning work with students at the University of Lethbridge and CASA Art Centre in Lethbridge.
Adriana Lebedovich, violin
Adriana Lebedovich joined the second violin section of the Calgary Philharmonic Orchestra after successfully winning the audition in May 2007. She convocated from the University of Calgary in June 2009 with a Bachelor of Music, majoring in performance. She began playing the violin at age three and has studied with Katherine Grigoriu, Elaine Henchell, Theresa and Jeff Plotnick, John Lowry, and Edmond Agopian.
Adriana won the University of Calgary Concerto Competition in April 2006 and played the first movement of the Tchaikovsky Violin Concerto with the Calgary Philharmonic Orchestra. Following her debut, she substituted regularly with the CPO until winning her present position. Adriana is a former member of the UCalgary String Quartet and toured Portugal with the quartet in May 2008. The quartet recorded a CD of Eastern European Folk Music which was nominated for a Canadian Folk Music Award as well as a Western Canadian Music Award. She has studied at various summer programs including the Académie Musicale Internationale "Barbara Krakauer" program in Vaison-la-Romaine, France; the ARIA International Summer Music Academy in Muncie, Indiana; and the Banff Centre for Fine Arts. In July 2009 and 2010, Adriana travelled to Brazil for the Festival Internacional de Inverno de Campos do Jordão, under the artistic direction of Roberto Minczuk.
Adriana enjoyed playing the first violin concerto by Mozart with the Sunshine Coast Symphony Orchestra in June 2012, as well as the Beethoven Violin Concerto with the Timmins Symphony Orchestra in March 2014. When she is not playing the violin, Adriana can be found riding her horse, Taima.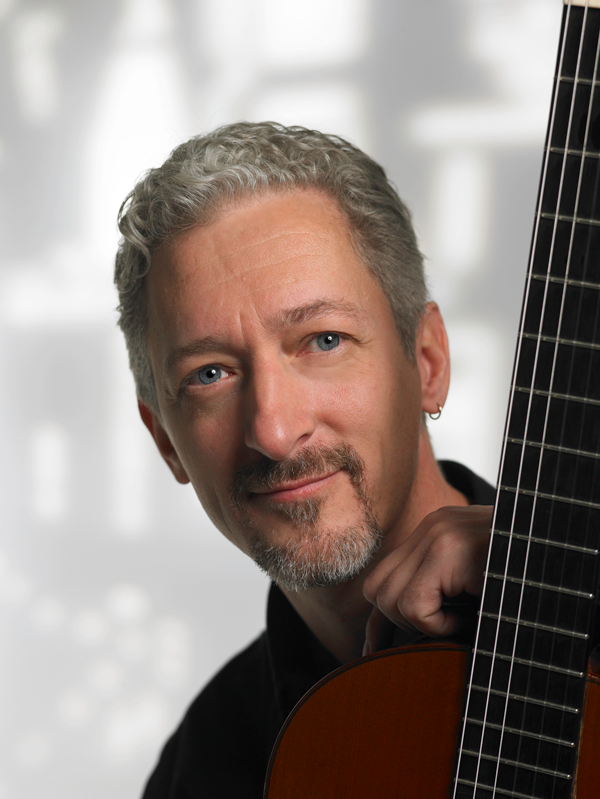 Ralph Maier, guitar
Ralph Maier has been engaging Canadian audiences for over thirty years with his sensitive interpretations and natural technical facility. His concert programs cover a broad range of periods from Renaissance to Contemporary, and he is active as a soloist, chamber musician, and member of the Oberon Guitar Trio . He is currently on faculty at the Mount Royal University Conservatory of Music where he conducts private lessons and ensemble classes, and at the University of Calgary where he heads the classical guitar studio and teaches classes in music history and popular music studies.
Ralph Maier concertizes frequently, and is in demand as a soloist, accompanist and chamber musician on classical guitar and period instruments. He has appeared in Canada and abroad, and his performances have been broadcast on television and radio. Ralph completed his PhD at the University of Calgary, specializing in sixteenth-century Spanish music for vihuela. His first solo CD, The Art of Vihuela, was released in the winter of 2008. Recent projects include the recording, engineering and production of his most recent CD Variations, with performances on vihuela, baroque guitar, romantic guitar, classical guitar, and electric guitars. 
Oliver Munar, tenor
olivermunar.com
Praised for "an instantly likeable and exciting voice" with "gorgeous spinning tone", tenor Oliver Munar is in increasing demand as a soloist for his musicality, interpretation and versatility. Recent engagements include the title role of Benjamin Britten's opera Albert Herring for the University of Alberta, a recital at the International Kodàly Festival and Symposium (Camrose, Canada), and appearances in Austria for the prestigious Franz-Schubert-Institut, singing works by Schubert, Schumann, Hugo Wolf, Richard Strauss and Beethoven. Oliver also sings with two Alberta-based professional choirs, and recently completed graduate studies with acclaimed international operatic tenor John Tessier. He continues to train with Tessier and coach Shannon Hiebert, and is both pleased and honored to lend his voice to this year's cross-Canada performance in support of Mysterious Barricades.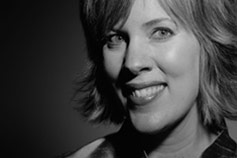 Susanne Ruberg-Gordon, piano
Quoted by the Chronicle Herald as "A superb musician", Swedish-born pianist Susanne Ruberg-Gordon's is a highly regarded chamber-musician and collaborative artist. She has performed with artists such as Andres Cardenes, Andras Diaz, Ron Leonard, James Campbell, Desmond Hoebig, Ian Swensen, Alain Trudel, Jens Lindemann, Ning Feng, Catherine Monoukian, Ni Tao, Arnold Choi and Nikki Chooi.
Susanne is the pianist and core member of the Land's End Ensemble in Calgary, an ensemble that is dedicated to introducing audiences to new music by local, Canadian and International composers, and to performing landmark chamber works of the 20th and 21st centuries. In addition, Susanne is the pianist for the Galena Trio (Johanne Perron, cello and Nicola Everton, clarinet)
After graduating from the Edsberg Institute of Music in Stockholm with a Diploma in Chamber Music, her studies brought her to the Banff Centre Music and Sound Program. Her primary teachers were Greta Eriksson and Jose Ribera but she also appreciates learning from Gilbert Kalish, Marc Durand and David Moroz. Susanne has also performed in various master-classes with Geoffrey Parsons, Richard Goode, Frans Helmerson, Lynn Harrell, Hans Jensen, Lawrence Lesser, Janos Starker, Henk Guittart and Siegfried Palm.
Susanne has been on faculty at the Mount Royal University Conservatory since 1991 where she is the coordinator of Collaborative Pianists, works extensively with senior string students and teaches chamber music. She has also been a Collaborative Artist for the acclaimed Morningside Music Bridge program in Canada, China and Poland since 2001.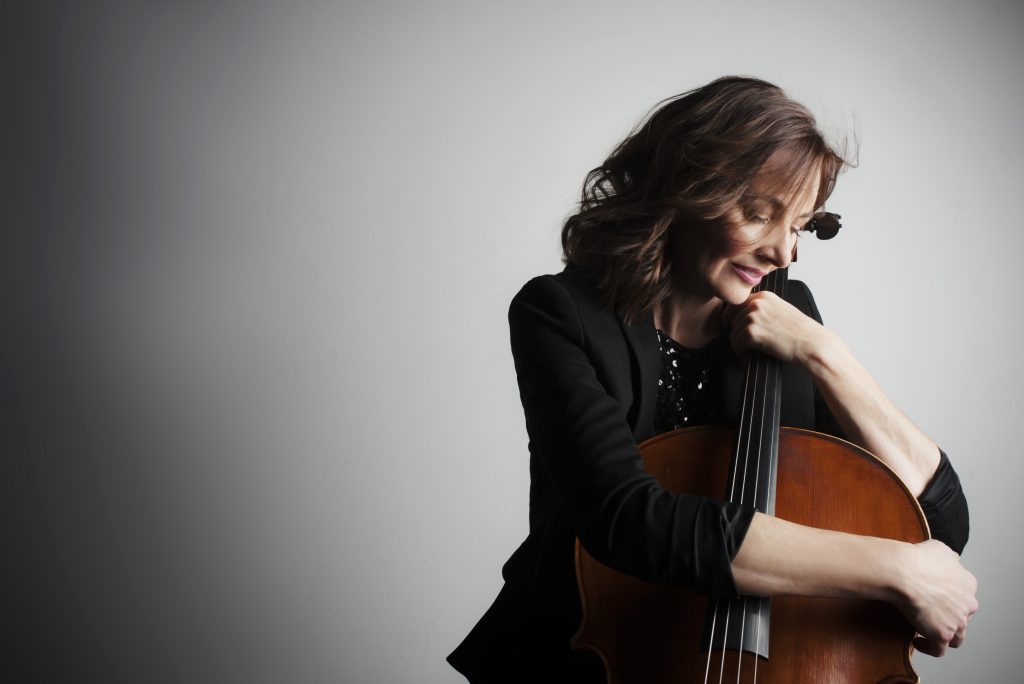 Beth Root Sandvoss (cello)
Cellist Beth Root Sandvoss has a notably varied career as a recitalist, chamber musician and pedagogue. Beth lives in Bragg Creek, Alberta, and enjoys an active performance career in Canada and abroad. She has recorded for WERN Madison public radio, RTHK Radio Hong Kong, and CBC Radio. Beth has recorded six commercial CDs and has premiered more than 50 new works for solo cello, cello/piano and chamber ensemble. Beth has an intense interest in new music and is a founding member of the acclaimed Juno nominated Land's End Ensemble. Beth is also a member of the UCalgary String Quartet in residence at the University of Calgary. Nominated as Instrumental Group of the Year, the UCalgary String Quartet has completed live recordings of all the Beethoven String Quartets as well as the CD Far Behind I left My Country which features Klezmer and East European Folk Music. Beth has the great pleasure and privilege to perform on an award - winning cello made by her husband, Luthier, Christopher Sandvoss.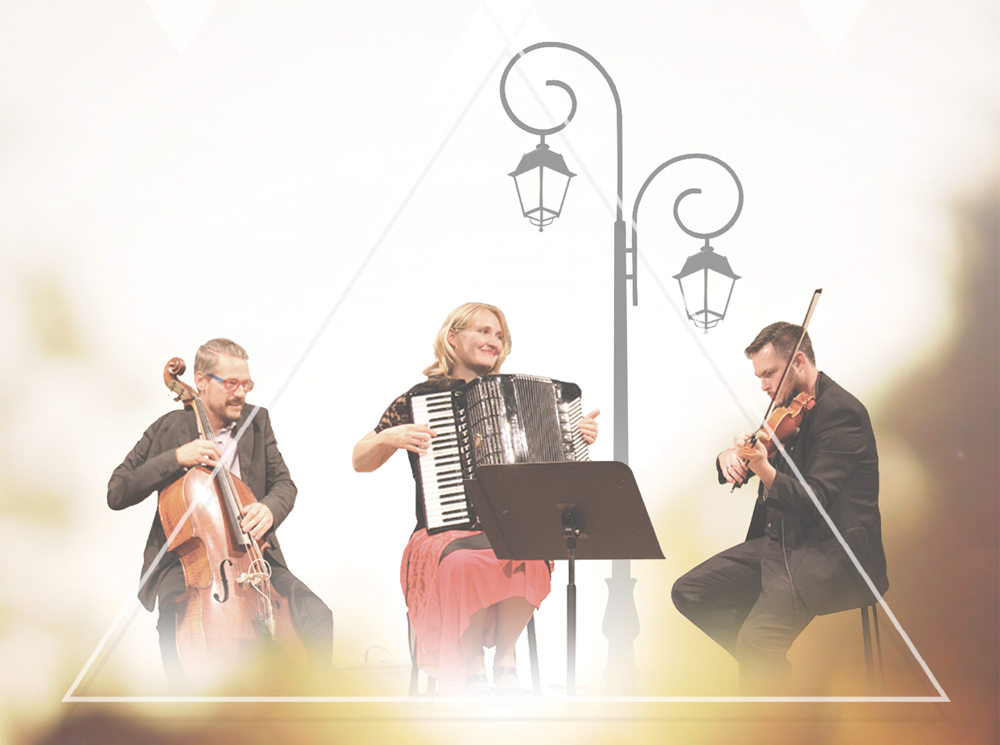 Penny Sanborn Trio features Penny on accordion, Darcy Stamp on violin and Simon Fisk on bassetto. This exceptional trio performs live music for special events including receptions, corporate events, weddings and concerts. Their Chic European sound includes an attractive collection of french musette pieces, Italian folk songs, tango suites and improvised jazz tunes. Listeners will identify with the folk melodies at heart, the technique of classical music along with the improvisation of jazz. It is a fresh and invigorating way of treating this traditional music. Penny's performance credits including the world-renowned Luciano Pavarotti, the Calgary Philharmonic Orchestra, and appearances across Canada, Dubai, France, Italy and Switzerland.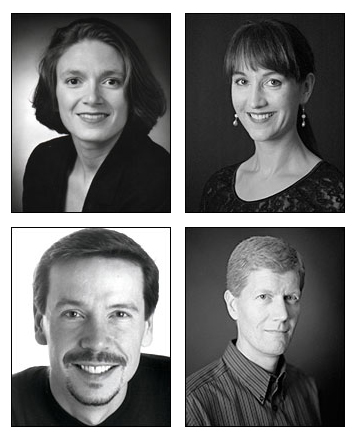 VoiceScapes
VoiceScapes is a professional music collective created in 2000 by two couples: Christina Jahn (Artistic Director, soprano) & Paul Grindlay (baritone), and Julie Harris (soprano) & Jerald Fast (tenor). Each singer brings a broad range of performing experience: from medieval groups to opera companies, from solo to choral work, spanning four continents. The ensemble's mandate is to create distinctive and varied concerts, which include VoiceScapes members in collaboration with other great Canadian musicians.
VoiceScapes specializes in early music and has presented numerous critically acclaimed concerts and operas in concert, including a number of Alberta firsts, including J.S. Bach's Mass in B minor with period orchestra at Baroque pitch. In addition to presenting their own concerts in Calgary, VoiceScapes appears regularly on concert series throughout Alberta, and has been featured with ensembles such as Alberta Baroque Ensemble, Calgary Philharmonic Orchestra, Red Deer Symphony, and Rosa Barocca. Their concerts have been recorded for provincial and national broadcast on CBC Radio Two and they have released two recordings.
When & Where

Rozsa Centre
Rozsa Centre, Eckhardt-Gramatté Hall
Calgary, Alberta
Canada

Sunday, September 10, 2017 from 8:00 PM to 9:00 PM (MDT)
Add to my calendar
Organizer
We would love to hear from you! Whether you are an artist, a friend, a sponsor, a supporter, or a survivor, we would be happy to hear from you. If you have questions or comments, we encourage you to get in touch.