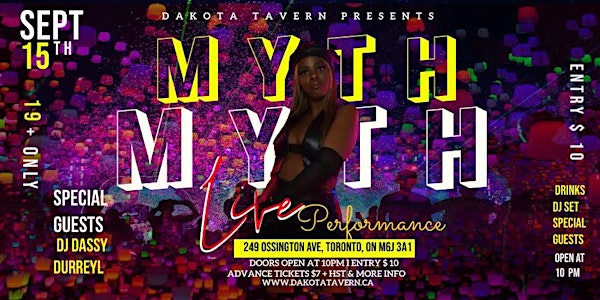 MYTH with DJ Dassy & Durreyl
MYTH with DJ Dassy & Durreyl (DOORS 1OPM)
When and where
Location
The Dakota Tavern 249 Ossington Avenue Toronto, ON M6J 3A1 Canada
About this event
*PLEASE READ GUIDELINES BEFORE PURCHASING YOUR TICKETS*
- Masks recommended.
- This event is General Admission.
- Social distancing is no longer in effect.
- This event is 19+
- No refunds.
MYTH:
Rapper Singer Songwriter MYTH, 29 year old Canadian Songstress - grew up in the main capital city Ottawa. The passion for music has sparked early at the age of 13 years old. From the talent shows held at her Elementary School to Today, Myth had always her eyes set on a stage. From there, she headlined at every show as a member of a traditional Rwandese dance group. In the mid-year of 2013, Myth took a chance to move to Toronto to pursue her music career. She immediately auditioned and attended RAC, which is a private college who focuses on audio engineering. It was a grandiose opportunity for Myth to be part of the artistic community.
From there, she had made some acquaintances with talent producers who have taken part of her recent upcoming demo. MYTH released her demo "The Woman In Me" in 2018 named after her original short film. The demo consists of seven original songs, all written and co-produced by Myth. The demo displays a narrative sequel of the different characters of a womanhood ranging from internal to external relationships. Myth used the pen and her voice as an expressional force by using the different levels of tonality exposed in the range of her voice. From the embodiment of juggling with each theatrical character of her alter ego persona. Her music is now extremely diverse. Myth shows off her capabilities by heading toe to toe with experimental jazz, trap, r&b, house, and afrobeat. She is anticipating to release a 30 debut album in the year of 2023.
IG: @alegendishere
DJ DASSY:
Dassy has a worldly soul. He was introduced to many different cultures and music from a young age, travelling around the world and living in places throughout the UK, Europe, South America, and Canada. While growing up in Toronto, he helped his family work with mas bands and create costumes for Caribana, Toronto's Caribbean carnival festival. Dassy was also heavily submerged in Caribbean culture through soca music, which tied him to his Trinidadian roots.
Additionally, Dassy was mentored by DJ Chief from Baby Blue Soundcrew, one of the largest DJ groups out of Canada. He shadowed DJ Chief and started playing at small family gatherings before joining Chief at his gigs at some of the biggest venues in Toronto. The energy and environment felt natural to him as he was raised around DJs and diverse music.
It wasn't long before he started to book independent gigs at local Toronto bars such as Hapa, Port House, Thompson Hotel, and Power Up Bar. In 2018, Dassy met DJ Soca Sweetness while opening for him at a New Year's event. From there, Sweetness began adding Dassy as a regular DJ at his events, the first being opening for soca artiste Angela Hunte while she was on tour. From there, Dassy was featured in larger projects like Joggers Boat Cruise, which has been graced with performers such as Nessa Preppy, Preedy, Patrice Roberts, GBM Nutron, and many more.
It wasn't long until Dassy's name became more known in Toronto, DJing at concerts throughout the city and opening for other local artists like Mustafa The Poet. He has also built a network with other Canadian DJs, growing his following in other major cities such as Winnipeg and Montreal.
Dassy has a contagious vibration that guarantees a good time. His highly energetic flow has listeners lost in the moment, dancing alongside him.
IG: @dassytoronto
DURREYL:
Hit Single- Know Yourself,' R&B/Jazz singer. Durreyl started performing at the age of 4 when she began professional dance lessons in ballet, jazz and hip hop. Landing roles in the Lion King Mirvish Production Broadway musical as young Nala and theme song vocalist for the Treehouse network cartoon Harry & His Bucket Full of Dinosaur's, Durreyl aka Glxy has the Triple Threat factor.
Durreyl aka Glxy has also worked on set as a dancer with Rihanna & Drake for Director X music video 'Work', as well as an extra in Drake's music video 'Energy'. She has gotten her feet wet with more smaller acting roles like for A&W's commercial - Change is Good as well as Reenactment Crime Series ' See No Evil'. Durreyl aka Glxy's sound can be defined as a fusion of Sultry Contemporary Jazz, R&B and Hip-Hop.
IG: @durreylakaglxy