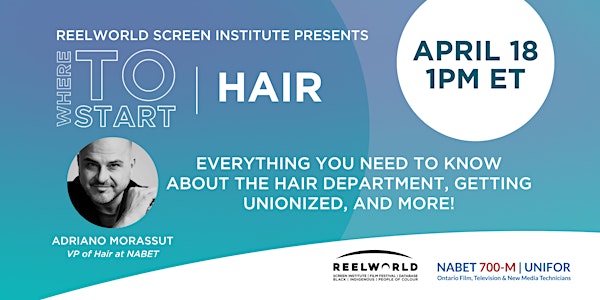 NABET Info Session #5: Hair
Reelworld is partnering with NABET 700-M UNIFOR to provide an in-depth understanding of how to join various departments.
By Reelworld Screen Institute
Date and time
Starts on Tue, Apr 18, 2023 10:00 AM PDT
About this event
NABET Info Session #5: HAIR
Reelworld is partnering with NABET 700-M UNIFOR to provide an in-depth understanding of how to join various below-the-line departments within the screen industry. In continuation of the series of webinars, join Adriano Morassut, VP of Hair with credits including Ruby and The Well, and explore the world of Hair. This discussion will cover different roles and responsibilities that exist within the Hair Department and what a typical day on set might look like. The session will also cover the pathway to working on sets in film and television, how to get unionized, as well as information about NABET apprenticeships. The talk will be followed by a Q&A.
Registrants must create a profile on https://www.accessreelworld.ca/ prior to registering.
Register here: https://www.accessreelworld.ca/checkout/3
Topics Covered (Hair):
What is the Hair
What is included in the role of a Hair Stylist on set
What is the structure of the department
Day to Day responsibilities
Challenges as a newcomer
Joining NABET
The NABET Apprenticeship program
Session Structure:
The workshop will take place over zoom. The workshop lead can choose what format they would like to conduct the workshop in - this can either be a lecture type workshop with an open floor Q/A or a more class based workshop with visual aids and more.
About the organizer
Reelworld was founded in 2000 by award winning actress and producer Tonya Williams to advance opportunities for Canadians who are Black, Indigenous, Asian, South Asian, and People of Colour in the screen industries by providing professional development and advocating for racial equity in Canadian content and production. Reelworld Screen Institute, a non-profit, provides training programs and presents the acclaimed Reelworld Film Festival, which celebrates stories by racialized Canadians. Providing access to opportunities is core to Reelworld, and Access Reelworld is Canada's leading hiring platform for racialized crews and talent. Reelworld Foundation, a registered charity, is transforming the industry by creating mechanisms that hold systems accountable for greater equity.