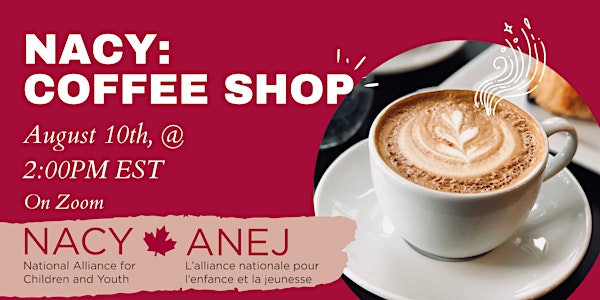 NACY August Coffee Shop
Join in our Monthly Coffee Shop for a robust dialogue about a range of topics impacting the children and youth sector.
About this event
Theme: Youth Engagement
In addition to creating space for questions and feedback, we will be talking about: challenges re-engaging youth in a post-pandemic world, continuing to create safe online spaces, delivering innovative programs on a tight budget, creating youth-led programming and how partners can help you create robust program opportunities. This is a great opportunity to connect with front-line workers across Canada all working to create spaces where children and youth can thrive.
This session is open to ALL, and is created as a space for learning and sharing. We encourage those who are working in front-line program delivery within the children and youth sector to join be a part of the conversation.
We are excited to offer this coffee shop in partnership with Young Canadians Roundtable on Health as part of International Youth Day (August 12th).
Questions? Contact info@nacy.ca