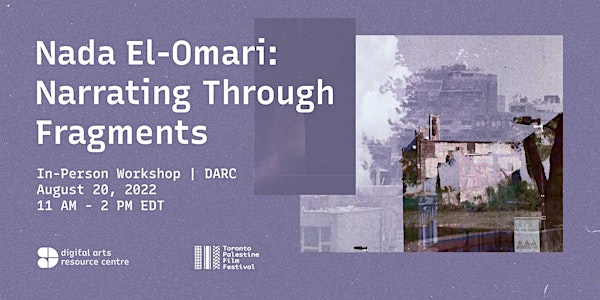 Nada El-Omari: Narrating Through Fragments
This in-person workshop will guide artists through the process of self-narration by combining image, sound, and prose.
When and where
Location
Digital Arts Resource Centre (formerly Saw Video) 67 Nicholas Street Ottawa, ON K1N 7B9 Canada
Refund Policy
Contact the organizer to request a refund.
Eventbrite's fee is nonrefundable.
About this event
How do we self-narrate our stories through our fragments? Hybridity can be a task of process in which the text, the image and the sound live independently yet through motions and time melt together. Separating sound from image, digital from physical and text from edits and letters, each aspect can speak to itself, then the other and from their fragmented state form a whole. Through the exploration of how we can interact with images and sounds, old and new, found and personal, how can we explore, through process, new ways to speak hybridity, self, poetry, identity and story.
In this workshop we'll navigate self-narration through process. Everyone has a "box" of fragments scattered or safely carried through time. By exploring them each separately - the images, the sounds, the papers, the found and forgotten videos and memories or the letters written along the way - we'll explore together a new way to place our own stories within a timeline. Following an introduction presenting the process, participants, with their own gathered pieces, will explore how to create by combining image and/or sound and/or prose and discuss what it means to speak ourselves this way.
This is an in-person workshop offered at Digital Arts Resource Centre (67 Nicholas St, Ottawa). To participate in this workshop, all participants must be fully vaccinated and wear a mask while on site at DARC.
Participants will need access to:
• Their own box of fragments (this can be anything including audio, video, text, textures, prose - think of what you want to include in your process of narration)
• iMacs will be provided for participants to use, but you are welcome to bring your own laptop if you prefer
• Any additional materials will be sent in advance via email
Registration (Single Session Workshop)
Saturday, August 20, 11am-2pm
Instructor
Nada El-Omari is a filmmaker and writer of Palestinian and Egyptian origin based in Montréal, Québec. She has centered her practice and research interests on the intergenerational transmissions of memories, displacement and the stories of belonging and identity through a poetic, hybrid lens. Focusing on process and fragments in text, sound and image, Nada explores different ways to self-narrate new ways to speak hybridity and self. Her films have recently been shown at the NYU's Orphan Films Symposium, Belfast Film Festival, Palestine Cinema Days, Visions Cairo, Toronto Palestine Film Festival and on Shasha. Her work has also been published in Montréal Sérai and qumra journal. She is currently displaying a digital project commissioned by the Art Gallery of Ontario (on view at: 1-home.net) in collaboration with Sonya Mwambu. El-Omari holds a BFA in Film Production and MFA in Film from York University.
Workshop Pricing
This workshop is offered on a sliding scale, meaning individuals determine their own fee based on what they can afford.
We understand that everyone's situation is different. When registering for workshops, we ask that you honestly examine your privilege (i.e. education, generational wealth, parental or community support, partnership status, and other circumstances that may provide a safety net when financial setbacks occur).
DARC also offers a no cost ticket option if access to funds is a barrier to participation. For more information please email access@digitalartsresourcecentre.ca
Accessibility
All doors at DARC have accessibility buttons to press for automatic entry. DARC is located on the main floor (one story above ground) of the Arts Court building. DARC's main entrance is located at 67 Nicholas Street which is fully wheelchair accessible. Alternate wheelchair-accessible entry is available through 2 Daly Ave at the Arts Court main entrance or the Ottawa Art Gallery. Elevator access is available from 9AM – 11PM. DARC staff are available and happy to assist with all inquiries and requests regarding physical access. We also welcome inquiry, feedback, and resources regarding accessibility and accessibility improvement by phone (613.238.7648 x. 4) or by email at access@digitalartsresourcecentre.ca.
Visit https://digitalartsresourcecentre.ca/access/ for information on how to get to DARC, language barriers, fragrance policy, and access to programming.
Cancellation Policy
DARC is unable to provide course attendee refunds for cancellations. DARC reserves the right to cancel or reschedule courses if necessary.