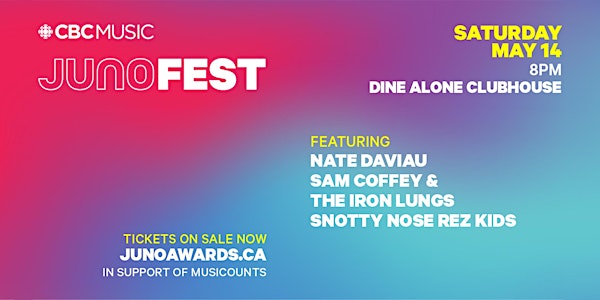 Nate Daviau + Sam Coffey & The Iron Lungs + Snotty Nose Rez Kids
CBC MUSIC JUNOfest Presents
Performers
Nate Daviau, Sam Coffey and The Iron Lungs, Snotty Nose Rez Kids
Location
Dine Alone Records Clubhouse
864 Eastern Ave.
Toronto, ON M4L 1A3
Canada
CBC MUSIC JUNOfest presents Nate Daviau + Sam Coffey and the Iron Lungs + Snotty Nose Rez Kids
About this event
Hailing from the North, inspired by the South, Nate Daviau (pronounced dav-ee-o) is a Toronto-born, artist and songwriter. Nate is an engaging performer who has a natural and easy connection with people. A Country artist inspired by alt-country greats like Chris Stapleton and Jason Isbell, Nate has broad interests from pop, folk, gospel and jazz which influence his music. Nate's distinctive voice, meaningful turn of phrase and lyrical ease partner with hook oriented melodies to make his songs catchy and memorable. He's spent the last four years studying songwriting at the prestigious Berklee College of Music, and has released two independent EPs in that time. He's an excellent demonstration of what a guitar-toting songwriter is capable of onstage. Recent single "Listerine" testifies to his bona fides.
Instagram | Facebook | Twitter | TikTok | Spotify | Apple Music
•
Sam Coffey & The Iron Lungs are a power pop band from Toronto. Formed by Coffey, a former mechanic's apprentice from Kitchener, Ontario, with its members collected from various Ontario small towns, they rapidly ingratiated themselves with Toronto's punk scene. The band released a stream of DIY singles before signing to Oakland punk/garage rock label Southpaw Records (Ty Segall, Young Guv) for their Gates of Hell LP in 2014, which received praise from outlets like Pitchfork, Spin and Noisey. Touring extensively and playing with bands like Redd Kross, Black Lips, Screaming Females and The Flamin' Groovies, Sam Coffey & The Iron Lungs have become regulars in DIY venues up and down the East Coast. In 2017 the band signed to Dine Alone and Burger Records to release their self-titled album. Working with producer Alex Bonenfant (METZ, Crystal Castles) the album embraced Coffey's abiding love for, and near encyclopedic knowledge of '70s glam and power pop in the interest of evolving past the band's garage roots. Showcasing a potent brand of guitar pop that draws influence from a broad swath of the genre's history, including acts like Big Star, Dwight Twilley, Cheap Trick, Teenage Fanclub, Kiss, The Undertones and The Exploding Hearts, the album revels in a rough and anarchic feel, best exemplified by Coffey's impassioned wail of a singing voice, while displaying a deft and at times sophisticated approach to songwriting and arrangement. With the album the band found success on the radio for the first time, with their singles "Talk 2 Her", "Tough", and "First Time" charting on the rock and alternative charts. This success launched them into bigger venues across North America, burnishing their reputation as a thrilling live band while touring with Billie Joe Armstrong's The Longshot, The Dirty Nil, The Flatliners, Frank Turner, and The Sheepdogs. The Iron Lungs employ harmonized leads, call and response backing vocals and a seemingly endless supply of shout along choruses, as Coffey empathetically presents a collection of nostalgia-tinged dramas about teenage suburban isolation and escape rooted in an unshakeable belief in the transformative power of guitar music. As Coffey puts it, "honestly, I just wanna rock." New album Real One (released February 2021 on Dine Alone) is their first major release in three years and one that follows on the heels of singles "Back With The Gang", "Gates Of Heaven", and "What This City Needs". Dominionated raves, "Real One finds the six-piece at the peak of their powers, delivering a raw, emotional, take-no-prisoners album destined for dive bars and arenas alike."
Instagram | Facebook | Twitter | Spotify | Apple Music
•
Snotty Nose Rez Kids is a Canadian Hip-Hop duo of Haisla (Indigenous) descent from Kitimat, BC. Rappers Yung Trybez and Young D formed the duo in 2016, releasing two albums in 2017 with their second, The Average Savage, winning them them Best Hip Hop Artist at the Western Canadian Music Awards (WCMA's), cemented them on 2018's Top 10 list of the coveted Polaris Music Prize, and landed them a 2019 JUNO Nomination for best Indigenous Music Album. The group toured heavily in Canada with appearances in New York City, Seattle and Darwin, Australia. They quickly gained notoriety for their energetic, inspiring and thought provoking performances. Coming off a busy 2019 releasing their third album, TRAPLINE, touring North America, Australia and Mexico, landing stellar news pieces from Complex,Vice, Exclaim!, Okayplayer, and The FADER, and wrapping the year with multiple awards and millions of streams, SNRK were poised for 2020 to be their breakout year. Complex named them in their 'Ones to Watch for 2020.' After announcing their first 23 city US headline tour, COVID hit and all plans were abandoned. They released their debut EP, Born Deadly, and landed various sync deals with network shows Trickster and Resident Alien, and feature films Monkey Beach and Inconvenient Indian. Their 2019 single, "Boujee Natives", achieved over 1.5 million streams and became their first music video to reach over 2 million views. As COVID restrictions began to ease in 2021, SNRK were back in studio, creating their most personal project to date, LIFE AFTER, released in October 2021. The release landed them on the covers of Exclaim Magazine, Range Magazine and The Georgia Straight. Their hit single, Uncle Rico, debuted on BET Jams and went into rotation on MTV. After a year and half SNRK were back on the road for leg 1 of their Life After Tour with 13 shows in the US, and have announced a second leg for 2022 with another 20+ dates in Canada and the US. Picking back up where they left off in 2020, SNRK are set for 2022 to be their breakout year.
Instagram | Facebook | Twitter | TikTok | Spotify | Apple Music
••
COVID-19 MATTERS
While attending CBC MUSIC JUNOfest shows, you must abide by the policies of any of the venues hosting any portion of CBC MUSIC JUNOfest, including their policies related to COVID-19, as well as any of CARAS' COVID-19 policies in place from time to time. Failure to abide by such policies may result in the venues and/or CARAS taking remedial action against you, including prohibiting you from attending the event and/or removing you from the premises. Refunds will not be issued should you be removed from the event or any premises (or prohibited from attending) for any reason, including for failing to abide by applicable COVID policies and protocols.
••
General Admission 19+ event. Valid government issued photo ID is required in order to enter. Artists and event schedule subject to change. Event subject to change in support of evolving public health protocols.