O Canada and all Canadians and friends of Canada, join with us at the city gates across our nation, in a night of prayer, and prophecy.
About this event
Every 3d Friday of the month we get together via ZOOM to lift our voices up to Heaven and intercede for our nation. We're asking God for Canada, an inheritance He has promised us and our children and their children's children. And we're asking to see a revival and healing in our land.
We are in a suddenly moment. A season when everything that can be shaken is being shaken, so that what is to remain will.
The Spirit of the Lord is saying,
He is doing a sudden shift in our nation and is calling the gatekeepers and watchmen back to the city gates of our nation. They've been gone for too long and the enemy has taken our city gates.
He is calling us back to the gates of our nation.
We are in the hour that Jesus spoke of in Luke 21 "...perplexed by the roaring seas and strange tides... Be on guard..." He said. So we welcome all who hear the clarion call to join with us during the 3d watch every 3d Friday night of the month, to turn the enemy back from the gates of our nation.
We await the revival in our nation, that will take place on the other side of this battle cry.
2 Chronicles 7:14 "if my people, who are called by my name, will humble themselves and pray and seek my face and turn from their wicked ways, then I will hear from heaven, and I will forgive their sin and will heal their land".
RUACH Ministries
PS Please, share and invite others to join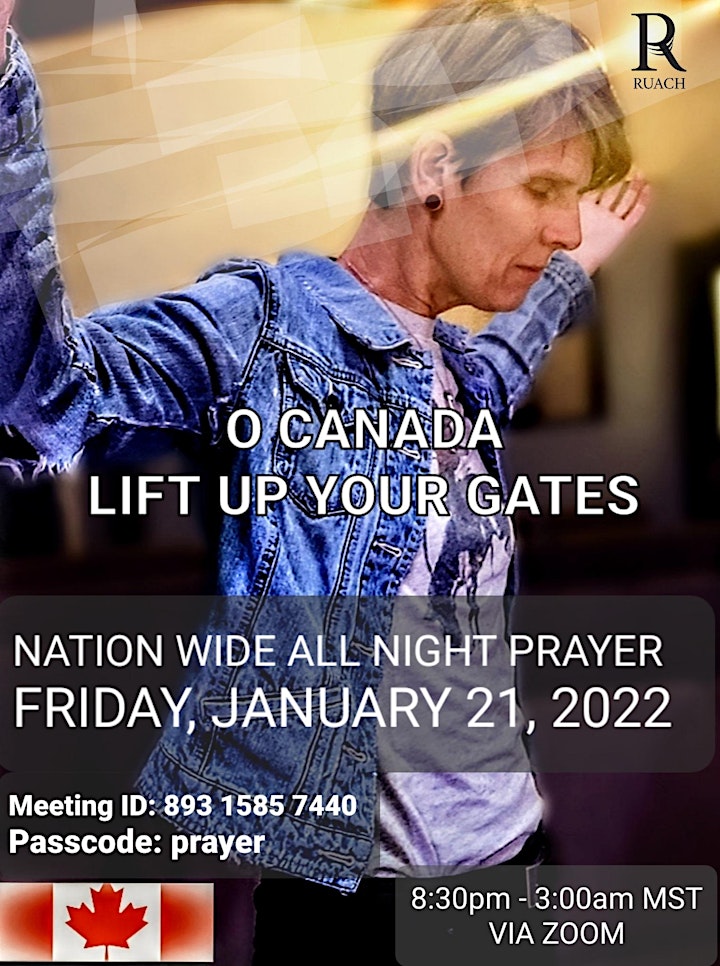 Every 3d Friday of the month
8:30pm - 3:00am via ZOOM
Meeting ID: 893 1585 7440
Passcode: prayer
You're welcome to log in and leave at anytime during our prayer or stay with us the entire night.