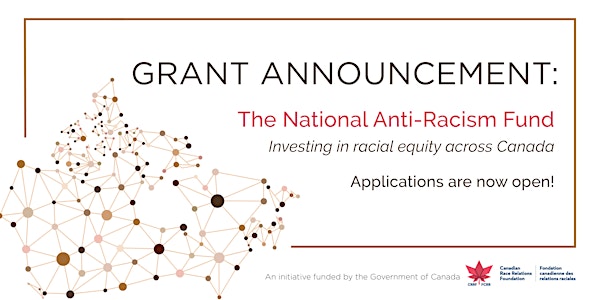 National Anti-Racism Fund Application Guidance Webinar
Guidance webinar for National Anti-Racism Fund / Webinaire d'orientation pour le Fonds national de lutte contre le racisme
About this event
The Canadian Race Relations Foundation (CRRF) seeks to support organizations to combat racism, promote events and education, and build a more anti-racist society.
The $3 million National Anti-Racism Fund will be disbursed over two years, which is a valuable contribution to the continuation of CRRF's mission: developing, sharing, and applying knowledge and expertise to contribute to the elimination of racism and all forms of racial discrimination in Canadian society.
This webinar will allow all those interested in applying to the fund to learn more details about funding streams, eligibility and timelines. Prospective applicants will also have the opportunity to ask questions.
The National Anti-Racism Fund application guidance webinars will take place on:
Thursday, January 6th from 1 PM - 2 PM EST (English only)
Thursday, January 13th from 2 PM - 3 PM EST (French only)
Wednesday, January 19th from 4 PM - 5 PM EST (English only)
To learn more about the fund and application guidelines, click the link below:
CRRF's National Anti-Racism Fund
***
La Fondation canadienne des relations raciales (FCRR) cherche à soutenir les organisations qui luttent contre le racisme, encouragent les événements et l'éducation, et construisent une société plus antiraciste.
Le Fonds national de lutte contre le racisme, doté de 3 millions de dollars, sera déboursé sur deux ans, ce qui constitue une contribution précieuse à la poursuite de la mission de la FCRR : développer, partager et appliquer les connaissances et l'expertise pour contribuer à l'élimination du racisme et de toutes les formes de discrimination raciale dans la société canadienne.
Ce webinaire permettra à toutes les personnes intéressées à présenter une demande au fonds d'apprendre plus de détails sur les volets de financement, l'admissibilité et les échéanciers. Les candidats potentiels auront également l'occasion de poser des questions.
Les webinaires d'orientation sur les demandes du Fonds national de lutte contre le racisme auront lieu le
Jeudi, le 6 janvier de 13 h à 14 h HNE (en anglais seulement)
Jeudi, le 13 janvier de 14 h à 15 h HNE (en français seulement)
Mercredi, le 19 janvier de 16 h à 17 h HNE (en anglais seulement)
Pour en savoir plus sur le fonds et les directives de demande, cliquez sur le lien ci-dessous :