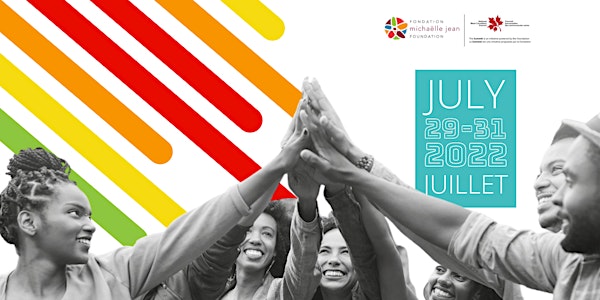 NATIONAL BLACK CANADIANS SUMMIT │ SOMMET PANCANADIEN DES COMMUNAUTÉS NOIRES
Third National Black Canadians Summit, Halifax, Nova Scotia ︱Trosième Sommet pancanadien des communautés noires, Halifax, Nouvelle-Écosse
When and where
Location
Halifax Convention Centre 1650 Argyle Street Halifax, NS B3J 0E6 Canada
About this event
FRENCH VERSION BELOW
Soon, Canada's Black communities will converge in Halifax for the third installment of the National Black Canadians Summit (NBCS), organized and hosted by the Michaëlle Jean Foundation.
This year, the National Black Canadians Summit is aligned with the three pillars of the International Decade for People of African Descent (2015-2024): recognition, justice and development, as proclaimed by the United Nations.
We aim to create real awareness of the shared responsibility to act against exclusion and racial discrimination, the effects of which have a devastating and pernicious impact on the whole of society. Eradicating racism and its devastating impact on our society must matter to all. Together we are stronger.
As one of the major mobilizations for Black Canadians from all generations, on the eve of Emancipation Day, let's converge in great numbers in Halifax for the third edition of our National Black Canadians Summit. Nothing about us can be without us.
Note: To ensure the safety of all of our attendees, we will be following all Federal and Provincial Public Health Covid-19 guidelines at the moment of the Summit.
The Summit is a bilingual event, with simultaneous interpretation offered to our attendees.
SEE THE FULL PROGRAM ONLINE
DELEGATES IMPORTANT INFORMATION
HEADPHONES REQUIREMENTS FOR LANGUAGE INTERPRETATIONDelegates will need to come with their own mobile devices and own listening devices (headphones) for simultaneous interpretation, from French to English or vice versa. Please note that ASL interpretation will be available.
ACCOMMODATION NEEDS To make your time an incredible experience at the Summit, please fill out this form for dietary restrictions and things to accommodate our delegates for the entire duration of the Summit: https://forms.gle/p8zbfQvervw5uwGv8
Très bientôt, les communautés noires du Canada vont se réunir pour le troisième volet du Sommet pancanadien des communautés noires (SPCN), organisé et animé par la Fondation Michaëlle Jean.
Le Sommet pancanadien des communautés noires est né de la volonté de plus d'une trentaine d'artistes émergents d'ascendance africaine, vivant à Halifax, Toronto, Montréal et Ottawa.
Cette année, le Sommet pancanadien des communautés noire s'aligne sur les trois piliers de la Décennie internationale des personnes d'ascendance africaine (2015-2024) : reconnaissance, justice et développement, tels que proclamés par les Nations Unies. Nous visons à créer une réelle prise de conscience de la responsabilité commune à agir contre l'exclusion et la discrimination raciale, dont les effets ont un impact dévastateur et pernicieux sur l'ensemble de la société. L'éradication du racisme et de son impact désastreux sur notre société doit être une question qui nous concerne tous. Tous ensemble, nous pouvons être plus forts.
En tant que l'une des principales initiatives de rassemblement des Canadiens noirs de toutes les générations, à la veille du Jour de l'émancipation, réunissons-nous en grand nombre à Halifax pour la troisième édition de notre Sommet pancanadien des communautés noires. Rien de ce qui nous concerne ne peut se faire sans nous.
Nous suivrons toutes les lignes directrices fédérales et provinciales sur la COVID-19 qui seront en place lors de la tenue du Sommet.
Le Sommet est un événement bilingue, dont l'interprétation simultanée est offerte aux participants.
VOIR LE PROGRAMME COMPLET EN LIGNE
INFORMATION IMPORTANTES POUR LES DÉLÉGUÉ-ES
EXIGENCES EN MATIÈRE DE CASQUE POUR L'INTERPRÉTATION Les délégués devront apporter leurs propres appareils mobiles et leurs propres dispositifs d'écoute (écouteurs) pour l'interprétation simultanée, du français vers l'anglais ou vice versa. Notez que l'interprétation en langage des signes (ASL) sera disponible.
MESURES ADAPTATION Afin de rendre votre séjour au Sommet une expérience incroyable, veuillez remplir ce formulaire pour les restrictions alimentaires et les besoins de nos délégués pendant toute la durée du Sommet : https://forms.gle/p8zbfQvervw5uwGv8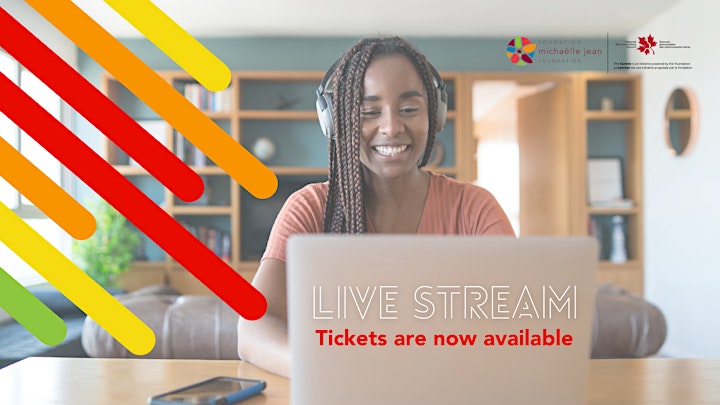 LIVE STREAM PROGRAM SUMMIT - TICKETS ON SALE
The live stream is an opportunity for the public to take part in a suite of sessions, to hear the presenters and interact with panelists at the Summit. The three-day live stream program will showcase the Opening ceremony, youth-focused workshops, keynote addresses, roundtable discussions and the Halifax Declaration.
Access to the entire live stream summit costs $45 with complementary modules to enhance the online experience.
DAY 1 ︱ Friday, July 29The presence of Youth will be prominent at the Summit – as such, the online audience will be able to hear their perspectives and initiatives that are strongly committed to the eradication of racial discrimination and participate in the Interactive Arts expression along with the Anti-Black Racism Toolkit workshops. The Nova Scotia Human Rights Commission and the Canadian Race Relations Foundation will present the Human Rights Roundtable highlighting mobilization efforts carried out by the Black Canadian communities.
Delegates and the online audience will be officially welcomed at the Opening ceremony, with a special greeting by the Honourable Arthur J. LeBlanc, Lieutenant Governor of Nova Scotia. Keynote remarks will be given by The Right Honourable (TRH) Michaëlle Jean and activist Vanessa Hartley. Their inspirational words will set the tone for the Summit.
DAY 2 ︱ Saturday, July 30
Day will start with an Opening Plenary session with the Summit co-chairs, Vanessa Fells and DeRico Symonds. Followed by a Conversation with Canadian changemakers, Stephan James and Shamier Anderson, co-founders of the Black Academy, hosted by Fabienne Colas, founder of various film festivals. Afterward, the Summit will get into full swing with these sessions: Let's talk Black Health, Breaking barriers in Education (Primary – Grade 12), Black Business Roundtable, Black Identity and Creative Expression, Blacks in Science and Tech, Black Lives Matter and Beyond and What if… Reimagining the future of affordable housing for Black Canadians Roundtable.
DAY 3 ︱ Sunday July 31The culmination of the Summit will be the adoption and proclamation of the Halifax Declaration which will bring together the crucial points of the discussions, deliberations, recommendations and expectations complemented by remarks from TRH Michaëlle Jean. This exceptional live stream will be witnessed all across Canada with the UN Special delegation in attendance to ensure it is heard around the world.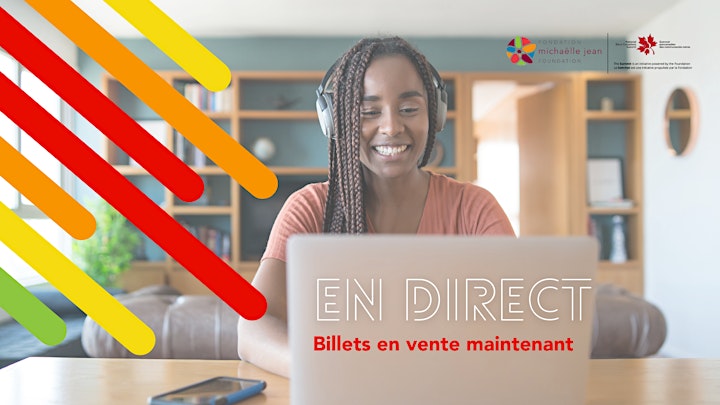 PROGRAMME DE DIFFUSION EN DIRECT DU SOMMETLa diffusion en direct est l'occasion pour le public de participer à une série de sessions, d'entendre les présentations et d'interagir avec les panélistes du Sommet. Le programme de diffusion en direct des trois jours inclura la cérémonie d'ouverture, plusieurs ateliers dédiés aux jeunes, des allocutions, les tables rondes et la Déclaration d'Halifax.
L'accès à la diffusion en direct pour toute la durée du Sommet coûte 45$ avec des modules complémentaires pour une optimisation de l'expérience en ligne.
Jour 1 ︱ Vendredi 29 juillet Les jeunes seront très présents au Sommet. Le public en ligne pourra prendre le pouls de leurs perspectives et initiatives vigoureusement engagées pour l'éradication de la discrimination raciale, participer aussi avec eux à des ateliers d'arts interactifs percutants ainsi qu'à ceux consacrés à une boîte à outils inédite pour agir contre le racisme. La Commission des droits de la personne de la Nouvelle-Écosse et la Fondation canadienne des relations raciales présenteront la Table ronde sur les droits de la personne, les efforts et les initiatives des communautés noires canadiennes. Les délégués et le public en ligne seront officiellement accueillis lors de la cérémonie d'ouverture, d'abord tout spécialement par l'honorable Arthur J. LeBlanc, lieutenant-gouverneur de la Nouvelle-Écosse. Suivront les allocutions d'ouverture prononcées par la très honorable (LTH) Michaëlle Jean et la jeune militante Vanessa Hartley qui donneront le ton au sommet.
Jour 2 ︱ Samedi 30 juilletLa journée commencera par une séance plénière d'ouverture avec les coprésidents du Sommet, Vanessa Fells et DeRico Symonds. Elle sera suivie d'une Conversation avec des acteurs de changement entre Stephan James et Shamier Anderson, co-fondateurs de la Black Academy, avec Fabienne Colas, fondatrice de divers festivals de films. Le Sommet battra son plein avec ces sessions très attendues : Parlons de la santé des Noirs, Briser les barrières du racisme systémique en éducation - du primaire à la 12e année, la Table ronde sur les gens d'affaires noirs, Identité noire et expression créative Les Noirs dans les secteurs de la science et de la technologie, Au-delà de Black Lives Matter « La vie des Noir.es compte » - Activisme transformateur et construction de la beauté, et « Et si… » : Réinventer l'avenir du logement abordable pour les Canadiens noirs, une table ronde pour repenser l'avenir du logement abordable du point de vue des communautés noires.
Jour 3 ︱ Dimanche 31 juilletLe point culminant du Sommet sera l'adoption et la proclamation de la Déclaration d'Halifax qui rassemblera les points importants des discussions et délibérations, recommandations et attentes, complétés par les propos de LTH Michaëlle Jean. Cette diffusion en direct exceptionnelle pourra être suivie de partout au Canada en présence également de la délégation spéciale des Nations Unies qui s'assurera de la répercuter à l'échelle mondiale.
THANK YOU TO OUR PARTNERS │ MERCI À NOS PARTENAIRES