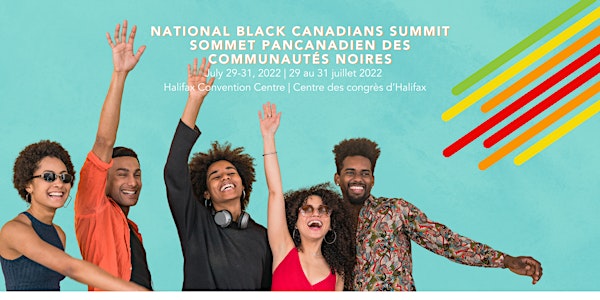 NATIONAL BLACK CANADIANS SUMMIT │ SOMMET PANCANADIEN DES COMMUNAUTÉS NOIRES
Location
Halifax Convention Centre
1650 Argyle Street
Halifax, NS B3J 0E6
Canada
Refund policy
Contact the organizer to request a refund.
Eventbrite's fee is nonrefundable.
Third National Black Canadians Summit, Halifax, Nova Scotia ︱Trosième Sommet pancanadien des communautés noires, Halifax, Nouvelle-Écosse
About this event
FRENCH VERSION BELOW
Soon, Canada's Black communities will converge in Halifax for the third installment of the National Black Canadians Summit (NBCS), organized and hosted by the Michaëlle Jean Foundation.
The National Black Canadians Summit was born from the call of over thirty emerging artists of African descent, living in Halifax, Toronto, Montreal and Ottawa.
This year, the National Black Canadians Summit is aligned with the three pillars of the International Decade for People of African Descent (2015-2024): recognition, justice and development, as proclaimed by the United Nations.
We aim to create real awareness of the shared responsibility to act against exclusion and racial discrimination, the effects of which have a devastating and pernicious impact on the whole of society. Eradicating racism and its devastating impact on our society must matter to all. Together we are stronger.
As one of the major mobilizations for Black Canadians from all generations, on the eve of Emancipation Day, let's converge in great numbers in Halifax for the third edition of our National Black Canadians Summit. Nothing about us can be without us.
Words of our Summit co-chair, Vanessa Fells, Director of Operations, African Nova Scotian Decade for People of African Descent Coalition:
"This year, the National Black Canadians Summit will be a homecoming, for this year will we return to the birthplace of Black presence and Black history in Canada, Nova Scotia. It's imperative we understand the importance of how enslavement and segregation have led to the challenges we as African Canadians face today through systemic anti-Black racism. The Summit will once again bring us together to engage in difficult but courageous conversations faced by all African Canadians starting with our historical roots to the present day. I encourage all who can attend to bring their voice to the conversation so we can continue to work collectively and create space for all People of African Descent to thrive. We will see you in Halifax!"
Note: To ensure the safety of all of our attendees, we will be following all Federal and Provincial Public Health Covid-19 guidelines at the moment of the Summit.
The Summit is a bilingual event, with simultaneous interpretation offered to our attendees.
SEE THE PRELIMINARY PROGRAM ONLINE
Très bientôt, les communautés noires du Canada vont se réunir pour le troisième volet du Sommet pancanadien des communautés noires (SPCN), organisé et animé par la Fondation Michaëlle Jean.
Le Sommet pancanadien des communautés noires est né de la volonté de plus d'une trentaine d'artistes émergents d'ascendance africaine, vivant à Halifax, Toronto, Montréal et Ottawa.
Cette année, le Sommet pancanadien des communautés noire s'aligne sur les trois piliers de la Décennie internationale des personnes d'ascendance africaine (2015-2024) : reconnaissance, justice et développement, tels que proclamés par les Nations Unies. Nous visons à créer une réelle prise de conscience de la responsabilité commune à agir contre l'exclusion et la discrimination raciale, dont les effets ont un impact dévastateur et pernicieux sur l'ensemble de la société. L'éradication du racisme et de son impact désastreux sur notre société doit être une question qui nous concerne tous. Tous ensemble, nous pouvons être plus forts.
En tant que l'une des principales initiatives de rassemblement des Canadiens noirs de toutes les générations, à la veille du Jour de l'émancipation, réunissons-nous en grand nombre à Halifax pour la troisième édition de notre Sommet pancanadien des communautés noires. Rien de ce qui nous concerne ne peut se faire sans nous.
Avec les mots de notre coprésidente du Sommet, Vanessa Fells, directrice des opérations de la Coalition pour la Décennie des personnes d'ascendance africaine de la Nouvelle-Écosse :
« Cette année, le Sommet pancanadien des communautés noires sera un retour au bercail, car nous retournerons cette année au berceau de la présence et de l'histoire des Noirs au Canada, la Nouvelle-Écosse. Il est impératif que nous comprenions l'importance de la façon dont l'esclavage et la ségrégation ont conduit aux défis auxquels nous, les Afro-Canadiens, sommes confrontés aujourd'hui en raison du racisme anti-noir systémique. Ce troisième Sommet rassembleur nous permettra encore une fois de nous réunir pour avoir des conversations difficiles, mais courageuses sur les enjeux auxquels tous les Afro-Canadiens font face, en partant de nos raci nes historiques jusqu'au moment présent. J'encourage tous ceux qui peuvent y assister à unir leur voix au dialogue pour que nous puissions continuer notre travail collectif et créer un espace où toutes les personnes d'ascendance africaine peuvent s'épanouir. Au plaisir de se voir à Halifax! » [traduction].
Note: afin d'assurer la sécurité de tous nos participants, nous suivrons toutes les lignes directrices fédérales et provinciales sur la COVID-19 qui seront en place lors de la tenue du Sommet.
Le Sommet est un événement bilingue, dont l'interprétation simultanée est offerte aux participants.
VOIR PROGRAMME PRÉLIMINAIRE EN LIGNE
THANK YOU TO OUR PARTNERS │ MERCI À NOS PARTENAIRES