Sales Have Ended
Registrations are closed
Registration for today's event has closed. Please contact Cheryl Nugent at info@loveottawa.ca to find out if there is still space to attend and for the meeting link.
Sales Have Ended
Registrations are closed
Registration for today's event has closed. Please contact Cheryl Nugent at info@loveottawa.ca to find out if there is still space to attend and for the meeting link.
Consecrated: For the renewal of all things in Christ Jesus / Consacrés : Pour le renouvellement de toutes choses en Christ Jésus
About this event
* Pour le français, veuillez faire défiler vers le bas de la page. Merci!
Jesus, son of the Living God is the ransom by the Father for the redemption of a lost humanity. Being the only broker of peace between God and Man, and Man and Man, he qualifies as the only mediator to renew all things and unite all things.
God is jealous to do this work in us and through us. He has been graciously at work in our hearts over this last, difficult season.
Our invitation to the prayer summit is earnest, because there are deeper, stronger roots we as leaders could be establishing into the Lord. Like the bridesmaids who took along extra oil, we must pray with expectancy and obedience for the future.
In the book of Revelation, God warns the Church of Sardis that they have a reputation for being alive, but they are dead. He goes on to say, strengthen what remains and is about to die. We sense this is an invitation for us to pray and to consecrate ourselves.
Highlights
Join together in heart with pastors and ministry leaders from across the region for this two-day event (1:00 – 3:30 pm each day)
Our speakers will help us dig into the themes described above, so that we can respond individually and corporately
We are excited to offer French translation this year, and look forward to fellowship with our Francophone brothers and sisters
Speakers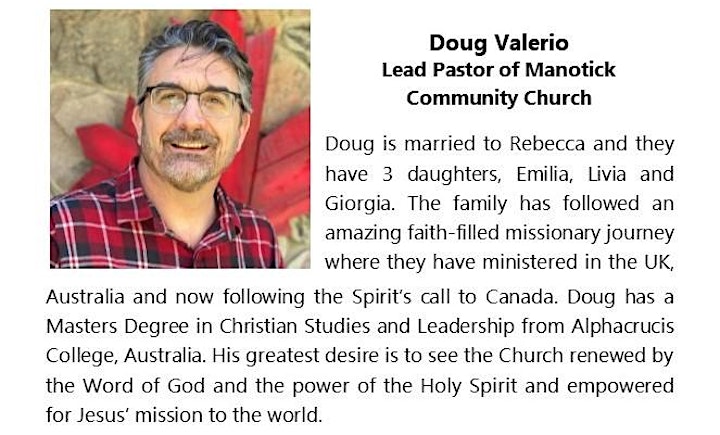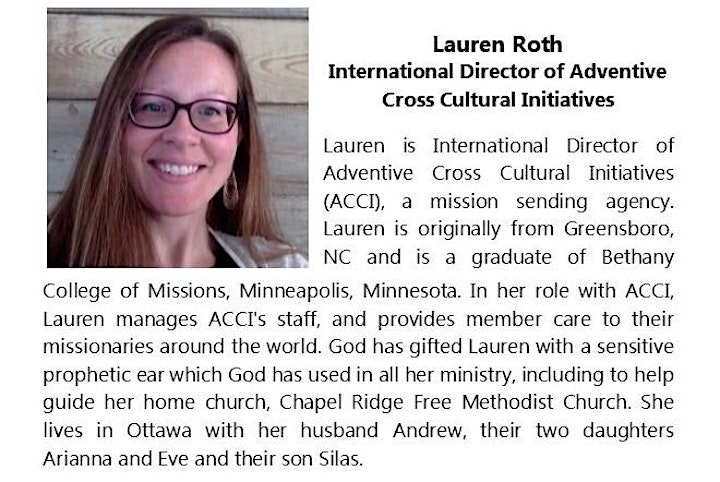 How do I Register for This Free Event?
Registration is required to attend. This prayer summit will be hosted on Zoom over two consecutive afternoons. The meeting invitation link will be sent to registered attendees before each event.
Registration
Register for each day you are attending. This is a two day event
Registration Deadline is Wednesday, June 16 @ 10am
Donate to One Way Ministries
If you feel led to help cover the costs for this event, please donate to One Way Ministries using the following link.
FAQs
If I will be sharing a device with a second person, do we both need to register separately?
No, you both do not need to register separately. The meeting link will be sent to the person who registered.
My spouse or team member wants to me to register for them. How do we do this?
This can be done one of two way
Fill in the registration form with their name and email address. They will receive the meeting link via email
When you register, indicate how many people you are registering. You will be sent the meeting link via email and it will be your responsibility to forward it to the attendees you registered
How can I contact the organizer with any questions?
Contact Cheryl Nugent at info@loveottawa.ca
What is the last day I can register for the Prayer Summit?
Registration closes Wednesday, June 16 @ 10am or when the maximum number of attendees has been reached.

Jésus, Fils du Dieu vivant, est la rançon du Père pour la rédemption d'une humanité perdue. Étant l'unique intermédiaire de la paix entre Dieu et l'homme, et entre l'homme et l'homme, il est reconnu comme l'unique médiateur pour renouveler toutes choses et unir toutes choses.
Dieu s'engage vivement à accomplir cette œuvre en nous et à travers nous. Au cours de cette dernière saison difficile, Dieu a assurément travaillé dans nos cœurs.
Notre invitation au Sommet de prière se veut sincère, parce qu'il y a des racines plus profondes et plus solides que nous, en tant que dirigeants, pourrions établir dans le Seigneur. À l'instar des cinq jeunes filles qui ont pris de l'huile avec leurs lampes, nous devons prier avec espérance et obéissance en vue de l'avenir.
Dans le livre de l'Apocalypse, Dieu avertit l'Église de Sardes qu'elle passe pour être vivante, mais qu'elle est morte. Il poursuit en disant : « Affermis le reste qui est près de mourir ». Nous avons le sentiment qu'il s'agit d'une invitation à prier et à nous consacrer.
Points saillants
Unissons nos cœurs avec les pasteurs et les dirigeants ministériels de toute la région pour cet événement en ligne de deux jours (13 h à 15 h 30 chaque jour)
Nos conférenciers nous aideront à approfondir les thèmes susmentionnés, afin que nous puissions y répondre individuellement et collectivement.
Nous sommes heureux d'offrir des services de traduction en français cette année et nous nous réjouissons à l'idée de collaborer avec nos frères et sœurs francophones.
Nos conférenciers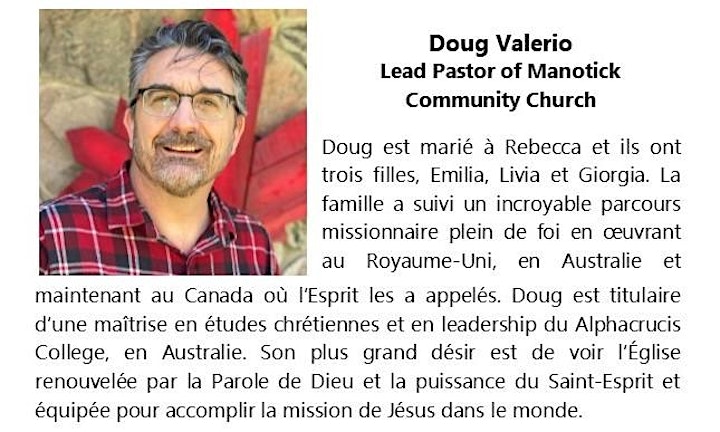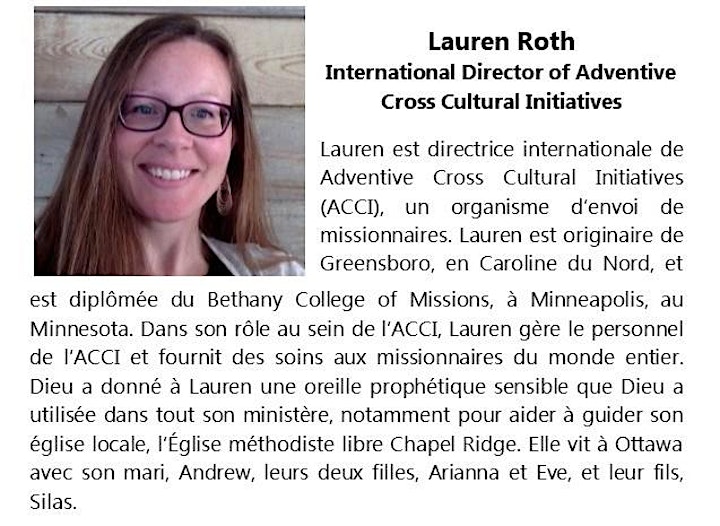 Comment puis-je m'inscrire à cet événement gratuit?
Vous devez vous inscrire pour participer à cet événement. Ce sommet de prière aura lieu sur Zoom pendant deux après-midi consécutifs. Le lien d'invitation à la réunion sera envoyé aux participants inscrits avant chaque séance.
Inscription
Inscrivez-vous pour chaque journée à laquelle vous participez. Il s'agit d'une activité de deux jours.
La date limite d'inscription est le mercredi 16 juin à 10 h
Faites un don à One Way Ministries
Si vous vous sentez poussé à aider à couvrir les coûts de cet événement, veuillez faire un don à One Way Ministries en cliquant sur le lien ci-dessous.
FAQ
Si je partage un appareil avec une deuxième personne, devons-nous tous les deux nous inscrire séparément?
Non, vous n'avez pas besoin de vous inscrire séparément. Le lien de la réunion sera envoyé à la personne qui s'est inscrite.
Mon conjoint ou un membre de mon équipe veut que je m'inscrive pour eux. Comment faire?
Cela peut se faire de deux façons.
Remplissez le formulaire d'inscription en y inscrivant leur nom et leur adresse électronique. Ils recevront le lien de la réunion par courriel.
Lorsque vous vous inscrivez, indiquez le nombre de personnes que vous inscrivez. Vous recevrez le lien de la réunion par courriel et il vous incombera de le transmettre aux participants que vous avez inscrits.
Si j'ai des questions, comment puis-je communiquer avec l'organisateur?
Communiquez avec Cheryl Nugent par courriel à l'adresse info@loveottawa.ca (anglais) ou avec Sarah Jackson à l'adresse sarah@prayottawa.ca (français)
Quelle est la date limite pour m'inscrire au Sommet de prière?
L'inscription prend fin le mercredi 16 juin à 10 h ou lorsque le nombre maximal de participants sera atteint.
Organizer of National Capital Region Online Prayer Summit for Pastors and Leaders 2021