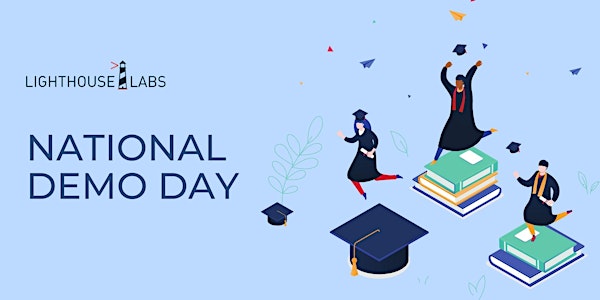 National Demo Day Canada - AUGUST 2022
Web Development && Data Science Bootcamp Demo Day
About this event
Come celebrate the next generation of superstars! Our Demo Day is a great opportunity for new, aspiring, and experienced tech workers to mingle.
Our new grads are beginning their careers in web development and data science . But first, they want to show you the exciting, innovative projects they've built during their time with us.
If you're interested in learning more about these industries, or about what it's like to study with Lighthouse, Demo Day can be a great educational opportunity.
Know someone who is graduating? Show them your support by tuning in!
Looking to hire one of our graduates? Join us here and reach out to our Career Services Team to get in touch with interesting candidates.
Format and Times:
The event is being held ONLINE during these times:
Toronto / Montreal = 3:00 pm - 5:00 pm Eastern Daylight Time
Calgary / Edmonton = 1:00 pm - 3:00 pm Mountain Daylight Time
Vancouver / Victoria = 12:00 pm - 2:00 pm Pacific Daylight Time
If you have any questions about the event, please email hello@lighthouselabs.ca
How it works:
We will be running this event completely online, so you can kick your feet up and enjoy from the comfort of wherever you are. The Broadcast Event is run through Hopin (https://Hopin.to), so please leave a few extra minutes to register for your free Hopin account to watch the event.
Register for a Hopin Account Here: https://hopin.com/events/national-demo-day-august-18
Web Development Bootcamp
Languages: Javascript, HTML, CSS, Ruby
Frameworks, libraries, environments: NodeJS, React.js, Ajax, Express, EJS, JQuery, Bootstrap, SASS, Ruby on Rails
Systems and databases: SQL, Git
Each student group has a custom tech stack for their showcased project in addition to the above!
Data Science Bootcamp
Our Data Science Bootcamp alumni will demonstrate their machine learning magic by showcasing the projects they've worked on. They'll be showing off the technical mastery they've gained over the last 12 weeks, like data wrangling, data visualization, machine learning, deep learning, and data engineering.
About Lighthouse Labs
Lighthouse Labs will take you from newbie to professional with our outcomes-obsessed programs. You'll be immersed in development or data science with accelerated, hands-on learning.
With the support of a brilliant team of instructors and mentors, you'll join the ranks of over 4,000 developers in the Lighthouse Labs community. Our industry knowledge and robust educational standards have achieved 95% employment outcomes for our graduates.
Want to know more about our programs? Visit us at www.lighthouselabs.ca
By registering and attending this event, you consent to be photographed, filmed and/or otherwise recorded. By registering for Lighthouse Labs events, you are opting in to receive emails and other marketing materials.