Description
The Korean Cultural Centre and the Embassy of the Republic of Korea proudly present
National Gugak Center: Korea's Musical Traditions on Stage
taking place on Friday, September 14, 2018, at 7 PM (Doors Open 6:45 PM)
at the Canadian Museum of History Theatre (100 rue Laurier, Gatineau, QC).
---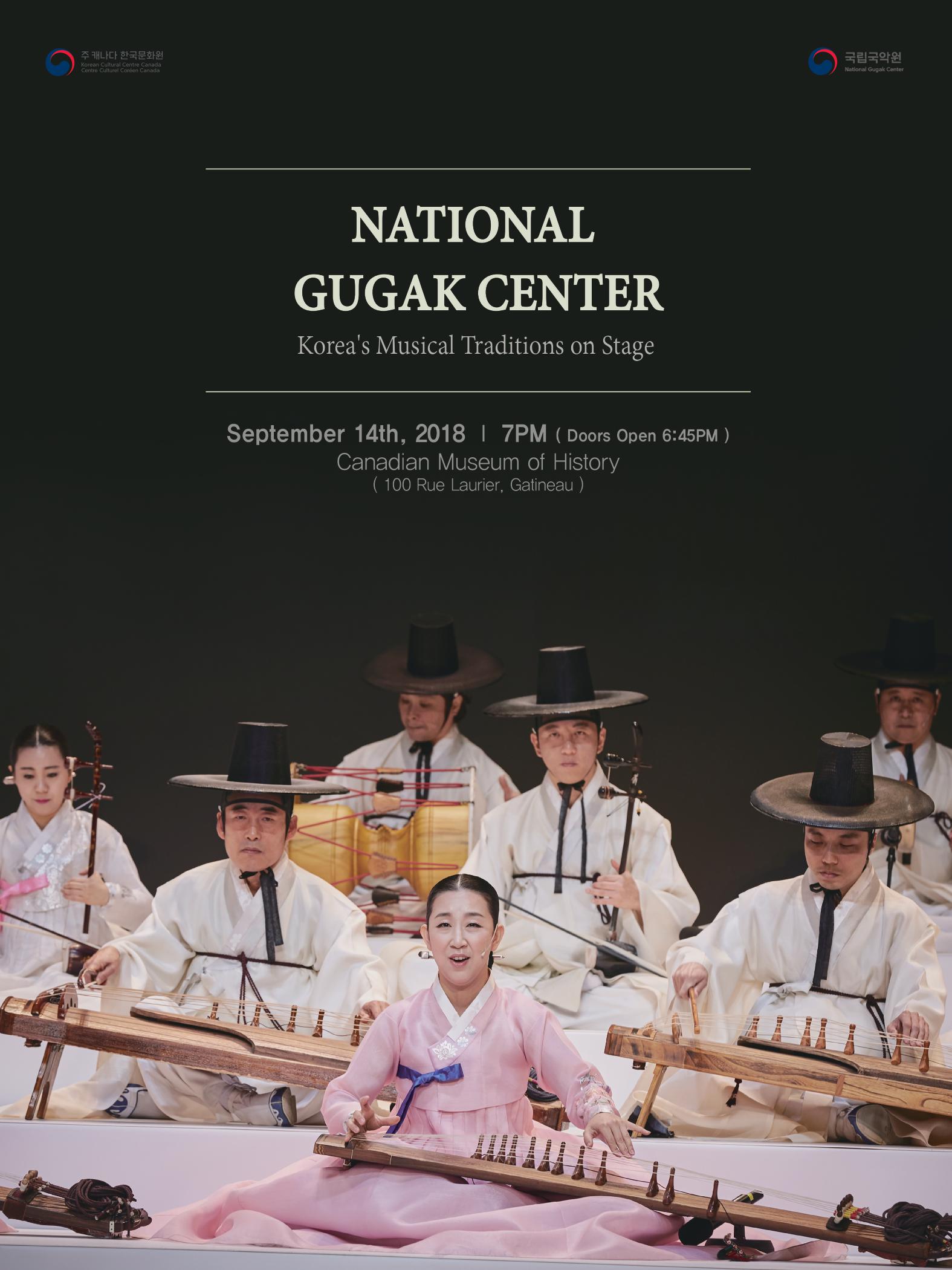 ---
ABOUT THE NATIONAL GUGAK CENTER
National Gugak Center is the headquarters of traditional Korean performing arts. Music is an essential part of Korean history, which stretches back over five millennia. The spirit of Korean music, the artistic expression of pleasure and excitement, is very much alive in the numerous performances given at the National Gugak Center (henceforth NGC).
NGC maintains a variety of assets ranging from the long standing traditions of court and popular music and dance to contemporary musical compositions for today's audiences. NGC's performing traditions and reinterpretations open a vast new world by broadening the scope of music made in the "here and now" with music that "has yet to come."
NGC's four pre-eminent performing groups, which are Court Music Orchestra, Folk Music Group, Dance Theater, and Contemporary Gugak Orchestra, have been at the forefront of reviving ancient court music and dance, traditional chamber music of non-professional musicians, and old popular music that thrived among common people.
Furthermore, by conducting studies of the long tradition of Korean music NGC not only bolsters the preservation and transmission of Korean performing arts, but also elevates these traditions to entirely new heights. In addition, it offers diverse educational programs that promote Korean performing arts at home and abroad.
As a national institution, NGC was first established as the Eumseongseo during the Silla dynasty (7th century), which later became the Daeakseo of the Goryeo dynasty (10th century) and then the Jang'agwon of the Joseon dynasty (15th century) before becoming known as it is today. Founded upon the principle of "creating the new based upon the old," NGC continues to cultivate Korean music with the aim of contributing to the greater culture of humanity.