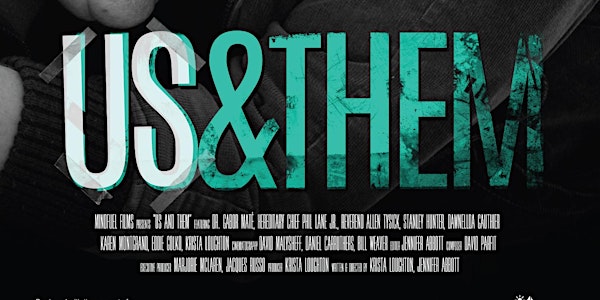 National Housing Day Film Screening of Us & Them
When and where
Location
201 Division St The Loft Cinema Cobourg, ON K9A 3P6 Canada
Description
Join the community in a local conversation about homelessness and housing. The award-winning documentary "Us & Them" will be screened on November 21st at The Loft Cinema on 201 Division St., Cobourg followed by a panel discussion with members from the Northumberland Affordable Housing Committee. This screening is generously sponsored by Cobourg Police Services.
About the Film
https://www.usandthemthefilm.ca/
Filmed over a decade, Us and Them is a deeply visceral film about transformation through human connection.

It begins when filmmaker Krista Loughton is questioned by addiction expert Dr. Gabor Maté about her need to relieve pain in the world. This takes her back in time, when she befriended four chronically homeless people in an effort to help them heal their lives.

These four charismatic people reveal the heartrending realities of their lives. The severe challenges of life on the street are portrayed with an unapologetic openness, in both emotive and humorous ways. All are struggling with addiction issues rooted in their painful childhood histories.

Krista finds a mentor in Reverend Allen Tysick, a street minister who dedicated his life to serving the poorest of the poor. Watching him build a new facility for the street community inspires her to create change in her own way.

Years ago, she had been introduced to the First Nations Medicine Wheel and its success helping former addicts maintain recovery. Under the mentorship of Hereditary Chief Phil Lane Jr., she decides to teach her friends how to balance on the Medicine Wheel. They learn to take stock of themselves physically, mentally, spiritually, and emotionally, in an attempt to help balance and heal their lives.

In the beginning there is connection and hope, but unfortunately at the end of their time working with the Medicine Wheel, none are able to conquer their addictions nor substantially change their lives. And then tragically, one dies.

Out of her league, Krista seeks out the counsel Dr. Maté, who forces her to confront her own motivations. Krista confesses her own emotional struggles with her remaining street friends. They display an extraordinary empathy and wisdom no one could have anticipated.