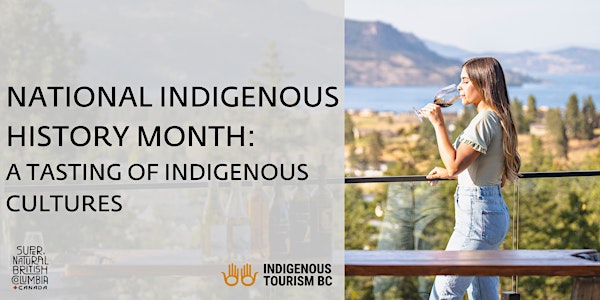 National Indigenous History Month: A Tasting of Indigenous Cultures
Join this National Indigenous History Month workshop to immerse yourself in authentic Indigenous food & beverage in British Columbia.
About this event
Join Indigenous Tourism BC for an inspiring and interactive food & beverage workshop in celebration of National Indigenous History Month.
In partnership with Destination BC and sponsored by Daily Hive, you will be guided through an exploration of the rich history and cultures of Indigenous cuisine and wine in B.C. Meet Paul Natrall, a second-generation chef and owner of Vancouver's successful Indigenous food truck, Mr. Bannock, and Ryan Widdup, manager and sommelier of the Okanagan's picturesque Indigenous World Winery. Viewers will learn how to make authentic bannock from the comfort of their homes, and learn about the history and practices behind Indigenous wine. When you taste Indigenous World wine, you are tasting fruit from the land that has supported the Syilx people for over 10,000 years.
Click here to join (passcode 004822)
Make sure you follow @indigenoustourismbc and @hellobc to stay up to date.
We hope to see you there!
Follow along and make your own bannock from home while tuning into the workshop. Mr. Bannock offers a variety of authentic bannock mixes through his online shop: https://www.mrbannock.com/s/order/8?shipping=true#8
Sip along with Indigenous World Winery's virtual tasting. These world-class wines (Hee-Hee-Tel-Kin Red, Ho-We-Nam Ho-We-Nem Sparkling White, Simo and La'p Cheet) can be purchased through their online shop: https://www.indigenousworldwinery.com/store
By signing up for the event, you confirm you are opting-in to receive the Indigenous Tourism BC newsletter.
Chef Paul Natrall will be demonstrating how to make sweet and savoury style bannock waffles.
Ingredients - Sweet Bannock Waffles
1 cup of strawberries
Large dollop of whip cream
2 tablespoons of maple syrup
Ingredients - Savoury Bannock Waffles
1\2 cup your favourite mustard
1 tbsp mayo
2 tbsp honey
3 of your favourite chicken strips
Ingredients - Bannock
4 cups flour
4 tablespoons baking powder
4 teaspoons salt
3-3 1/2 cups water
Recipe: https://www.mrbannock.com/classic-bannock-mix-recipe