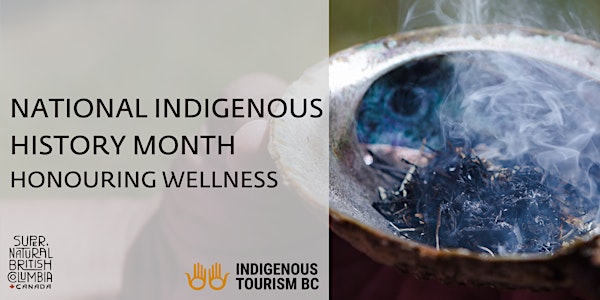 National Indigenous History Month: Honouring Wellness
Join this National Indigenous History Month virtual workshop to immerse yourself in authentic Indigenous wellness rituals.
About this event
Join Indigenous Tourism BC for an interactive wellness workshop in celebration of National Indigenous History Month.
In partnership with Destination BC and sponsored by Daily Hive, we invite you to restore your spirit through a guided exploration of authentic Indigenous wellness rituals. Lifetimes of living in close relationship to the land have gifted Indigenous people with a natural sense of integrity between vivid sensory experiences and deep healing spaces.
To begin the workshop, Greg Hopf, Owner / Operator of the Okanagan's Moccasin Trails, will guide viewers through a spiritual smudging ceremony. Viewers will have the opportunity to learn about the colonization of Indigenous wellness practices, including the use of sage, and how we collectively can educate ourselves and pay respect to the origins of these customs.
Viewers will then meet Dennis Thomas of Takaya Tours, a premier Indigenous owned eco-tourism venture in Vancouver, BC. Indigenous peoples have travelled the land and waters of traditional territory for thousands of years, and Dennis will share his ancestral knowledge, fostering an appreciation for wilderness and authentic Indigenous culture. Learn how nature and sustainability through an Indigenous worldview contribute to social wellbeing and shift how we go about our daily lives for a better future. Enjoy a glimpse into Takaya Tours' unforgettable canoe and kayak journeys across waters and explore ancient village sites through the Burrard Inlet and beautiful Indian Arm.
Click here to join (passcode 004822)
Make sure you follow @indigenoustourismbc and @hellobc to stay up to date.
We hope to see you there!
Participate in the smudging ceremony from home by purchasing traditional and ethically harvested blue and white sage smudge sticks from Indigenous owned Wildflowers & Co.: https://wcwildflowers.ca/products/blue-white-sage-smudge-sticks-4
Feeling inspired to experience Takaya Tours? Kayak rentals and walking tours are available to book with Covid-19 safety measures in place by visiting: https://takayatours.com.
Moccasin Trails offers a picturesque journey of Indigenous history and nature. Reserve your tour or book a cultural training or Indigenous consulting experience. For more information, visit https://www.moccasintrails.com.
By signing up for the event, you confirm you are opting-in to receive the Indigenous Tourism BC newsletter.