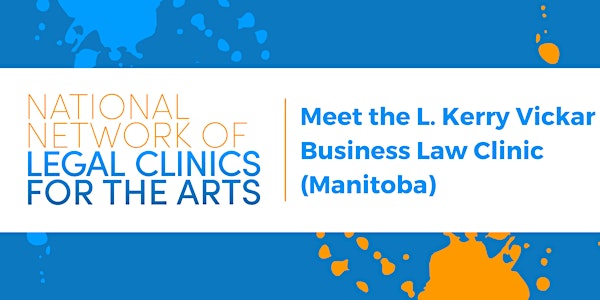 National Network Forum: Meet the L. Kerry Vickar Business Law Clinic (Man)
Rencontre avec clinique juridique des affaires de L Kerry Vickar du Manitoba 11:00 AM-12:00 PM MST (10AM-11AM PST)
About this event
The National Network is thrilled to welcome Lisa Fainstein, lead of Special Projects at the University of Manitoba's Faculty of Law, and co-supervisor Nick Slonosky spearheading the L. Kerry Vickar Business Law Clinic. This legal clinic is driven by the passion of law students eager to support small businesses and arts organizations as they develop their career. Pivoting to a virtual format in 2021, hear more about how this evolving resource will join forces with the National Network.
Le Réseau national a le plaisir d'accueillir Lisa Fainstein, chef des Projets spéciaux à la Faculté de droit de l'Université du Manitoba, et Nick Slonosky, dirigeants de Clinique juridique des affaires de L Kerry Vickar. Cette clinique juridique est dirigée par des étudiant.e.s en droit avides de soutenir les petites entreprises et les organismes culturels tout en développant leurs carrières. Vous découvrirez comment cette clinique innovatrice, qui devient virtuelle en 2021, joindra ses forces au Réseau national.
Accessibility:
Closed captioning will be available for this event and an ASL interpreter can be booked upon request at communications@pacificlegaloutreach.com
Like us on Facebook, follow us on Twitter + Instagram
Accessibilité :
Une interpretation simultanée en français sera disponible lors de cette séance. Cette séance sera équipée d'un sous-titrage codé. Un interprète en ASL peut aussi être réservé ici communications@pacificlegaloutreach.com.
Inscrivez-vous à notre bulletin
Organizer of National Network Forum: Meet the L. Kerry Vickar Business Law Clinic (Man)