Public Safety Canada will provide an overview of the Government of Canada engagement on federal First Nations police services legislation.
About this event
A National Online Conversation - First Nations Policing Update 2022
Public Safety Canada officials will provide an overview related to the Government of Canada engagement on the co-development of federal First Nations police services legislation.
In advance, you may wish to review the Engaging on Federal First Nations Police Services Legislation - Discussion Guide that was developed to guide this engagement.
The Guide can be found online in English and French.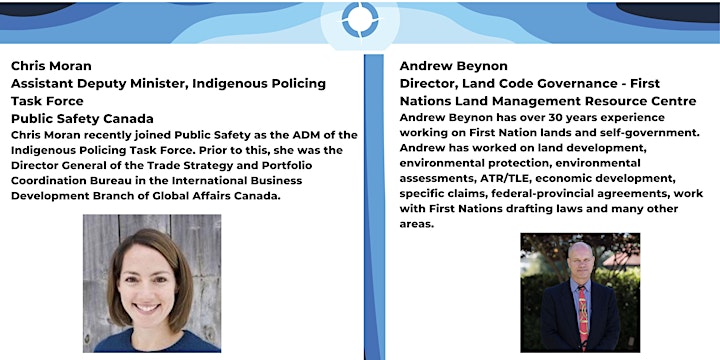 Consent to recording and collection of personal information
Audio and video recording may occur.
By registering for and participating in this event, you consent to audio and video recording and their release, publication or reproduction to be used for web casts, promotional purposes, inclusion on websites, social media, or any other purpose by the First Nations Lands Advisory Board (LAB) or the First Nations Lands Management Resource Centre Inc (FNLMRC). Images, photos and videos may be used to promote similar LAB or FNLMRC events in the future. You release the LAB and the FNLMRC, its and employees, and each and all persons involved from any liability connected with the taking, recording, digitizing, or publication and use of photographs, computer images, video and/or or sound recordings.
All personal information collected is done so exclusively with your consent, by means of this registration. The LAB or FNLMRC will not share your personal information with third parties without your permission. We may however contact you in the future to provide additional information related to this event or to promote future events hosted by the LAB or FNLMRC that may be of interest to you.
By registering for this event, you are consenting to the collection of personal information necessary for your participation and publication of these events.