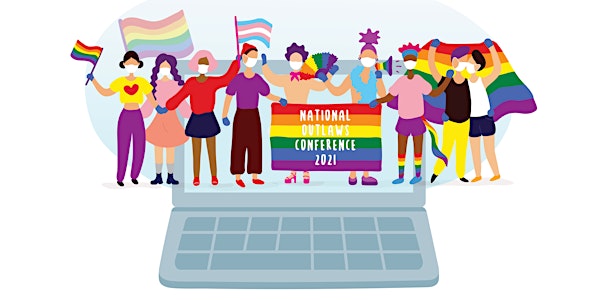 National OUTLaws Conference 2021
Sales Have Ended
Registrations are closed
Hi! Thank you for your interest in the National OUTLaws Conference. The 202`1 Conference has now ended. If you would like to access a recording of our panels please reach out to nationaloutlawsca@gmail.com. To keep updated about next year's conference, please follow us on Twitter (@canadaoutlaws) and Instagram (@canadaoutlaws) or like our Facebook (@canadaoutlaws) page.
This is a one day, three panel event bringing together 2SLGBTQIA+ law students, lawyers, and legal professionals across Canada.
About this event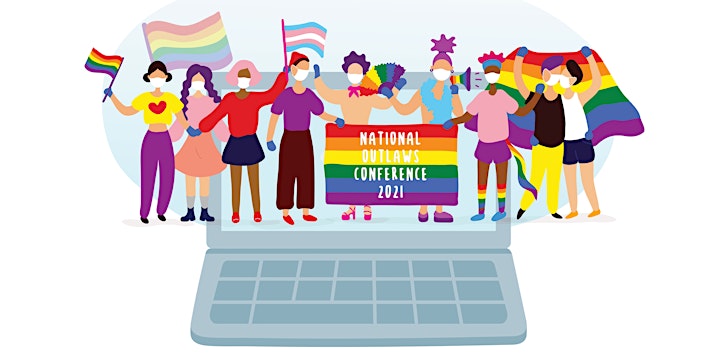 Le français suit /French translation follows
Welcome to the inaugural National OUTLaw conference! A group of 60 2SLGBTQ+ law students from across the country have worked tirelessly to create this event. Collectively, we hope to offer a virtual space that celebrates queerness within every area of the legal profession. Our goal is to reach current and prospective law students and legal professionals in an open access, safe and secure setting. We hope to discuss the experiences of 2SLGBTQ+ people in the law; our struggles, accomplishments and the advocacy work that remains to be completed.
Event Details:
The conference seeks to centre the voices of 2SLGBTQ+ Black, Indigenous and Persons of Colour who are and have been leaders in the advancement of Queer and Trans* rights. The conversation will explore the ways in which the lives of 2SLGBTQ+ identified persons are affected by, and intersect with, legal mechanisms. Visions and perspectives on Queer Liberation will be unpacked from multiple lenses.
This conference will be a space for leaders in our community to speak on legal activism and existing as Queer and Trans* folx in legal education and practice. It is our intention to build a National community of 2SLGBTQ+ law students who will act as advocates for our community as well as educators for those seeking more information on allyship and improving 2SLGBTQ+ experiences in the legal profession. We intend to hold the legal community accountable for recognition and inclusion of our diverse 2SLGBTQ+ identities and experiences.
Despite our current circumstances in the COVID-19 pandemic, our online event offers the opportunity to bring together current and prospective law students, faculty, staff, and professionals to join in on the conversation. The conference will include:
Three Panels featuring activists, legal practitioners, and law students
A virtual community gathering via the Gathertown Platform
A drag performance
Discussions on envisioning the future of the National OUTLaw Network
The Agenda is as follows:
1:00 – 2:00pm EDT - Community Gathering on Gathertown
2:00 – 3:00 pm EDT - Panel: 2(S)LGBTQ+ activism Within and Beyond the Law
Beverly Bain
Richard Fung
Dennis Findlay
Albert McLeod
3:15 – 4:15pm EDT - Panel: Queering Legal Activism
Arij Riahi
Naomi Sayers
Swathi Sekhar
Adrienne Smith
4:30 – 5:30pm EDT - Panel: Taking Space: 2(S)LGBTQ+ Activism in Legal Education
Josh Lamers
Steve Stechly
Paniz Khoroshahy
Florence Ashley
Tomas Jirousek
6:00 pm EST - Drag Event
We ask that you share the following conference agenda and registration LINK within your networks, listservs and social circles. Thank you for your support and we hope to see you throughout the day on Saturday, June 26th, 2021!
Accessibility Note: This event will be recorded and made publicly available following the conference. While we are unable to offer real-time translation, the recording will contain French/English subtitles where appropriate. If you have any other accessibility concerns please do not hesitate to contact us and we will be happy to assist.
Security Note: We have taken a number of steps to ensure that this event is as accessible as possible without compromising the safety and security of attendees. Only those pre-registered will receive a link to the conference and comments will be moderated by our team to minimize the potential of any harm to our community members.
-----------------
Tout en reconnaissant que les discussions sur l'usage du genre grammatical en français écrit sont toujours en cours, l'usage du masculin dans ce document a pour unique but d'alléger le texte.
Bienvenue à la Conférence nationale des OUTLaw inaugurale ! Un groupe de 60 étudiant·es en droit 2SLGBTQ+ venant de tout le pays a travaillé sans relâche pour créer cet événement. Ensemble, nous espérons offrir une espace virtuel qui célèbre l'indentité queer dans lemilieu juridique. Notre but est de toucher les étudiant·es en droit d'aujourd'hui et de demain, ainsi que les juristes, dans une espace ouvert et sécuritaire. Nous espérons discuter des expériences des personnes 2SLGBTQ+ qui travaillent en droit : nos défis, nos succès et le travail de promotion et de défense des droits qu'il reste encore à faire.
Détails de l'événement :
La conférence vise à valoriser les voix des personnes 2SLGBTQ+, noires, autochtones et des personnes racisé·es dans l'avancement de la causedroits queer et trans*. Les conversations exploreront les façons dont les vies des personnes s'identifiant comme 2SLGBTQ+ sont affectées par et interagissent avec les structures juridiques. Les visions et les perspectives sur la libération queer seront examinées de plusieurs perspectives .
La conférence sera une espace pour les leaders dans notre communauté de discuter les méchanismes (ou formes) forme is better, méchanismes not really appropriate d'activisme judiciaire et l'expérience de vivre comme des personnes queer et trans* dans le système d'éducation et la pratique juridique. C'est notre intention de bâtir une communauté nationale d'étudiant·es en droit 2SLGBTQ+ qui défendra notre communauté et pourra éduquer ceux qui cherchent plus d'information sur comment être allié·es de notre communauté et améliorer les expériences 2SLGBTQ+ dans le milieu juridique. Nous avons l'intention de tenir le milieu juridique responsable, et de lui demander de mieux reconnaître et inclure nos identités et expériences 2SLGBTQ+ diverses.
Bien que nous vivions des circonstances sans précédent avec la pandémie du COVID-19, notre événement virtuel offre l'occasion de rassembler des étudiant·es en droit d'aujourd'hui et de demain des membres des facultés de droit, le personnel des écoles de droit et les juristes pour participer à la conversation. La conférence inclura :
Trois panels avec des activistes, des juristes et des étudiant·es en droit
Un rassemblement virtuel sur la plateforme Gathertown
Une performance de drag
Des discussions pour envisager l'avenir du Réseau national des OUTLaw
L'ordre du jour est le suivant :
13h00 - 14h00 HAE - Rassemblement sur Gathertown
14h00 - 15h00 HAE - Panel : L'activisme 2(S)LGBTQ+ à l'intérieur et à part de la loi
15h15 - 16h15 HAE - Panel : Comment rendre queer l'activisme judiciaire
16h30 - 17h30 HAE - Panel : Prendre de la place : l'activisme 2(S)LGBTQ+ dans le système d'éducation juridique
18h00 HAE - Événement drag
Nous vous demandons de partager cet ordre du jour et le lien vers l'enregistrement dans vos réseaux, vos listes de diffusion électroniques et vos cercles sociaux. Merci de votre soutien et nous espérons vous voir tout au long de la journée le samedi 26 juin 2021 !
Un mot sur l'accessibilité : Cet événement sera enregistré et sera disponible publiquement après la conférence. Bien que nous puissions pas offrir des traductions en temps réel, l'enregistrement aura des sous-titres en anglais et / ou français quand cela est approprié. Si vous avez d'autres soucis concernant l'accessibilité, n'hésitez pas à nous contacter et ce serait notre plaisir de vous assister.
Un mot sur la sécurité : Nous avons pris de nombreuses mesures afin de nous assurer que cet événement soit aussi accessible que possible sans compromettre la sécurité des participant.e.s. Seuls ceux qui se sont enregistrés préalablement recevront un lien à la conférence et les commentaires seront modérés par notre équipe afin de minimiser la possibilité de préjudice à notre communauté.