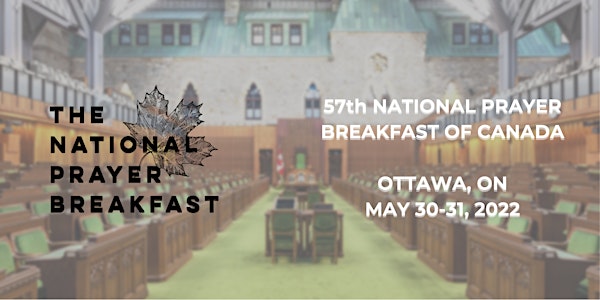 National Prayer Breakfast of Canada/Petit déjeuner-prière national
Location
Delta Hotels by Marriott, Ottawa City Centre/Hôtels Delta Marriott, Centre-ville d'Ottawa
101 Lyon Street North/101, rue Lyon Nord
Ottawa, ON K1R 5T9
Canada
Refund policy
Contact the organizer to request a refund.
Eventbrite's fee is nonrefundable.
National Prayer Breakfast of Canada/Petit déjeuner-prière national du Canada Tuesday, 31 May, 2022 / le mardi 31 mai, 2022
About this event
The National Prayer Breakfast of Canada: Christ's Compassion – Our Compassion. Since 1964, the National Prayer Breakfast has been an opportunity to gather at the heart of Canada's democracy to lift up national leaders of all kinds, our brave men and women in uniform, and our fellow Canadians in need.
Each year, the National Prayer Breakfast is held under the auspices of the Speakers of the Senate and the House of Commons. Once again, guests and participants will include Canadian and International Christian faith leaders, Ambassadors, fellow Members of Parliament, Senators, and Canadians tuning in from across our nation and abroad.
This year, we are delighted to be hearing from Mr. Bill Adsit, member of the Tahltan Band and residential school survivor, as our keynote speaker.
Purchase tickets for the National Leadership Dinner here.
Get tickets for the Young Canadian Leaders Summit here.
Indicate any accessibility needs or dietary restrictions with your ticket purchase.
For more information please visit our website and Facebook page for the most up-to-date information.
NATIONAL PRAYER BREAKFAST
Tuesday, May 31st, 2022
7:30-8:30 AM (Doors open at 6:30 AM)
Delta Hotels by Marriott Ottawa City Centre (101 Lyon St. N., Ottawa, ON)
Please note that payment must be provided in full to reserve seats/tables. Thank you!
PARLIAMENTARY PRAYER WALK – No registration required
During your time in our nation's capital, I would encourage you to enjoy a walk with family, friends, or colleagues to take in the landmarks of our federal institutions. Consider interceding for our nation and those leaders, staff and all other public servants who are tasked daily with making decisions for our country.
HOTEL RESERVATIONS
Delta Hotels by Marriott Ottawa City Centre is offering a group rate of $229 CAD per night for those wishing to stay on-site for the National Prayer Breakfast and National Leadership Dinner.
To make a reservation, click on the following link:
Book your group rate for 'National Prayer Breakfast & Dinner'
The last day to book using the group rate is May 19th, 2022.
*****
I sincerely look forward to seeing you on May 31st in the spirit of Jesus.
Sincerely,
Cathay Wagantall
Member of Parliament for Yorkton—Melville, SK
Chair, National Prayer Breakfast of Canada
______________________________________________________________________________________________
Le petit déjeuner‑prière national du Canada: La compassion du Christ – Notre compassion. Depuis 1964, l'événement est une occasion de se réunir au cœur de la démocratie canadienne pour élever dans la prière les dirigeants nationaux de toutes sortes, les hommes et les femmes en uniforme ainsi que nos concitoyens canadiens dans le besoin.
Le petit déjeuner prière national se tient tous les ans sous les auspices des Présidents du Sénat et de la Chambre des communes. Cette année encore, nous accueillerons parmi les invités des chefs religieux de confession chrétienne du Canada et de l'étranger, des ambassadeurs, des députés et sénateurs ainsi que des Canadiens qui se joindront à nous de partout au pays et de l'étranger.
Cette année, nous sommes ravis d'entendre M. Bill Adsit, membre de la bande Tahltan et survivant des pensionnats, comme conférencier principal.
On peut acheter des billets pour Le dîner national du leadership ici.
Obtenez des billets pour le Sommet des jeunes leaders canadiens ici.
Identifier vos besoins d'accessibilité et/ou vos restrictions diététique avec votre achat d'un billet.
Pour obtenir plus d'information, veuillez visiter notre site Web. Suivez-nous sur Facebook pour de l'information à jour.
PETIT DÉJEUNER PRIÈRE NATIONAL DU CANADA
Mardi 31 mai 2022
De 7 h 30 à 8 h 30 (accueil dès 6 h 30)
Delta Hotels by Marriott Ottawa City Centre (101, rue Lyon N., Ottawa (Ontario))
Veuillez noter que le paiement complet est exigé pour réserver des sièges/tables. Merci!
MARCHE SPIRITUELLE SUR LA COLLINE DU PARLEMENT – Aucune inscription nécessaire
Pendant que vous serez dans la capitale nationale, je vous encourage à faire une promenade avec votre famille, des amis ou des collègues pour visiter les points d'intérêt de nos institutions fédérales. Pensez à intercéder auprès de Dieu pour notre pays et ses dirigeants, leur personnel et tous les autres fonctionnaires qui, chaque jour, doivent prendre des décisions dans l'intérêt de notre nation.
RÉSERVATIONS DES CHAMBRES D'HÔTEL
Delta Hotels by Marriott Ottawa City Centre offre un tarif de groupe de 229 $ CA par nuit aux personnes qui souhaitent rester sur place pour le petit déjeuner prière national et le dîner national du leadership.
Pour réserver une chambre, cliquez sur le lien suivant :
Réservez une chambre au tarif de groupe destiné aux participants du petit déjeuner prière national et du dîner du leadership
Vous avez jusqu'à 19 mai 2022 pour profiter du tarif de groupe.
********
J'espère sincèrement vous voir le 31 mai dans l'esprit de Jésus.
Cordiales salutations,
Cathay Wagantall
Députée de Yorkton—Melville, Saskatchewan
Présidente, Petit déjeuner prière national du Canada