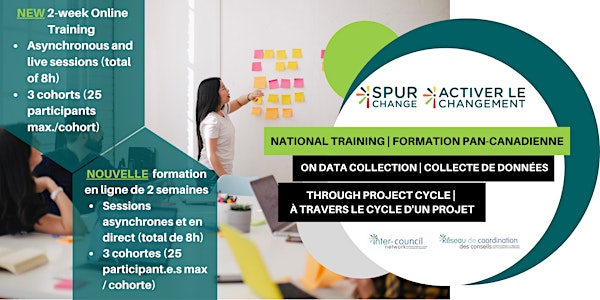 National Training on Data Collection | Formation sur la Collecte de données
Sales Have Ended
Registrations are closed
We're sorry, but this event is now fully subscribed. Please visit the Spur Change website for more capacity-building learning opportunities. Désolés, mais cet événement est désormais entièrement abonné. Veuillez visiter le site web de Activer le changement pour plus d'opportunités d'apprentissage pour le renforcement des capacités.
Making Data Collection Meaningful. Rendre la collecte de données plus significative.
About this event
Le français suit
What: This two weeks intensive workshop* organized by Spur change in collaboration with the Inter-Council Network (ICN) members will be a practical hands-on experience for participants to dive deeper into planning for data collection, gender-sensitive, feminist and community-led approaches to data collection, and technology for data collection. Moreover, the training will address how to adapt data collection in Covid times.
This workshop is being offered to three cohorts, two in English and one in French. Participants will attend asynchronous and live sessions for a total of 8 hours.
We will apply learning through case studies and shared experiences and will share some top technology tools and app options for SMOs.
In the end, you will leave with practical ideas, new M&E friends and more enthusiasm, skills and tools for ensuring your data collection is easy, empowering and impactful.
When: Choose the appropriate session. Only the first date of each cohort session is shown in "select a date".
English cohort 1 (Mon-Tue): Live sessions Sept 14, 15, 21 & 22 - 1:30 - 3:00pm ET
English cohort 2 (Wed-Fr): Live sessions Sept 16, 18, 23 & 25 - 2:00 - 3:30pm ET
+ 2 hours of asynchronous learning in between sessions
Deadline to apply: Sept 8, 2020, midnight
Selection process: There is a maximum of 25 spots available per cohort for this series of training. The Spur Change Team will review all the applications and will inform applicants no later than Sept 9, if they are selected.
Hope you will register and tune in!
*Initially, this workshop was supposed to be delivered in person in March 2020 across different locations in Canada. Content and design of this workshops have been adapted to the current context.
******************************************************************************************************
Quoi: Cette formation intensive sur deux semaines* organisée par Activer le changement en collaboration avec l'Association québécoise des organismes de coopération internationale (l'AQOCI) offrira une expérience d'apprentissage pratique pour les participant-e-s afin d'approfondir la conception de la collecte de données, les approches sensibles au genre, féministes et menées par la communauté, et les technologies pour la collecte des données. De plus, la formation abordera les façons d'adapter la collecte de données dans le contexte de la COVID.
Cette atelier est offert à trois cohortes, deux en anglais et une en français. Les participants-es assisteront à des séances asynchrones et en direct pour un total de 8 heures.
Nous appliquerons l'apprentissage à travers des études de cas et des expériences partagées et partagerons également des outils technologiques et options d'application pour les PMO.
À la fin, vous repartirez avec des idées pratiques, de nouveaux contacts et plus d'enthousiasme, de compétences et d'outils pour garantir que votre collecte de données est facile, responsabilisante et ayant le plus d'impact.
Quand: Choisissez la session appropriée. Seulement la première date de la session de cohorte est indiquée dans «select a date».
La cohorte en français (Mer-Ven): Les sessions en direct 23, 25, 30 Sept et 2 Oct - 10h00 à 11h30 ET
+2 heures d'apprentissage asynchrone entre les sessions
Date limite pour postuler : 11 Sept 2020, minuit
Processus de sélection: Il y a un maximum de 25 places disponibles pour cette série de formation. L'équipe Activer le changement examinera toutes les candidatures et informera les candidats.es au plus tard le 9 Sept, s'ils sont sélectionné.e.s.
Nous esperons que vous allez vous inscrire et vous impliquer!
*Initialement, cette formation devait avoir lieu en personne au mois de mars 2020 à travers différentes provinces au Canada. Le contenu et la conception de la formation ont été mis à jour en raison du contexte actuel.