This event will convene youth doing anti-racism work for a national conversation.
About this event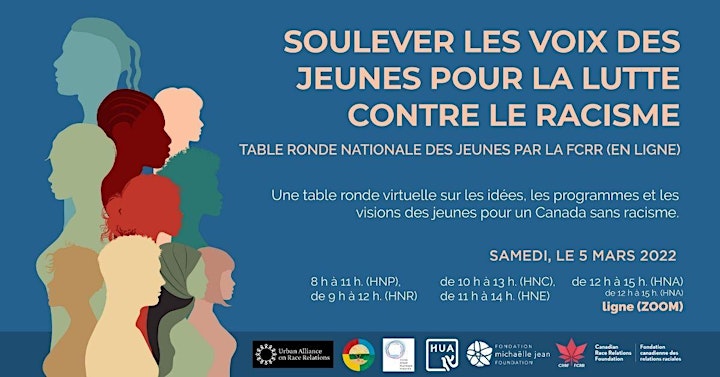 Youth across Canada are combatting racism using innovative and people-centered ideas. The Canadian Race Relations Foundation is convening youth on a national platform to highlight best practices and critical learnings of youth doing anti-racism work so we can support their initiatives and learn from their ideas.
Moderated by Toronto-based Filipino-Canadian spoken word poet Patrick de Belen, you'll have the opportunity to hear from:
Stardale Women's Group
Urban Alliance on Race Relations
The Hua Foundation
The event will provide opportunities for youth and policymakers Canadian leaders to connect with one another through engaging activities and performances led by theater group Thirdspace Playback Theater.
We will be inviting youth participants to share their stories about their work in anti-racism through a participatory discussion form called Playback Theatre with members of Third Space Playback Theatre Edmonton. Playback Theatre is a form of improvisational theatre in which audience members tell stories from their lives and actors reflect them back through movement, words, and music. Playback theatre makes space for sharing personal stories in order to honour and make known collective experiences.
Participants are invited to share in either English or French, about their reflections from the panel presentations, insights from their own work, what keeps them inspired and stories of actions they want to see implemented for themselves and their communities.
Join us at the Youth Roundtable to hear from youth leaders and share your ideas for a Canada without racism.
_______________________________________________________________________________________
Les jeunes partout au Canada combattent le racisme en utilisant des idées novatrices et axées sur les personnes. La Fondation canadienne des relations raciales réunit des jeunes sur une plateforme nationale pour mettre en lumière les meilleures pratiques et les apprentissages essentiels des jeunes qui luttent contre le racisme, afin que nous puissions soutenir leurs initiatives et apprendre de leurs idées.
Animé par le slammeur philippino-canadien Patrick de Belen, basé à Toronto, vous aurez l'occasion d'entendre les témoignages suivants :
Stardale Women's Group
L'alliance urbaine sur les relations raciales
La Fondation Hua
L'événement donnera l'occasion aux jeunes et aux leaders canadiens d'entrer en contact les uns avec les autres par le biais d'activités et de spectacles animés par le groupe théâtral Thirdspace Playback Theater.
Nous invitons les jeunes participants à partager leurs histoires sur leur travail de lutte contre le racisme par le biais d'une discussion participative appelée Playback Theatre avec les membres du Third Space Playback Theatre Edmonton. Le théâtre playback est une forme de théâtre d'improvisation dans laquelle les spectateurs racontent des histoires de leur vie et les acteurs les répercutent par le mouvement, les mots et la musique. Le théâtre playback permet de partager des histoires personnelles afin d'honorer et de faire connaître des expériences collectives.
Les participants sont invités à partager, en anglais ou en français, leurs réflexions sur les présentations du panel, leurs idées sur leur propre travail, ce qui les inspire et les actions qu'ils souhaitent voir mises en œuvre pour eux-mêmes et leurs communautés.
Rejoignez-nous à la table ronde des jeunes pour entendre des jeunes leaders et partager vos idées pour un Canada sans racisme.