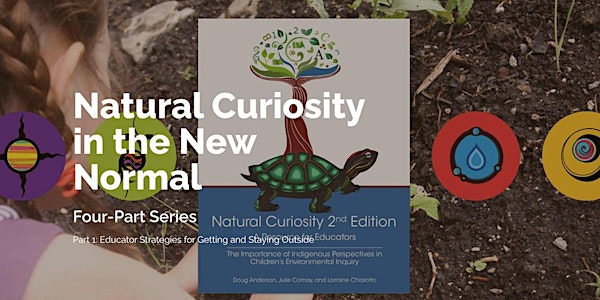 Natural Curiosity in the New Normal: A COVID-Look at the Indigenous Lens
This is the event page for Natural Curiosity in the New Normal Part 2: A COVID-Look at the Indigenous Lens on Natural Curiosity.
Refund Policy
Contact the organizer to request a refund.
Eventbrite's fee is nonrefundable.
About this event
Dear Educators,
Welcome back to the second of our four-part webinar series: Natural Curiosity in the New Normal. This series has been designed to support your teaching practice during these extraordinary times, so that you can enrich outdoor time with learning in all areas of curriculum, while building community with your students and safeguarding everyone's health.
The second webinar in this series, A COVID-look at the Indigenous Lens on Natural Curiosity, will take place on September 17th, 7:00PM - 8:30PM ET. Based on your feedback on the first webinar, this session will be 90-minutes long. We will be joined by Doug Anderson, the Author of the Indigenous lens in Natural Curiosity 2nd Edition, and Maria Vamvalis, an experienced TDSB Teacher and critical thinking education consultant, currently writing her PhD in transformative climate change education. The webinar will be generously opened by Krista Spence, Teacher-Librarian at the Dr. Eric Jackman Institute of Child Study Laboratory School, and co-hosted by Brenda Simon, Rosa Na, and Asha Bruce of the Natural Curiosity team. Participants will have the opportunity to ask questions and contribute their ideas through the chat.
This webinar will highlight an Indigenous lens on the current crisis in education. Indigenous perspectives, land-based learning and inquiry, sitting in friendship within the Natural Curiosity framework, invite us to embrace the outdoors and our local environment as another teacher. Doug and Maria will share their knowledge and expertise in decolonizing pedagogy as we venture outdoors to protect the health and wellbeing of students and teachers. Through conversation, we will challenge ourselves and our participants to reflect on the perspectives, opportunities and strengths that we bring to our school communities.
Please join us for a lively discussion on September 17th and consider attending the next two webinars over September and early October.
Upcoming (Early October, TBD): Using School Grounds Effectively to Enrich Learning
Upcoming (Mid-October, TBD): Seeing Your Local Environment as a Place of Knowledge Building
We are again accepting limited registrations on a first-come-first-serve basis. To increase access we have set contributions on a sliding scale: $5 to $25. All proceeds will go towards paying our facilitators for their time and work, and creating more Natural Curiosity professional learning opportunities.
Presenter Bios
Doug Anderson, Co-author of Natural Curiosity 2nd Edition: The Importance of Indigenous Perspectives in Children's Environmental Inquiry
Doug Anderson is Métis (Bungee). His family is originally from Reedy Creek and Kinesota, Manitoba, and BC, and he grew up in Ontario. He has been the Creative and Strategic Director at Invert Media since 2003 and has consulted on Indigenous education and program development across Canada for over 25 years. Since 2001, he has been devoted to research and writing on Indigenous histories and cultures, translating them to contemporary education systems and media. Since 2010, his focus has been on learning in the land, mostly in the city. He enjoys designing new ethical platforms for Indigenous knowledge, and is committed to supporting the preservation of these forms of knowledge as models for thinking and problem solving in the 21st century. Doug worked at both the government and community levels for many years in the development, delivery and evaluation of learning programs, and has many years of front line experience in building learning and training opportunities for community members of all ages and levels of learning.
Maria Vamvalis, PhD Candidate at OISE (Pedagogies for the Climate Emergency), Educator, Facilitator and Curriculum Developer
Maria Vamvalis is the daughter of Greek immigrants and grew up in Ontario. She is a well-respected educator, having taught in the public school system for over a decade. In addition, she is a facilitator and curriculum consultant who works at the intersections of the climate emergency, equity, racial justice, decolonization, complex problem solving and progressive, transformative change both locally and globally. She has worked with diverse educational and social change organizations including IFEX (The International Freedom of Expression Network), the Mahatma Gandhi Centre for Peace and Sustainable Development (UNESCO), I-Think, and school boards across the country with the Critical Thinking Consortium.
Maria is currently a PhD candidate at OISE at the University of Toronto where she is researching approaches to teaching and learning that support youth agency and well-being in the context of the climate crisis. Having been inspired by important teachers in her life, Maria deeply believes that placing both present and future generations of all our relations at the centre of our actions will lead to the collaborative, progressive, transformative change we need.