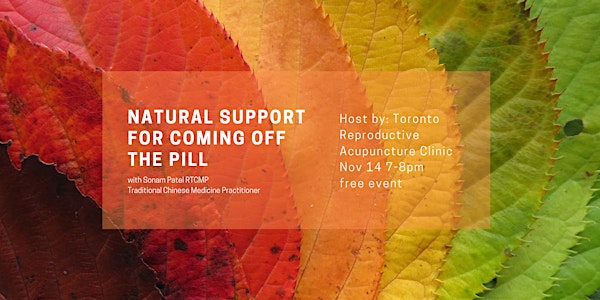 Natural Support for Coming off The Birth Control Pill
When and where
Location
Toronto Reproductive Acupuncture Clinic 85 The East Mall #302 Toronto, ON M8Z 5W4 Canada
Description
Are you someone who is planning on getting off the pill, but aren't sure of what will happen to your body and menstrual cycles if you do? Maybe you want to work towards conceiving a child in the foreseeable future? Whatever your reason may be to discontinue your use of hormonal birth control, you might find yourself affected by the return of undesirable symptoms from before you began taking the pill, or new issues could arise.

Thursday Nov 14 , 7pm - 8pm
at The Toronto Reproductive Acupuncture Clinic
85 The East Mall - suite 302

this is a FREE event - but space is limited, so reservations MUST be made in advance

Presenter: Sonam Patel RTCMP - Registered Traditional Chinese Medicine Practitioner
​with a special focus on women's health

Topics she will cover at this Seminar:

1) The types of birth control pills and what they actually do
2) The aftermath: how they can affect our bodies after we stop taking them
3)What can be done: how we can give our bodies the best support as our hormones regulate

You will also receive a take-home guide with tips and information.

This event fills quickly. Please only reserve tickets if you are serious about coming. We have a limited number of reservable seats and we would appreciate being able to save them for people who are 100% sure about coming. Thanks for your cooperation!