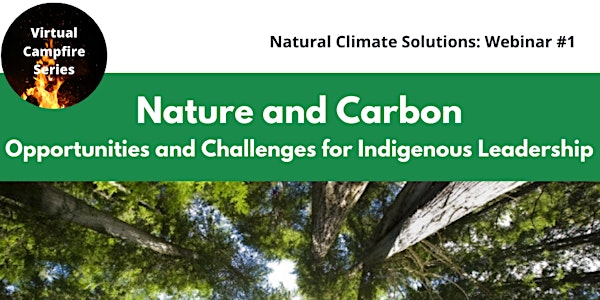 Nature and Carbon: Opportunities and Challenges for Indigenous Leadership
Learn about the potential of Indigenous-led natural climate solutions in Canada and how various challenges have been overcome.
About this event
WHEN: January 29th, 2021 from 10-12 p.m. PST / 11-12 p.m. MST/ 1-3 p.m. EST / 2-4 p.m. AST
WHAT: Please join us for the first webinar in a three-part series featuring speakers from Indigenous organizations, the businesses community, and environmental organizations and learn about Indigenous-led natural climate solutions in Canada. The presenters will explore how Indigenous communities could benefit from business opportunities related to land stewardship while reducing climate change impacts. We will also hear about current barriers and ideas for advancing thriving, Indigenous-led natural climate solutions in Canada.
Moderated by Jason Rasevych from the Anishinawbe Business Professional Association, the session features the following speakers:
David Flood, Wahkohtowin Development GP Inc.
Chris Angeconeb, AurCrest Gold Inc/Lac Seul First Nation
Colin Shawinimash, Agoke Development Corporation
Steven Nitah, Indigenous Leadership Initiative and CRP Leadership Circle
Joseph Pallant (Ecotrust Canada), Jamie MacKinnon (Bluesource), and Jenny Brown (Nature United) will join our speakers for the Q&A session. Please bring your questions! Biographies for all those involved in the session are below.
This series is co-hosted by the Conservation Through Reconciliation Partnership and the Anishnawbe Business Professional Association. With support from Metcalf Foundation, Ecotrust Canada, David Suzuki Foundation, Ontario Nature, Anwaatin, Nature United and Bluesource. More information is available here.