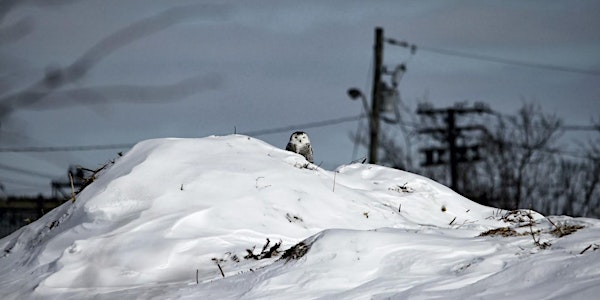 Nature Connection // Connexion Nature
Explore Downsview Park through a free nature program. Explorez le Parc Downsview dans le cadre d'un programme nature gratuit.
When and where
Location
Discovery Centre at Downsview Park 70 Canuck Avenue Back door (near greenhouses) Toronto, ON M3K 2C5 Canada
About this event
1 hour 30 minutes

Mobile eTicket
Sunday, December 18, 2022 – Winter Bird Count for Kids
Join Downsview Park staff for our annual Winter Bird Count for Kids. This kid-friendly, citizen science project will introduce participants to some birding basics and help scientists around the world monitor wild bird populations. Binoculars from home are welcomed but not required and please remember to dress for an outdoor adventure. For a quick pre-event craft, we encourage families to make https://www.thesprucecrafts.com/toilet-paper-roll-binoculars-4164742.
Participants under the age of 16 must be accompanied by an adult.
Pets are not permitted at this program. Service animals are always welcome.
Our Education programs are proudly supported by TD Friends of the Environment Foundation.
Please note that this session will be held only in English.
By clicking "Register", I acknowledge that I have read through the Parc Downsview Park Inc. ("PDP") Terms and Conditions, accept the PDP Privacy Notice and agree to PDP's use of my information in relation to this Program.
Downsview Park has and will continue to follow all public guidelines related to COVID-19. The health and safety of our staff and participants is our top priority. Please note that as guidelines change, we may need to adapt our programming. Any changes will be communicated as early as possible.
---------------------------------------------------------------------------
Dimanche 18 décembre 2022 – Le Recensement des oiseaux d'hiver pour les enfants –
Joignez-vous au personnel du Parc Downsview pour notre édition annuelle du Recensement des oiseaux d'hiver pour les enfants. Ce projet scientifique citoyen, destiné aux enfants, initiera les participants à certaines bases de l'observation des oiseaux et aidera les scientifiques du monde entier à surveiller les populations d'oiseaux sauvages. Les jumelles de la maison sont les bienvenues, mais ne sont pas obligatoires. N'oubliez pas de vous habiller pour une aventure en plein air. Pour un bricolage rapide avant l'événement, nous invitons les familles à essayer ce qui suit : https://www.thesprucecrafts.com/toilet-paper-roll-binoculars-4164742.
Les participants de moins de 16 ans doivent être accompagnés d'un adulte.
Les animaux domestiques ne sont pas autorisés dans le cadre de ce programme. Les animaux d'assistance sont toujours les bienvenus.
La Fondation TD des amis de l'environnement est fière de commanditer nos programmes éducatifs.
Veuillez noter que cette session sera uniquement en anglais.
En cliquant sur « S'inscrire », je reconnais avoir lu les modalités et conditions de Parc Downsview Park Inc. (« PDP »), j'accepte l'avis sur la protection des renseignements personnels de PDP et j'accepte l'utilisation de mes informations par PDP en relation avec ce Programme.
Le Parc Downsview a suivi et continuera de suivre toutes les directives de la santé publique relatives à la COVID-19. La santé et la sécurité de notre personnel et de nos participants sont notre plus grande priorité. Veuillez noter qu'au fur et à mesure que les directives évolueront, nous devrons peut-être adapter notre programmation. Nous nous assurerons cependant de toujours vous communiquer tout changement dans les plus brefs délais.