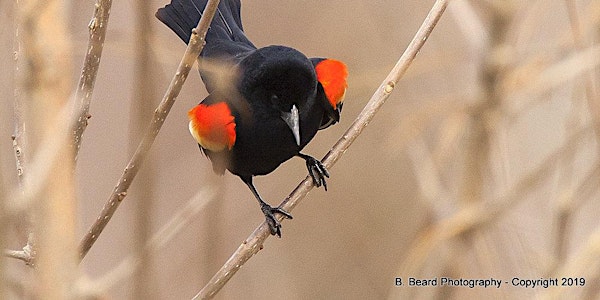 Nature Connection // Connexion Nature
Explore Downsview Park through a free nature program. Explorez le Parc Downsview dans le cadre d'un programme nature gratuit.
Date and time
Sun, Jun 11, 2023 2:00 PM - 3:30 PM EDT
Location
Discovery Centre at Downsview Park 70 Canuck Avenue Back door (near greenhouses) Toronto, ON M3K 2C5 Canada
About this event
1 hour 30 minutes

Mobile eTicket
Sunday, June 11, 2023
Fathers in Nature
Join us as we learn about the diversity of dads found in Downsview Park natural spaces.
Participants under the age of 16 must be accompanied by an adult.
Pets are not permitted at this program. Service animals are always welcome.
Our Education programs are proudly supported by TD Friends of the Environment Foundation.
Please note that this session will be held only in English.
Downsview Park has and will continue to follow all public guidelines related to COVID-19. The health and safety of our staff and participants is our top priority. Please note that as guidelines change, we may need to adapt our programming. Any changes will be communicated as early as possible.
---------------------------------------------------------------------------
Sunday 11 juin 2023
Les papas dans la nature
Joignez-vous à nous pour découvrir la multitude de papas que l'on retrouve dans les espaces naturels du Parc Downsview.
Les participants de moins de 16 ans doivent être accompagnés d'un adulte.
Les animaux domestiques ne sont pas autorisés dans le cadre de ce programme. Les animaux d'assistance sont toujours les bienvenus.
La Fondation TD des amis de l'environnement est fière de commanditer nos programmes éducatifs.
Veuillez noter que cette session sera uniquement en anglais.
Le Parc Downsview a suivi et continuera de suivre toutes les directives de la santé publique relatives à la COVID-19. La santé et la sécurité de notre personnel et de nos participants sont notre plus grande priorité. Veuillez noter qu'au fur et à mesure que les directives évolueront, nous devrons peut-être adapter notre programmation. Nous nous assurerons cependant de toujours vous communiquer tout changement dans les plus brefs délais.
About the organizer
DOWNSVIEW PARK IS A DYNAMIC URBAN PARK THAT COMBINES ACTIVE AND PASSIVE ELEMENTS, REFLECTING THE DIVERSE NATURE OF THE SURROUNDING DOWNSVIEW COMMUNITY.
Visitors from all over the Greater Toronto Area are attracted to the Park's various on-site uses, ranging from education, sports, nature, recreation and cultural events. Often compared to the great parks of the world, Downsview has not had the same hundreds of years to cultivate. Originating from humble beginnings, borne of a community rich with heritage and proud of its storied military history, Downsview Park today is still in its infancy.

As with many other dynamic parks around the world, Downsview will never be finished or stop growing. Over the course of decades and beyond, Downsview Park will continue to constantly develop, change and mature to reflect the surrounding community with each generation. Downsview Park aspires to be the cornerstone of its community as it continues to transform and blossom. Watch us grow with you!
_______
LE PARC DOWNSVIEW EST UN PARC URBAIN DYNAMIQUE QUI INCLUT DES ÉLÉMENTS ACTIFS ET PASSIFS, QUI REFLÈTE LA NATURE DIVERSE DE LA COLLECTIVITÉ VOISINE DE DOWNSVIEW.

Les possibilités très variées qu'offre le Parc Downsview attirent des gens de toute la région métropolitaine de Toronto. Ces possibilités englobent l'éducation, les sports, la nature, les loisirs et les événements culturels. Souvent comparé aux grands parcs du monde, Downsview n'a pas bénéficié de centaines d'années pour s'établir. D'origine humble, le parc a été créé dans une collectivité dotée d'un riche patrimoine et fière d'une histoire militaire remarquable. Aujourd'hui, Downsview en est encore à ses débuts.

Comme de nombreux autres parcs dynamiques du monde entier, Downsview ne sera jamais achevé et ne cessera jamais de croître. Durant les prochaines décennies et au-delà, le Parc Downsview continuera constamment de se développer, de changer et d'arriver à maturité, afin de refléter chaque génération de la collectivité environnante. Le Parc Downsview souhaite devenir la pierre angulaire de la collectivité, à mesure qu'il continuera de se transformer et de s'épanouir. Nous allons grandir avec vous!lossom. Watch us grow with you!