About this Event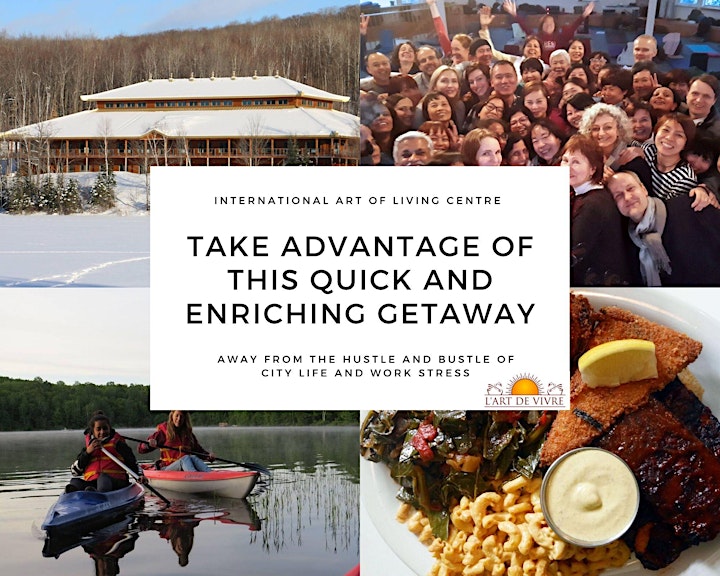 ENGLISH MESSAGE FOLLOWS:
Sortie en nature et méditation Horaire de la journé!
Le Centre international l'Art de Vivre est niché dans la belle région de la Mauricie, à seulement deux heures au nord de Montréal. Lieu de repos et de ressourcement, le centre offre une variété de programmes adaptés aux groupes de tous horizons.
Suite au succès de la dernière excursion au Centre International Art de Vivre, nous avons décidé d'en faire un événement mensuel!
C'est un excellent moyen pour vous de passer une journée dans la nature et de profiter de séances de yoga et de méditation dans un environnement calme. De plus, ceux qui veulent s'oxygéner un peu, peuvent en profiter pour faire de la randonnée.
ACTIVITÉS PROPOSÉES:
Randonnée en nature et visite du centre
Atelier d'ayurveda – Manger sainement à petit budget
Repas végétariens délicieux(dîner et souper)
Bénévolat communautaire (optionnel)
Une occasion d'escapade rapide et enrichissante, loin de l'agitation de la ville et de la pression de la vie étudiante, pour prendre des forces et se ressourcer!
Frais: 60$ (repas inclus) + transport (NON REMBOURSABLE)
Transport: le bus sera organisé
Profitez de cette courte escapade enrichissante pour TOUS les âges pour reprendre des forces et vous régénérer loin de l'agitation de la ville et du travail!
--------
The International Art of Living Center is nestled in the beautiful La Mauricie region, just two hours northeast of Montreal. A place of rest and rejuvenation, the center offers a variety of services and programs suited to individuals and groups of people of all ages.
Following the past success of organized outings from Montreal to the center, we're excited to announce that we are reintroducing this monthly event !
This is a great way for you to spend a day in nature and benefit from a range of outdoor activities, according to the season (see below), that will allow you to clear your head, get some light exercise and breathe in the refreshing country air. And since you'll be at the Art of Living Center, there'll be an opportunity to enjoy a relaxing meditation session in a peaceful environment. Of course, you'll also delight in the delicious vegetarian food that will be lovingly served by our exceptional cooking staff.
PROPOSED ACTIVITIES:
During your visit, you'll be able to participate in a number of activities, depending on the season and staff availability, including:
Guided nature hike and tour of the center
Non-guided hiking and snowshoeing outing (please bring your own snowshoes)
Kayaking, canoeing / paddle boating, when weather permits (summer)
Ayurvedic treatments (when staff is available)
Personal or guided meditation session
Scrumptious vegetarian food
Community volunteering (optional)
Fee: $60 (meals included) + transportation (NON-REFUNDABLE)
Transport: the bus will be organised
Take advantage of this enriching short getaway for ALL ages to regain strength and regenerate yourself away from the bustle of the city and work!
Date and Time
Location
International Art of Living Centre - Canada
13 Chemin de l`infinité
Saint-Mathieu-du-Parc, QC G0X 1N0
Canada
Refund Policy