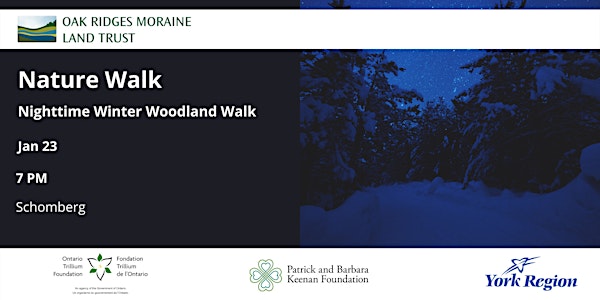 Nature Walk: Nighttime Winter Woodland Walk
Take a nighttime walk with us to explore nature after dark!
When and where
Location
MapleCross Nature Reserve, Schomberg 8th Concession Schomberg, ON L0G Canada
About this event
Come on out and discover the natural world after dark at our Private Nature Reserve in Schomberg. Going on a nature walk at night means you'll see and hear lots of things that you wouldn't normally notice in the daylight. If you're lucky, you might just spot an owl in the woods!
Jan 23, 2022 | 7 – 9 pm | Schomberg, ON
Covid-19 procedures are in effect as we want everyone to stay safe. We acknowledge that COVID is still being spread and is a threat to people's health. If you are not feeling well or have been in close-contact with someone who has tested positive for COVID, please stay home. To stay safe at the event, you can wear your mask if social distancing of 6-feet is not possible. We require all attendees to be fully vaccinated.
Thank you for supporting nature!