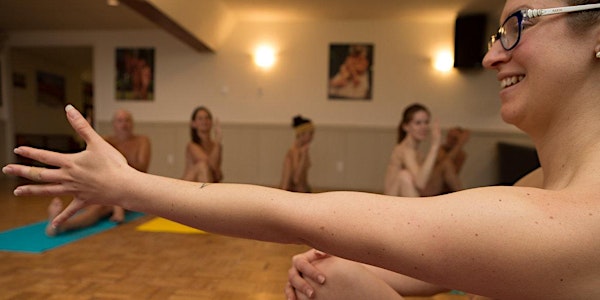 Naturist Yoga with Nikki
Online Version of Nikki's Yoga Sessions at Bare Oaks Family Naturist Park
Refund Policy
Refunds up to 7 days before event
Eventbrite's fee is nonrefundable.
About this event
Offering Yoga at Bare Oaks is a natural choice. Through naturism we're invited to cultivate a stronger relationship with our Self. Without clothing to hide behind, we're more aware of how we're truly feeling and what we desire. Body awareness is heightened. At Bare Oaks nudity is the tool we use to connect to the deeper philosophies of naturism. The nudity is what you see, but it's only a very small part of the equation.
Yoga philosophy is the same. When we see students doing Yoga, we see the poses, but there's so much more than meets the eye. Traditionally, yogis went through a series of postures for two reasons: to stimulate various parts of the body for better health, and basically to "get out the wiggles" so they could sit for long periods of time in meditation.
Yoga poses teach us our limitations and how to be humble. It advises us to release our ego. It asks us to stay present in the moment. It encourages us to listen deeply to the body so we can better give it what it needs.
Marrying Naturism and Yoga is creating connected individuals.
Nikki's class is best described as Bliss Flow. Her highest intention is to help her students to release any thoughts or tension in order to peacefully be in the present moment as often as possible. This is gained through movement in a quick enough manner that students must pay absolute attention. Then peppered with blissful pauses in poses that feel wonderful where there's a deep connection to breath. The class is creative and fairly strong. There's a warm up element lasting about 15 minutes and then a standing flowing sequences for about 20 minutes, holding stretches and cool down for 15 minutes and deep relaxation for about 10 minutes.
Important Information:
The yoga classes are provided by an independent individual. Bare Oaks Family Naturist Park only coordinates the arrangement and is not responsible for the service provided.
Attendees in the online yoga classes must be clothing-free, visible on their camera, and actively participating. This is not a performance.
The yoga instructor can terminate the participation of anyone who is in any way disruptive, discourteous, or uncooperative. There will be no refunds to people who are removed from the class.
Arrive early: once the class starts nobody will be admitted in order not disturb the other participants. There will be no refunds for missed classes.