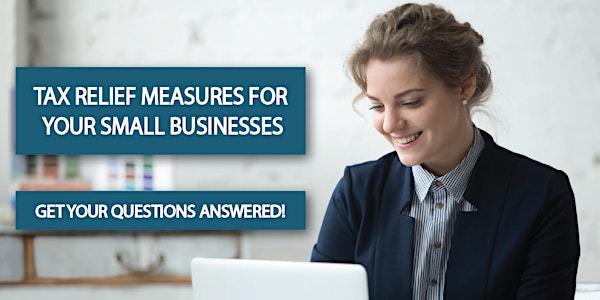 Navigate COVID-19 programs (with CRA)- For Businesses with employees (CERS)
Businesses...ask your questions about Canada's COVID-19 Economic Response Plan directly to a CRA representative.
About this event
The Government of Canada is taking immediate, significant and decisive action to support Canadians and businesses facing hardship as a result of the global COVID-19 outbreak.
Canadian businesses, non-profit organizations, or charities who have seen a drop in revenue due to the COVID-19 pandemic may be eligible for a subsidy (Canada Emergency Rent Subsidy) to cover part of their commercial rent or property expenses, starting on September 27, 2020, until June 2021.
This subsidy will provide payments directly to qualifying renters and property owners, without requiring the participation of landlords.
CEDEC is hosting an interactive webinar with the Canada Revenue Agency for small businesses and non-profits with employees on Canada's COVID-19 Economic Response Plan. This free online information session will cover the recent changes to the Canada Emergency Wage Subsidy (CEWS) program. We will also briefly highlight the new programs that have recently been put in place to replace the Canada Emergency Relief Benefit (CERB).
There are a limited number of spaces available to allow participants to ask questions directly to our presenter. A link will be sent by email once registration is completed.
*Event is in English only. This is a live event. Session playbacks are not available and will not be sent to participants after the event.
_____________________________________________________________________________________
Entreprises : posez vos questions au sujet du Plan d'intervention économique du Canada pour répondre à la COVID-19 directement au représentant de l'ARC.
À propos de cet événement
Le gouvernement du Canada prend des mesures immédiates, importantes et décisives pour appuyer les Canadiens et les entreprises qui sont aux prises avec des difficultés en raison de l'éclosion mondiale de la COVID-19.
Les entreprises, les organismes à but non lucratif ou les organismes de bienfaisance canadiens qui ont subi une baisse de revenus en raison de la pandémie de COVID-19 peuvent avoir droit à une subvention (Subvention d'urgence du Canada pour le loyer) pour couvrir une partie de leur loyer commercial ou de leurs dépenses immobilières, à partir du 27 septembre 2020, jusqu'au mois de juin 2021.
Cette subvention fournira des paiements directement aux locataires et aux propriétaires de biens admissibles, sans passer par les locateurs.
La CEDEC organise un webinaire interactif avec l'Agence du revenu du Canada ciblant les travailleurs autonomes, les petites entreprises et les organismes sans but lucratif sur le Plan d'intervention économique du Canada pour répondre à la COVID-19. Ces séances d'information, gratuites et virtuelles concerneront les récents changements reliés au programme de Subvention salariale d'urgence du Canada (SSUC). Nous soulignerons brièvement les nouveaux programmes récemment mis en place pour remplacer Prestation canadienne d'urgence (PCU).
Le nombre de places est limité dans le but de permettre aux participants de poser des questions directement à notre présentateur. Un hyperlien sera envoyé par courriel une fois que l'inscription sera complétée.
*Événement en anglais seulement. Ceci est une activité en direct. Les enregistrements des sessions ne sont pas disponibles et ne seront pas envoyés aux participants après la séance.
_____________________________________________________________________________________
CEDEC is funded by the Enabling Fund for Official Language Minority Communities and by the Government of Canada.
La CEDEC est financée par le Fonds d'habilitation pour les communautés de langue officielle en situation minoritaire et par le gouvernement du Canada.