Location
Sansara Surf and Yoga Resort
Cambutal
Cambutal, Provincia de Los Santos
Panama
A yoga & self-discovery experience at inspiring Sansara Surf & Yoga Resort in Panama. Join gifted teachers Dan & Robyn Hines in Jan. 2022.
About this event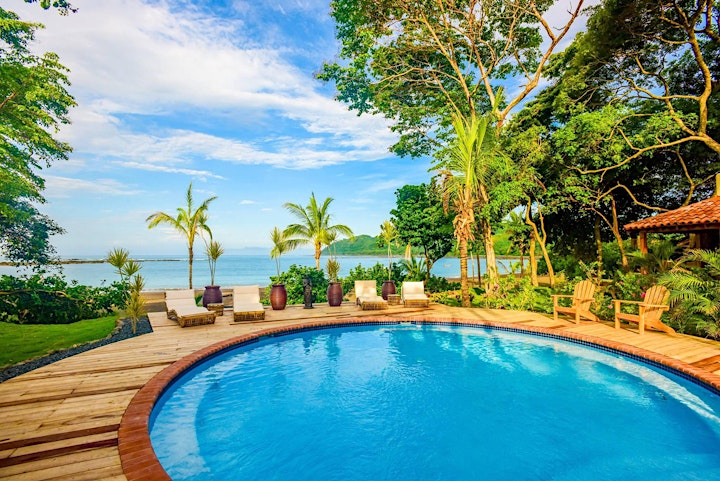 Life is daunting. The demands and pace of change create a constant set of new challenges. Voyaging in a turbulent ocean of dynamic weather and waves, we can easily lose track of where we are. We may question where we are going next. We become disoriented.
Each transition in life calls for a renewed process of clarity, compassion and courage. Whether we are facing the inevitable seasons of life in our relationships, our process of aging, a transition in our vocations or rekindling our passion and purpose; we can learn to navigate life with greater skill. In the process, we rediscover our integrity, wholeness and a more authentic life. 
The week is co-guided by Dan and Robyn Hines. Beautiful Sansara Resort provides a safe and nurturing venue for this Circle of Trust®, yoga and surf program. Intentional small group practices include inner life teaching of traditional ocean navigation, meditation, deep listening and writing, mindfulness and movement and the art of asking open, honest questions.   There is flexible time for a variety of water sports, hiking and biking, bodywork and relaxation. Dan is an international leadership consultant and Courage & Renewal facilitator. Robyn is an experienced yoga instructor and a wellness practicioner. www.danhines.ca
 This week long program is for you if: 
You want to take your growth to the next level and you're game for the challenge of introspection toward self-knowledge;
You are rethinking how you want to offer yourself to the world, whether you are in a new place of transition, or hoping to renew your present place with greater meaning and purpose;
You would appreciate learning with a community of diverse learners to discuss the hard work of navigating complex personal and social issues;
You resonate with the Circle of Trust® approach, yoga, movement, and meditation — or you see the potential of these practices and want to know more;
You need a time of renewal and recreation at Sansara to surf, rest, explore, or to engage in lively conversations at the dinner table or around the pool with the energy of the Pacific Ocean at your doorstep.
Travel Dates
Arrive in Panama City: January 1, 2022
Depart Panama City: January 9, 2022
Participants must plan to arrive in Panama City by Saturday, January 1, 2022 (many of us arrive earlier to explore the city together). You will need to plan a departure flight from Panama City on the morning of Sunday, January 9, 2022 or after (as we arrive back in Panama City by the shuttle bus on Saturday evening Jan. 8 and cannot guarantee arrival time in Panama City).
Please note: an optional tag-on five day experience with Dan and Robyn after the program ends will be a sailing voyage from Panama City to Cartagena, Colombia (with three days in the San Blas Islands). More information about this optional experience will be provided in early 2021 .
Carbon Offsets for Air Travel:
Air travel to a destination such as Sansara is a wonderful benefit of modern life but we all know it creates harmful emissions. It is possible to help mitigate travel emissions and lessen our environmental footprint, support innovative emissions reductions projects and ultimately make the responsible decision for our planet when we travel. We suggest Less Emissions www.less.ca for their effective flight calculator, for their use of The Gold Standard to certify projects, and also because they are the official provider for Air Canada.
Deposits and Payment Dates:
September 30, 2021 30% of Program Costs Due (non-refundable but transferable to another participant).
November 30, 2021 100% of Program Costs Due (non-refundable but transferable to another participant).
Included in the Program Costs
• 6 nights of luxury accommodations in stunning beachfront cabanas (Sunday night to Friday night)• 3 nutritious and delicious meals daily (5 days) as well as arrival dinner and departure breakfast• Transportation together by shuttle bus to and from Panama City to Sansara • 1 Complimentary Group Surf Lesson• Complimentary use of stand up paddle board and/or Kayak• Unlimited use of snorkel gear & bicycles• Organic bathroom products shampoo/conditioner/soap• Hypoallergenic beddings and towels• Beach and pool towels
Not Included in Program Costs• Airfare/Transport  from your home to Panama City and accomodations while in Panama City• Travel insurance (highly recommended)• Gratuities for Sansara staff• Alcoholic Beverages (option to include)• Snacks/Smoothies/Juices (option to include)• Additional excursions, surf school and/or rentals (option to include)• Items of a personal nature/souvenirs
Full Program Costs (by Available Room Type and Sharing)
$2,050 USD Standard Double room per person (2 people sharing)
$2,200 USD Deluxe Double room per person (2 people sharing)
$2,450 USD Premium Double Suite per person (2 people sharing)
$2,650 USD 'Casa Om' Superior Suite per person (2 people sharing)
You can explore Sansara's room details here: www.sansararesort.com/book-a-room
Accommodations have limited availability. Please contact us if you would prefer a single occupancy room at a higher rate.