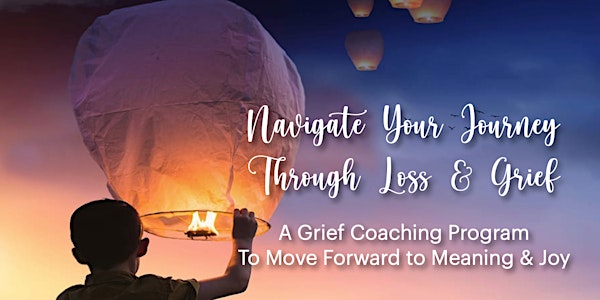 Navigating Grief Workshop - Navigate Your Journey Through Loss & Grief
Navigate your journey through loss and grief with an action-based, directed approach to heal and move forward to find meaning and joy.
About this event
Did a death, divorce, breakup or another type of significant loss, including loss of a pet, a job, or a business cause your emotional pain?
Did you experience significant loss recently or years ago?
Are you feeling stuck or struggling to get through the weeks, months or years to recover and move forward in your life?
Is grief and unresolved grief holding you back from living the life you deserve?
What do you need to fully grieve?
Navigating the journey through loss and grief is one of life's biggest challenges. Loss and grief of any type can turn our lives upside down in an instant, without warning, and often without the necessary support available. Sadly, loss and grief are universal experiences that are not talked about much, are uncomfortable conversations for many people and something that everyone will experience at some point in their life. And unfortunately, we are not taught how to effectively navigate such difficult experiences, and not knowing how can result in unresolved grief, which makes it even more difficult when another loss occurs and can also negatively impact our health, our family, our relationships, our capacity to love again, our career and our future.
We tend to associate grief with the death of a loved one, including pets; however there are over 40 different types of loss, including divorce, relationship breakup, a miscarriage, loss of a friendship, loss of a job, loss of identity, loss of health or mobility, loss of a dream or a business. If the person, relationship, pet or situation was significant to you, it's normal to grieve the loss you are experiencing. There may also be feelings of anger, fear, guilt, shame and hopelessness. Many people are not only experiencing great personal loss and grief, but also feeling the 'collective' loss and grief as a result of the global pandemic and the isolation, fear, restrictions and social distancing as well as the loss of and yearning for community, connection, support and belonging.
Many people who have experienced loss often feel judged, dismissed and misunderstood by a culture that wants to 'solve' grief intellectually and for people 'to get over it' quickly. Grief is an emotion and it's important to process the experiences and the emotions - rather than avoiding or suppressing the emotions or wearing a mask, pretending to be 'fine' ('feeling is never expressed').
The truth is that people are often uncomfortable with the expression of our emotions, especially sadness and grief, and they tell us to 'get over it' or 'to move on', but no one provides the 'HOW'. I'm here to provide and to guide you through the 'HOW', to navigate your journey of loss and grief with the goal of finding happiness again.
After any significant loss, your life may never seem the same again. You can't change what happened; however, you can take action on what happened to navigate the path forward. It's important to navigate each loss so that we can recover and begin to enjoy the present and look to the future and find meaning, happiness and joy in our lives again. A person's ability to navigate loss and grief is exactly that - an 'ability' - something that we must learn because sadly we've never been taught the skills to weather the tragedies and sorrows of life. It requires strength and bravery to take the action steps to navigate the journey forward … and it's worth it.
If you're ready to navigate the journey forward, to 'unpack' the emotional baggage that weighs you down, to have the courage to let go, then connect with Maria and be supported and, most importantly, be guided through the effective and essential action steps on 'HOW' to move forward to rebuild a beautiful life you love living. Out of extreme pressure and upheaval, diamonds are formed. It's time to discover the brilliant, resilient diamond within you!
Give yourself this gift of freedom from the pain and suffering and make a courageous decision to invest in yourself. You are worth it! You deserve to live your best life! We are not meant to journey difficult experiences alone. Together, we can achieve what was once thought impossible and too difficult.
Don't wait any longer.
You deserve to live your life to your fullest potential.
Time alone will not heal your broken heart.
It's hard to ask for help, but it's even harder to go it alone.
Join us on this action-based, guided grief coaching journey in 1 of 3 ways: either 1-on-1, a small group program OR a weekend workshop to "Navigate Your Journey through Loss and Grief".
Individual 1-on-1 Grief Coaching Program for ALL Types of Loss Experienced:
8 week program begins: Tuesday, May 10, 2022 from 5 pm - 6 pm MST
Online via zoom + Support in between classes and anniversary days of loved ones
Group Grief Coaching Program for ALL Types of Loss Experienced:
8 week program: Begins Tuesday May 10, 2022 from 7 pm - 8:30 pm MST
Online via zoom + Support in between classes and anniversary days of loved ones
2 Day Navigating Grief Workshop
2 day workshop: May 19 & 20 (8-5 pm) Thurs/Fri or May 21 & 21 Sat/Sun (8-5 pm)
If you are unable to move forward in your life due to a significant loss, either recent or in the past, join us for a 2-day intensive workshop. In this workshop, we will guide you to take small action steps and provide tools and processes that are valuable in navigating your journey and effective in processing all of the unfinished emotions that lead to regaining a sense of hope and purpose in life and to joy and happiness. Please have a journal, your favorite cup of tea, water or water. Bring an open heart and mind.
How to Register:
Connect with Maria to ask any questions, to see which program would be best for you, the investment for each and to register for the program. Email: maria@CertifiedFlourishingCoach.com
Don't wait any longer. You deserve to live your life to your fullest potential.
About the Grief Coaching Program and Workshop:
This program has been developed and refined based on real life experiences of dealing with many of the 40 types of loss. We are often told by loved ones that "it's time to let go" or "to move on", but we are never taught 'HOW' to do that! This program navigates the journey from loss, guiding and supporting you to take small steps to release the pain from a recent loss or one that occurred long ago to recover from your loss. Recovery from loss is not about forgetting. Recovery from loss is about discovering and completing all of the undelivered communication in relationships that often keeps us stuck in grief. This program is an action-based guided approach to healing from life's most profound heartbreak due to loss and grief, and provides the essential and effective action steps that empower you to move forward to find meaning and fulfillment and living a life of joy and happiness
About Maria:
After experiencing many types of loss within a very short period of time, Maria was called to create a program to help others navigate this challenging journey! Maria is a Certified Flourishing Life and Wellness Coach as well as a Master Transformational Coach. Contact Maria at maria@certifiedflourishingcoach.com