Join ventureLAB and Bereskin & Parr for a virtual discussion on Patents & Industrial Design and Trademarks & Copyright
About this Event
Bereskin & Parr is one of Canada's leading Intellectual Property Law firms. They have worked with Canadian start-ups and scaleup companies to protect their technology, brands, and other intellectual assets for over 50 years. In this online workshop, you will:
Gain an understanding of strategies specific to Canadian entrepreneurs and innovators to protect your technology, brand, and other Intellectual Property assets.
Learn about common pitfalls to avoid and what to do instead.
Access to Canada's largest team of IP lawyers, patent agents, and trademark agents with an opportunity to partake in a one-on-one session.
AGENDA:
10:00 -10:15 AM: Welcome and Introductions
10:15-10:45 AM: Presentation
Introduction Trademarks, Copyright and Patent and Industrial Design
Strategies to Utilize and Pitfalls to Avoid
10:45 – 11:00 AM: Discussion and Q&A
Interested in a one-on-one meeting with Bereskin & Parr? Register for the event to express your interest and we will work with you to set up a meeting.
FACILITATORS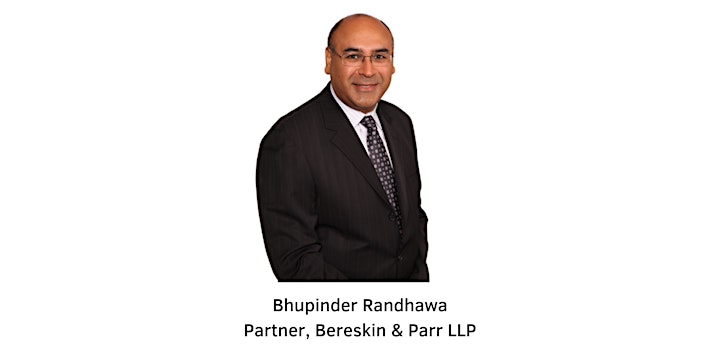 Bhupinder Randhawa is a partner with Bereskin & Parr LLP, and a registered US and Canadian patent agent. He is the leader of the firm's Electrical & Computer Technology practice group, and co-leader of the Artificial Intelligence practice group. Bhupinder's practice focuses on patent and technology law, particularly obtaining and leveraging intellectual property rights for technology clients.
Reshika Dhir is a partner with Bereskin & Parr LLP, and a registered US and Canadian patent agent. Her practice focuses on drafting and prosecuting patent applications with a particular focus on electrical and software-based innovations. Reshika enjoys learning about new technologies and helping startups and high-tech entrepreneurs with developing an effective IP portfolio.
About ventureLAB
ventureLAB is a leading technology hub that supports tech entrepreneurs and small businesses. Located in York Region, Canada's densest technology cluster, ventureLAB has supported over 2,000 entrepreneurs in a region that is home to over 4,300 technology companies and 65,000 tech jobs. ventureLAB operates a 50,000 square-foot innovation hub that is home to over 45 tech companies and innovation partners. At ventureLAB, we support tech entrepreneurs through programs focused on capital, talent, and technology to grow and scale their businesses locally, nationally, and globally.
About Bereskin & Parr
Bereskin & Parr LLP is a leading Canadian full-service intellectual property law firm with a global reputation as one of the largest and most experienced in patent and trademark law. The firm and its award-winning professionals are consistently ranked as the benchmark for IP law in Canada. With a full range of IP services, Bereskin & Parr professionals are able to apply a pragmatic business approach to each client's trademark matters in other to obtain results, while understanding their practical business needs and concerns. The firm was founded in 1965 and has grown to become one of the largest IP boutiques in Canada.
Photo/Video Disclaimer
All ventureLAB events are recorded for educational and marketing purposes. If you do not wish to be included in these recordings please let a ventureLAB team member know as soon as possible so that we can omit you from the recording.