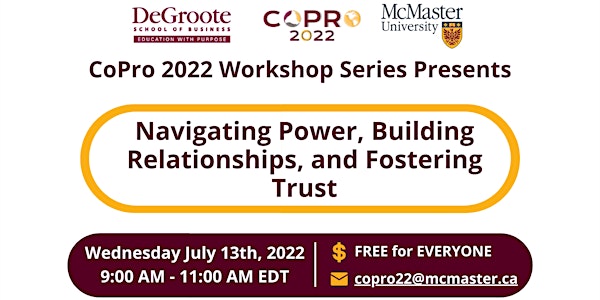 Navigating Power, Building Relationships, and Fostering Trust
Join us for the third CoPro22 panel featuring speakers from Sweden, England, and Canada! We will touch on power, relationships, and trust.
About this event
This is the third online event in our CoPro2022 event series.
We will discuss the challenges of sharing power, building relationships and fostering trust in co-design and co-production activities. Participants will learn how different relational power dimensions interact in health and welfare service design. A COMPASS to assist in navigating relational dimensions of co-design will also be presented.
Participants are welcome, for this event, to select their breakout room ahead of time. Each room will feature interactive discussions with speakers and fellow attendees on topics discussed in the workshop. Keep reading for more details about each room.
Co-production in action: The challenges of sharing power, building trust and relationships
Michelle Farr and Experience Expert Julie Swede
Presenters and attendes will reflect on trauma-informed co-production, and how to share power in a way that is meaningful, builds trust, and develops relationships.
Power: Dynamic or dynamite in co-production? A reflective model of different relational power dimensions and how they interact and affect each other in health and welfare service design
Nicoline Vackerberg and Experience Experts Christina Wandt and Marie Winald Karlström
Participants will use a reflection model developed by presenters to reflect on several power-related factors, including resources, attitudes, and perceptions, to accomplish co-production.
Preparing to co-design to navigate relational dynamics involving equity-seeking groups: Drawing on the case of youth mental health
Ashleigh Miatello & Jenn Green and Experience Expert Louise Murray-Leung
Presenters and attendees will reflect on how to prepare a co-design process that considers power imbalances, and provides a process where participants feel safe to bravely contribute.