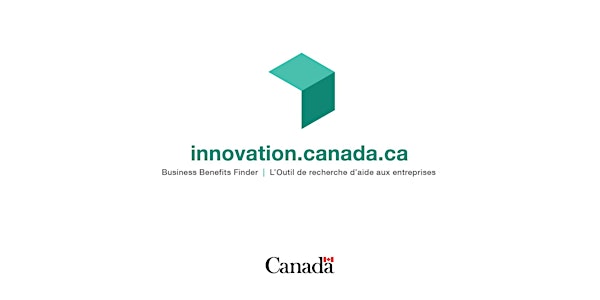 Navigating support for LGBTQ2+ led businesses
Join Canadian experts to learn how to find government support for your LGBTQ2+ business & hear about the value of diversity in our economy
Date and time
Wed, Nov 17, 2021 10:00 AM - 11:30 AM PST
About this event
(La version française suit le texte anglais.)
As part of Innovation Canada's Webinar Series, join Canadian experts to learn how to find the right government support for your LGBTQ2+ business and to hear about the value of diversity and inclusion in a robust economy.
Our panel of industry experts will provide insights into their experience and observations growing LGBTQ2+ businesses. Plus, hear from Advisors on how to navigate the government support landscape and learn more about some of the work underway to support LGBTQ2+ entrepreneurs.
A Q&A session with all panelists will wrap up this dynamic and informative discussion.
We'll welcome:
Darrell Schuurman, MBA. Co-Founder & CEO, Canada's LGBT+ Chamber of Commerce
Connie Stacey, President and Founder of Edmonton-based Growing Greener Innovations, and SheEO venture
Erin Roach, Executive Director, Diversity Institute, Ryerson University
Kusala Jayasuriya, Innovation Advisor with Innovation Canada
Christina McDonald, Marketing and Outreach Manager with Innovation Canada
Please note: This session will be conducted largely in English but material and resources will be made available in both official languages and participants are encouraged to ask questions in the official language of their choice.
Join Zoom Meeting
https://us02web.zoom.us/j/82395262738?pwd=bzduSGloNHlSK3pSV24wanlJUys4UT09
Meeting ID: 823 9526 2738
Passcode: UaLbY1
To dial in by phone, find your local number: https://us02web.zoom.us/u/kptBkHkZZ
Explorez le soutien aux entreprises dirigées par des membres de la communauté LGBTQ2+
Dans le cadre de la Série de webinaires d'Innovation Canada, joignez-vous à des experts canadiens pour savoir comment trouver le soutien gouvernemental approprié pour votre entreprise LGBTQ2+ et découvrez la valeur de la diversité et de l'inclusion dans une économie corsée.
Notre panel d'experts du secteur vous fera part de son expérience et de ses observations sur la croissance des entreprises LGBTQ2+. De plus, des conseillers vous expliqueront comment s'y retrouver dans le paysage du soutien gouvernementale et vous en apprendrez davantage sur certaines des initiatives en cours pour soutenir les entrepreneurs LGBTQ2+.
Une séance de questions-réponses avec tous les experts mettra fin à cette discussion dynamique et instructive.
Nous accueillerons :
Darrell Schuurman, MBA. co-fondateur et PDG, Chambre de commerce LGBT + du Canada
Connie Stacey, Présidente et Fondatrice de Growing Greener Innovations, une entreprise de SheEO établie à Edmonton
Erin Roach, directrice exécutive, l'Institut de la diversité, Université de Ryerson
Kusala Jayasuriya, Conseillère principale en innovation au sein d'Innovation Canada
Christina McDonald, Gestionnaire, marketing et relations externes au sein d'Innovation Canada
Veuillez noter que cette séance se déroulera principalement en anglais. Le matériel et les ressources seront toutefois disponibles dans les deux langues officielles, et les participants devraient se sentir à l'aise de poser des questions dans la langue officielle de leur choix.
Pour joindre la réunion Zoom :
https://us02web.zoom.us/j/82395262738?pwd=bzduSGloNHlSK3pSV24wanlJUys4UT09
Réunion ID : 823 9526 2738
Code d'accès : UaLbY1
Pour participer par téléphone, trouvez votre numéro local : https://us02web.zoom.us/u/kptBkHkZZ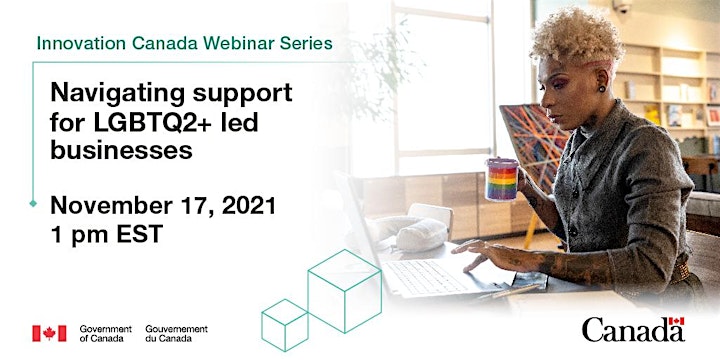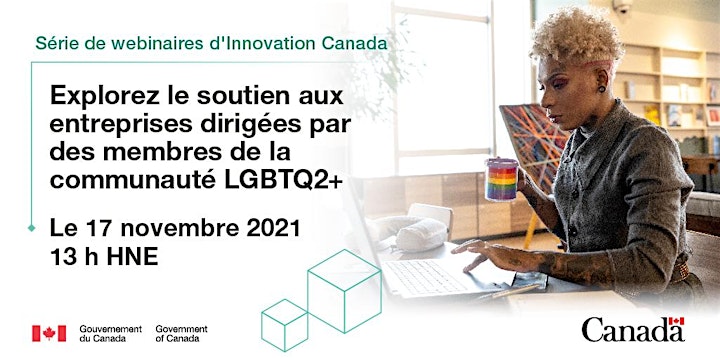 About the organizer
At Innovation Canada, we back entrepreneurs
Join us for a series of dynamic sessions on government supports and expert advice to help businesses innovate, grow, scale, and take it global.
Learn more:
Visit the Business Benefits Finder at innovation.canada.ca to find programs and services that can help support your business.
Incorporated and looking to scale? Talk to an Innovation Advisor in your area to discuss your needs and find the right supports, at the right time.
Explore Innovation Canada programs that provide services and funding opportunities for Canadian businesses.
*************************************************************************************************************************
À Innovation Canada, nous appuyons les entrepreneurs

Participez avec nous à une série de séances dynamiques qui porteront sur les mécanismes de soutien gouvernemental et offriront des conseils d'expert pour aider les entreprises à innover, croître, élargir leurs activités et pénétrer les marchés mondiaux.

Pour en savoir plus :

1. Consultez l'Outil de recherche d'aide aux entreprises à innovation.canada.ca pour trouver les programmes et services qui peuvent aider à appuyer votre entreprise.
2. Vous êtes constitué en société et désirez élargir vos activités? Parlez à un conseiller en innovation dans votre région pour discuter de vos besoins et trouver les mécanismes de soutien adaptés à vos besoins, au bon moment.
3. Explorez les programmes phares d'Innovation Canada qui offrent des services et des possibilités de financement aux entreprises canadiennes.