Navigating Your Public Service Career / Naviguez à travers les carrières dans la fonction publique Facilitator: Lillian Thomsen
About this event
Contact : Jaime-Lee Patrick at jaimelee.patrick@careerjoy.com
Career Literacy and career mapping are vital to ensuring confidence, motivation and overall wellness within the Public Service. We'll look at best practices around Competency Development, Networking, Advancement, etc.
La connaissance des carrières et l'orientation professionnelle sont essentielles pour assurer la confiance, la motivation et le bien-être général au sein de la fonction publique. Nous examinerons les meilleures pratiques en matière de développement des compétences, de réseautage, d'avancement, etc.
Lillian Thomsen, former DG & Dean, CFSI/GAC
CareerJoy Certified Leadership Coach & Facilitator
Lillian enjoyed a full professional career in the Canadian Foreign Service serving in culturally and linguistically diverse positions both in Canada and abroad.
In her final position with Global Affairs Canada she served as the Director General and Dean of the Canadian Foreign Service Institute, which comprises four schools, offering courses to public servants and selected non-governmental clients in a range of internationally focused courses, leadership and professional development.
Lillian is perfectly bilingual and specializes in executive level competition preparation including identifying leadership competency gaps and opportunities for growth, interview preparation and conducting mock interviews followed by individual assessments. She has also done extensive coaching of public servants and of colleagues in the not-for-profit sector, where she is very active.
---
Lillian Thomsen, ancienne DG et doyenne, ECSE/AMC
Coach et facilitatrice en leadership certifié chez CareerJoy.
Lillian a mené une carrière professionnelle bien remplie au sein de l'Institut canadien du service extérieur, occupant des postes diversifiés sur le plan culturel et linguistique, tant au Canada qu'à l'étranger.
Dans son dernier poste au sein d'Affaires mondiales Canada, elle a été directrice générale et doyenne de l'Institut canadien du service extérieur, qui comprend quatre écoles offrant aux fonctionnaires et à certains clients non gouvernementaux des cours axés sur l'international, le leadership et le perfectionnement professionnel.
Lillian est parfaitement bilingue et se spécialise dans la préparation aux concours pour cadres supérieurs, notamment l'identification des lacunes en matière de compétences de leadership et des possibilités de croissance, la préparation aux entrevues et la conduite de simulations d'entrevues suivies d'évaluations individuelles. Elle a également effectué du coaching approfondi de fonctionnaires et de collègues dans le secteur sans but lucratif, où elle est très active.
Organizer of Navigating Your Public Service Career
CareerJoy is one of the largest independent 100% Canadian-owned consulting organizations in Canada. Specializing in supporting organizations and individuals through employee transitions using a modern, human approach, our team has successfully delivered outplacement services for numerous private organizations and public sector departments and agencies, since 2002.

With over 25 offices from coast to coast, we provide an award-winning, bilingual and customized approach to outplacement transition, team development, and leadership development through having worked with over 23,000 individuals and 2,300 employers nationally.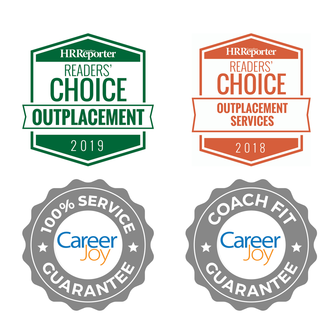 In 2019, for the third year, CareerJoy is honored to accept the HR Reporter's Readers' Choice Award at the top Outplacement Provider in Canada as voted by HR Professionals.
Our programs are rich in heritage, having been built upon a practical and applied foundation. We understand the complexities of the modern job search process and have built an extensive network to assist and support our clients.
We look forward to the opportunity to work with you and are confident that our approach will provide you with the real outcomes that you are looking for.
We guarantee it.